It's already been 2 weeks since 2017 came to an end. For me personally it was again a successful year full of adventure travel to interesting and offbeat places. I visited a total of 14 countries, 8 of which were new to me. Let me show you the 17 best places I visited, in chronological order. As a bonus, at the end of the article I am trying to predict what 2018 will look like!
1. Lithuania
I haven't written articles about all places I visited last year. But if you follow me on Instagram, Facebook or Twitter, there's a good chance you know I started 2017 in Lithuania.
As part of my quest to visit all countries in Europe by 2020, I spent 4 days in Kaunas and Vilnius together with a friend. It was a week full of good old fun, lots of craft beers and tasty food. I highly recommend anyone to go to Lithuania, especially during summer when backpacker hostels get crowded.
2. Puerto Viejo, Costa Rica
Central America isn't my favourite region, but I wanted to give it a try to escape the cold in The Netherlands. So I spent a couple of jet-lagged days in April in Puerto Viejo, Costa Rica before moving on to Panama.
Located on the Caribbean Sea, Puerto Viejo is a small, touristy town full of hippies. Parties are okay and beaches good, yet the place is a bit sketchy at night. If you're around, it's still a good place to visit though.
3. Bocas del Toro, Panama
Definitely higher on the ranking is the island group of Bocas del Toro, a few hours travelling from Puerto Viejo. I spent almost a week here during Easter, spending time in a proper backpacker hostel and making friends along the way.
Highlights include the overland border crossing between Costa Rica and Panama, boat trips to remote beaches, parties at night and hanging out almost every day around the airport with the locals.
4. Malta
In June I spent 5 great days in the tiny island nation of Malta. Located in between Europe and Africa, it was my 39th country to visit in Europe. Without having to many expectations, looking back I can say the trip was one of the highlights of the year.
I visited during an interesting time of elections, which are celebrated like it's King's Day in The Netherlands (even more crazy I would say). Also the weather was perfect, which allowed me to explore much of the country while basing myself in a great party hostel.
5. Minsk, Belarus
One of my favourite trips was spending 4 days in Minsk, Belarus. I used the new 5-day visa free rule to visit the country, deciding to only stick to the capital. It allowed me to explore places in depth, that's how I wrote an extensive post about 14 bucket list things to do in Minsk.
Highlights include attending a military parade and all other independence day related celebrations, pub crawling using Uber, and climbing the fascinating Soviet memorial Kurgan Slavy. Oh, and I was also interviewed by a national newspaper!
6. Munich, Germany
Munich had been on my list for many years when I finally was able to visit the city for a few days in July. I met up with old friends, visited the Beer Gardens and went swimming in the central park. All in all a great weekend in a great and beautiful city.
7. Ashgabat, Turkmenistan
Without a doubt THE highlight of 2017 was visiting one of the least visited countries on the planet. Using a major sports event as an excuse, I was able to enter Turkmenistan as a photojournalist. I spent over a week in the bizarre capital, having to deal with government minders every single day.
Ashgabat holds many quirky world records like the largest indoor Ferris wheel, the largest bird-shaped building and the highest density of white marble-clad buildings. Ashgabat is also full of huge golden monuments and statues, giving it the reputation of 'Pyongyang meets Las Vegas'. Together with blogger Megan Starr we called Ashgabat one of 20 cities in the former Soviet Union you should (try to) visit in 2018. Good luck getting there!
8. Door to Hell, Turkmenistan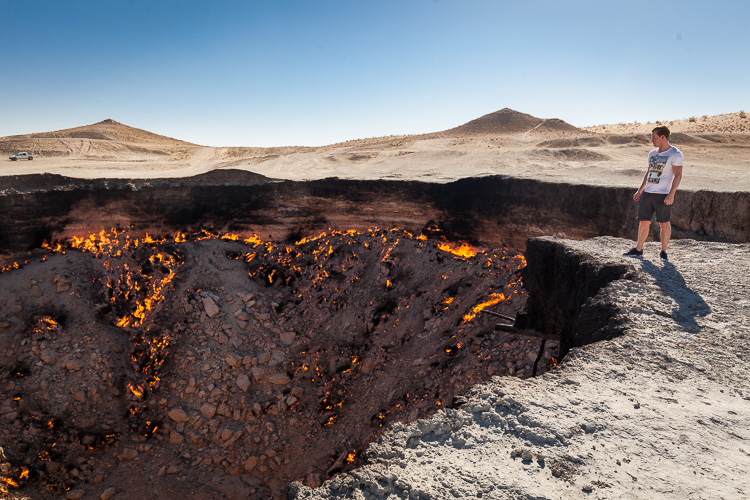 One of the riskiest undertakings in 2017 was trying to reach the gigantic Darvaza crater, also known as the Door to Hell. The most unlikely tourist attraction in the world, it's a 20 meter deep sink hole that's been burning since Soviet times. It's hard to reach without an organised tour, so hitchhiking there turned out to be almost a mission impossible.
Want to read more about it? Check out my earlier post: 'Forbidden Hitchhiking to the 'Door to Hell' in Turkmenistan'.
9. Warsaw, Poland
I have been to Poland numerous times, visiting various cities. This time I revisited Warsaw for an epic 24 hours only, together with 4 Dutch friends. There aren't many serious things to say about the trip, but trust me when I say the Poland is always a good idea.
10. Tel Aviv, Israel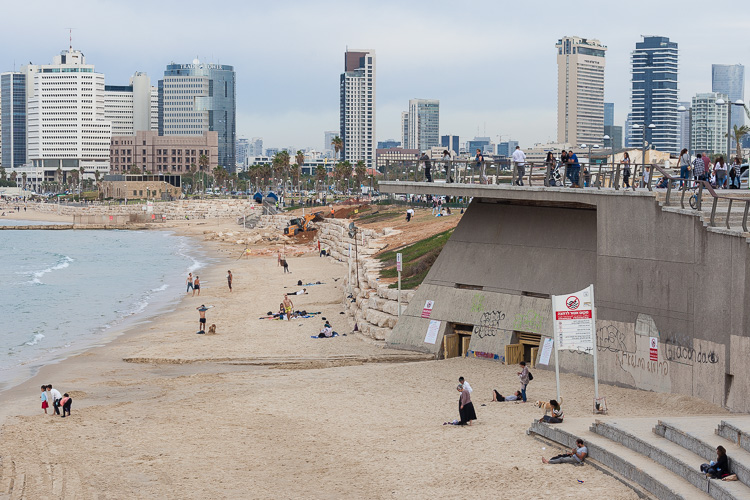 Tel Aviv was my first stop on my final trip of 2017, which started mid December. Though the entire trip lasted until the first week of 2018, for simplicity reasons I am considering it a 2017 trip.
Tel Aviv offers great humous, falafel and Sabich (as you might have seen on my Instagram stories) and I was able to meet an old friend. I spent 4 nights in Tel Aviv enjoying the night life around the city and exploring various neighbourhoods during the day. Highlights were exploring the Carmel Market, staying in the Florentine hostel (one of the most social hostels I ever stayed) and realising that everyday is a weekend in Tel Aviv.
11. Bethlehem, West Bank (Palestine)
Bethlehem is a rather quiet Palestinian town in the West Bank 20 minutes from central Jerusalem. It's most famous for the Church of Nativity where Jesus was supposedly born. Since earlier this year it is however also home to the newly opened Walled Off Hotel, a world-class art hotel with "the worst hotel view in the world" launched by artist Banksy.
I stayed there for one night which was fabulous and highly recommended. The hotel is full of provocative and absurd art and has a unique museum, all related to the troubled situation of the Palestinians living in the West Bank (which has been under Israeli military occupation). Overall Bethlehem is a must visit for anyone in the region as it informs about the ongoing conflict between Israel and Palestine.
12. Ramallah, West Bank (Palestine)
Ramallah, as I experienced it, is the bustling heart of Palestine. It offers some proper nightlife (unlike most parts in the West Bank) and hosts the must-visit Yasser Arafat museum. Located just behind the Palestinian leader's tomb, it traces back 100 years of Palestinian history and takes you through the last stages of Arafat's life under siege. I found it very impressive, even more so because there are literally no other tourists around.
13. Taybeh, West Bank (Palestine)
Taybeh is the last remaining Christian village in the West Bank and home to the first micro-brewery in the Middle East. It was founded in 1994 by a Palestinian family who had spent more than 20 years prior in the United States.
When I visited (you literally just walk in), I met the mother, daughter and brother (see pic above, left) and tasted some fresh IPA's directly from the production line. I ended up staying there for almost two hours, talking about various things with the family before moving on to their winery. A great day trip from Ramallah that I can highly recommend. Check out here when they are organising Oktober Fest.
14. Jerusalem
Jerusalem is a contested city and reached global news last month when Trump announced it would recognise it as the capital of Israel. Despite that announcement I never experienced any negative effect of that on my trip. Hostels were still fully booked each day, indicating that it's still a very popular destination (much more so than Tel Aviv).
Highlights of my visit were scouting for the best humous places, visiting a friend, seeing the Western Wall and exploring the Old City, walking through the Damascus gate (a sensitive area) and checking out the night life around the Yehuda market.
15. Ein Bokek, Dead Sea
The perfect day trip from Jerusalem, I went to the Dead Sea by public transport. Located at the lowest point on Earth (-428m), and about 10 times saltier then most oceans, it is truly a unique place.
I dipped in at the town of Ein Bokek, where there are plenty of showers and facilities. When you don't rinse yourself after, you will painfully regret. The best way I can describe the water is as if it comes from inside a battery.
16. Masada, Dead Sea
Masada is right at a massive rock towering 350 meters up. I never heard of it before, but I am glad I visited the place on the way back after dipping in the Dead Sea. I can best describe it as a light version of the Machu Picchu, but with much better views (over the Dead Sea, obviously).
It also has some important history to it for Jewish people: about 2000 years ago it was the site of a mass suicide of almost a thousand Jews during the siege of Roman troops in the first Jewish-Roman war. In fact it is so important that every Israeli will visit this place at least once in their lives.
17. Hebron, West Bank (Palestine)
Finally, the last place on the list is perhaps also the most troubled of all. Hebron is the largest Palestinian city in the West Bank, where in the old quarter highly-ideologic Jewish settlers have taken over several houses from Palestinian families. The reason is the city's association with Abraham, who plays an important role in the faith of both Jews, Christians and Muslims.
What it means is that Palestinians are not allowed into several sections of the old quarter, whereas most tourists have no issues. Palestinian shops were either forcibly closed, or are closing down due to the lack of economic activity left in the area. It mad me sad to walk around the area and see the conflict taking place in front of me so clearly. Nevertheless it's a must-visit for anyone in the region, so that people can learn more about the situation.
Conclusion
In 2017 I made important steps to achieving my travel goals of visiting every country in Europe (40/47) and reaching 100 places (87/100) according to the TCC definition. Looking back at my original plans for 2017 I did travel to Costa Rica, Panama and Turkmenistan. Also did I reach my goals in terms of statistics, though with different countries. I decided not to visit Switzerland, Liechtenstein and West Africa just yet.
Looking back on the blog by the way, my activity was lower than in 2016. That's mostly because I bought a house (yes, really!) and spent about 55 hours per week on my full-time corporate job. Nevertheless I still published 7 stories, worked on a publication for Vice Sports and collaborated with various travel bloggers. Also I have been a lot more active on Instagram, posting stories especially when I'm on the road. I promise I will try to be at least as active in 2018.
My plans for 2018
My last trip confirmed my love for the Middle East. I think it's such a beautiful and interesting region, offering the best hospitality, food and adventure. Therefore I would like to continue further with this in 2018 though I'm not sure which countries yet. I might visit Iraqi Kurdistan, else some of the Gulf States would be interesting. Anyhow, I am thinking of setting a new goal of visiting the entire Middle East within 2 or 3 years.
What I can confirm is a trip to India (for a wedding), Pakistan (so excited!), Oman and Iceland. Also I'll make another quick visit to Poland (wedding, again) and participate in an Iron Man competition in Portugal. It should give me some space to plan another two trips for 2018. This way I hope to add at least another 6 interesting countries.
What was your travel highlight of the year? Feel free to let me know below or by reaching out on social media!