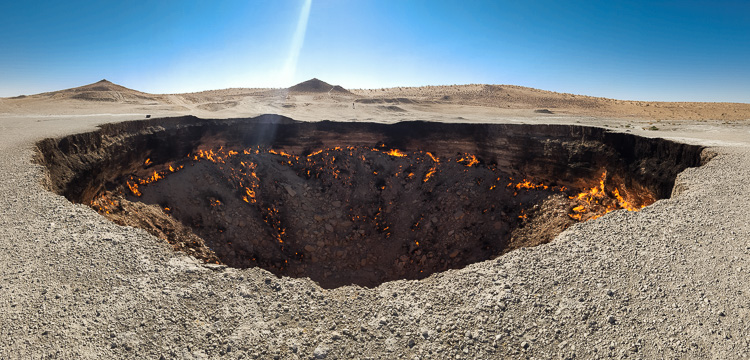 Imagine a gigantic sinkhole in the middle of nowhere that has been burning since Soviet times. An incredible blazing fire pit, if you fall in you will almost certainly die. In the infamous country of Turkmenistan you can find such a place, people call it the 'Door to Hell'. For years I had been waiting for an opportunity to visit this bizarre place. Last September that moment finally came, but getting to the place almost turned out a mission impossible.
My first obstacle was to get into Turkmenistan, one of the most closed countries in the world. It has about 5,5 million inhabitants and borders among others on Iran and Afghanistan. Whatsapp, Facebook and Twitter are all blocked, and state television is full of classic propaganda. Only very few foreigners are successful getting a visa to visit, most of them ending up going on organised tours.
To get in independently, I had the 'brilliant' idea to pose as a photo journalist. Back in Kyrgyzstan last year I heard about a huge upcoming Asian-style Olympic sports event in the capital Ashgabat. They were spending a whopping 5 billion dollars on it all and so I figured that they would surely be happy with some positive exposure by a Dutch photographer.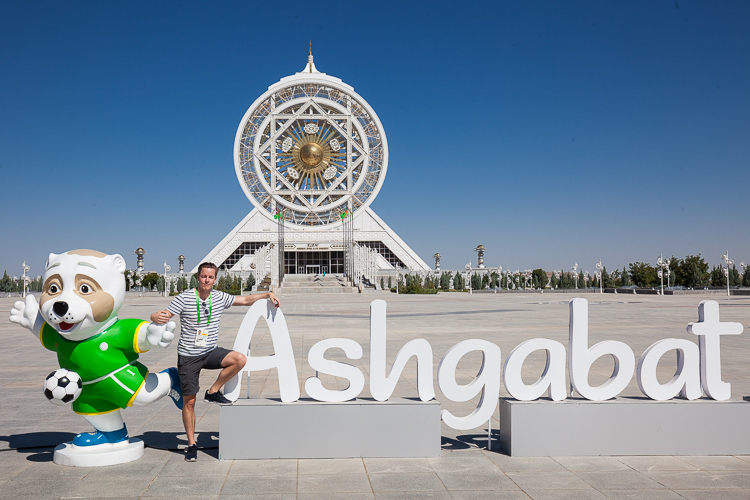 There is however one catch. Turkmenistan has the third-worst press freedom conditions in the world. Only North Korea and Eritrea score worse, all of which share equally repressive regimes and are often criticised by human rights groups. Applying as a photo journalist was going to be a gamble but anything is better than the easy way of joining an organised tour.
After a simple application with some help from Vice Sports I waited for several weeks. Then on August 16th I miraculously receive the good news: I am happily invited to the event and don't even need to apply for a visa! I receive a special ticket that turns out to be my visa waiver, together with media accreditation providing me special backstage access to all sports venues!
After an easy flight via Istanbul, I arrive early morning at what is perhaps the most beautiful airport in the world. Passport checks are quick and so with a fresh new stamp I am ready for a week of adventure. Obstacle one: check.
But the triumph does not last long. Upon exiting the airport, I bump straight into what I think is just a cheerful volunteer happy to show me the way. Young and athletic-looking, this Turkmen girl has thick dark eyebrows and a cute name: Bilbil. In the minivan on the way to the media hotel I notice all journalists have such personal assistants. The females all appear equally innocent but the male assistants look like secret KGB agents. Dressed in identical black suits and wearing dark shades, I quickly make the connection that they are no simple 'volunteers'. They are government minders who have to make sure we don't wander off alone and do anything stupid. I suspect Bilbil is also one of them.
Bilbil speaks little English and it seems like all she wants is to be with her friends, who she is texting with non-stop. Our conversations are few and shallow but still for the rest of the day she shadows my every move. We walk around the heavily secured Olympic Village as I am trying to figure out how to escape her one day.
Leaving the heavily secured Olympic compound unnoticed will be a much bigger obstacle than getting into Turkmenistan. Every morning Bilbil is waiting for me at the hotel, even though we never talked about seeing each other every day. She just 'shows up'.
Pavel the Czech
I turn to other journalists asking if they have similar experiences. It is then when I meet Pavel, a Czech kite-surfer who like me is among the few Western people invited for the event. His goal is to go to the Caspian Sea, yet his government minder is preventing such ideas to take place. When I tell him about the burning gas crater in the Karakum desert, 275 kilometers north of Ashgabat, I can see the excitement in his eyes.
I realise I just found my teammate for the adventure. Pavel is the youngest Czech to climb the Mount Everest, speaks fluent Russian and visited over 125 countries. With him on board, the idea of getting to the Door to Hell all of the sudden seems much more plausible. But obstacle two just increased with 100%: we now have to find a way to escape not just one but two government minders.
We agree to wait for a few days to try our luck. The idea is to camp out at the crater, and thus we first need a proper plan and figure out how to trick our guides while we disappear for almost 24 hours. After long debate and already one failed attempt, we need to compromise our plan. The only way we can see the burning crater is to leave very early in the morning and return by diner.
Mission impossible
It gives three major challenges. The first is the extreme heat in the desert. We will have to bring 4 liters of water each. The second is the location, which is in the middle of nowhere. We cannot just take a bus there or hire a taxi. In the worst case we will have to walk two hours straight through the desert from the main highway. My GPS on my phone should lead the way, but I cannot be sure it will work. Third is about getting back to Ashgabat. Once out at the crater we will be on our own since any potential tour group will only arrive there by 5pm. Since we are not camping, we cannot simply hitch a ride back with them in the morning.
There is no such thing as trying to make it there, we HAVE TO make it. There is no other way!
We are on a mission impossible, plus the risk of getting caught. But it's my dream to visit the Door to Hell and I know that I will most likely never return to Turkmenistan. There is no such thing as trying to make it there, we HAVE TO make it. There is no other way!
And so on the second-last day we wake up at 5AM and secretly leave the hotel from the emergency exit. With our guides nowhere in sight, we are able to get out of the Olympic village and jump in a public bus. We hide our media accreditation cards and change a few buses. At 7 am we are at the northern outskirt of Ashgabat. From here it should be just one straight road, let's say 3 hours driving. We agree to go by hitchhiking.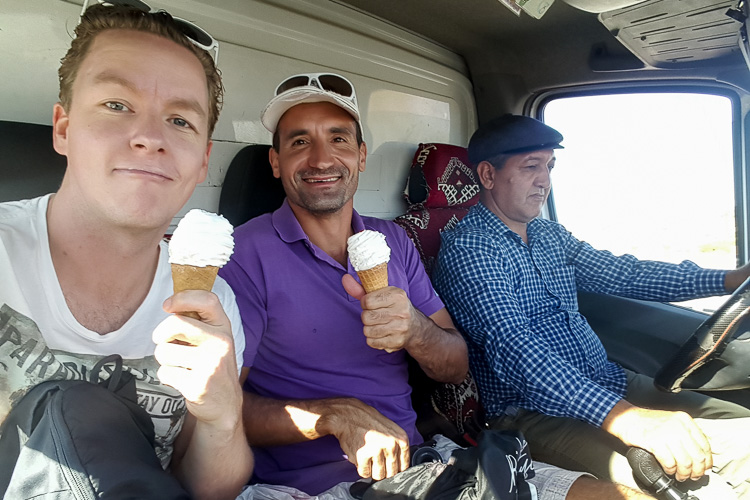 Stuck in the desert
In the beginning that seemed like a solid idea. We catch a couple of rides easily and have a lot of fun as we go. Pavel's Russian skills are a real game changer, and we are interacting with the locals like never before. After days of the suffocating proximity of our government minders finally we feel free and adventurous again.
But as we get further into the desert the traffic dries up. The few cars passing us are packed to the limit. It gets so bad that at 2pm we are completely stuck at a gas station with still 100 kilometers to go. In a desperate attempt we stop a car with barely any extra place yet somehow the people accepted us in. I track my GPS and after an hour I tell the driver we need to get out. We are happy to stretch our legs, but overwhelmed by our next challenge: the final leg into the unknown while time is ticking away.
Then out of nowhere a 4WD shows up. Desperate as we are we jump in front of the car, force it to stop and offer the dude inside 20 dollars to drive us to the crater and back. We are extremely lucky. The driver tells us he's been there hundreds of times. And so we race full speed through the desert and blazing heat. I keep tracking my GPS and can see we are just a few hundred meters away. The adrenaline starts pumping.
And then, as we pull up over a hill, I am completely struck by the view of an extremely random, abandoned, bizarre looking hole in the ground. WE MADE IT!
Me and Pavel almost hug each other and simultaneously jump out of the car. We both run straight towards the pit but are immediately blown back by the heat coming out. The crater is MUCH bigger, hotter and deeper than I ever imagined. The Door to Hell exceeds all my expectations!
Darvaza crater
The Door to Hell is also known as the Darvaza crater, named after a nearby village. It originates from the 1971, when Soviet geologists were prospecting for gas. They accidentally hit an underground gas pocket, causing the whole thing to collapse into a deep sinkhole. Fearing that the crater would emit poisonous gases, they had the brilliant idea to set the whole place on fire hoping it would burn out quickly. But here we are, almost half a century later, and the thing is still burning. Not surprisingly, Turkmenistan has the fourth largest gas reserves in the world.

After finding a better spot, my adrenaline level finally drops. As my mind gets clearer, I am staring at a bizarre spectacle of what is best described as the world's largest barbecue. The roaring flames, the incredible heat of something that was never supposed to be there. It's an incredible experience standing on the edge. I have to watch out, there are no safety measures whatsoever. If I fall in I will almost certainly die the most horrible way.

Regardless of the risk, me and Pavel take some daring pictures. Looking back perhaps not the best idea, but we had come a long way and it felt like something we could not skip.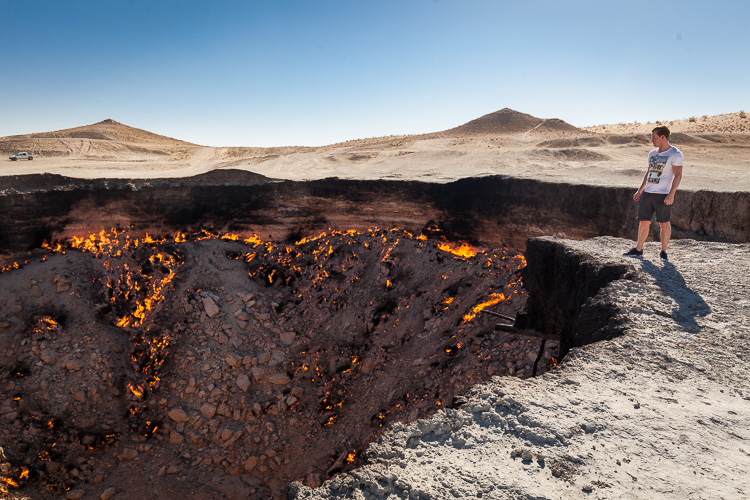 Back to Ashgabat
Our journey to the Door to Hell took us almost nine hours. In the worst case it can take us an equal amount of time getting back so we only spend around 15 minutes at the site. We have to race back to the Olympic village since we have no idea if our daring escape has set off any alarm bells back in the capital.
Luckily the journey back was much smoother. We manage to get back by 8pm and I soon find Bilbil hanging around at the diner place. I explain to her I slept a bit longer that day and went out to Ashgabat for some sight seeing. The language barrier prevented her from arguing about it and so in the end it was all good.
Back at the hotel I find a small notice under my door. It is Bilbil apologising for not being able to contact me that day and that she's been waiting for me at reception. Poor girl. Oh she has no idea…
Disclaimer: no one was hurt in this story
Did you like this adventure? Would you ever want to visit the crater, or have you been? Let me know what it was like!