A sports event I had never heard of, in a country most people don't even know exists. I was at the 2016 World Nomad Games in Kyrgyzstan to photograph fascinatingly exotic sports. One of them involved men on horseback throwing around a dead goat carcass.
Kok-Boru, or Buzkashzi as the game is known for in Afghanistan, can only be found in Central Asia. The game is played in three rounds of 20 minutes each, four against four. The aim is to throw a dead goat carcass in a tai kazan, a circular goal located on opposite sides 140 meters apart.
While Kok-Boru is often referred to as goat carcass polo, it's rather a game of rugby on special horses. Riders even have to wear special boots to protect their shins from the horses pounding into each other (sometimes at full speed!). They also ride on special saddles, which allows them to lean off the animal's side to pick up the 30+kg goat carcass from the ground. The goat is slaughtered minutes before the game and served to the winner afterwards.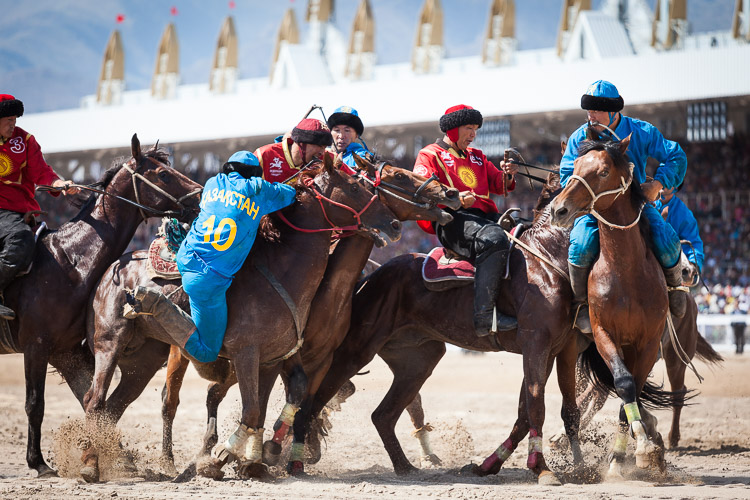 Kazakhstan vs. Kyrgyzstan – The Final
During the World Nomad Games 8 teams played a total of 14 games. At stake was €43.000 of prize money for the ultimate winner. I was fortunate to watch the final take place between rivals Kazakhstan and Kyrgyzstan.
READ MORE: Three Weeks of Backpacking in Central Asia: Route, Accommodation and Expenses
Since I had press accreditation I was allowed to stand right by the action on the side of the field! Being that close was for sure one of the highlights of my travelling career!
Read the captions to learn how the game progressed: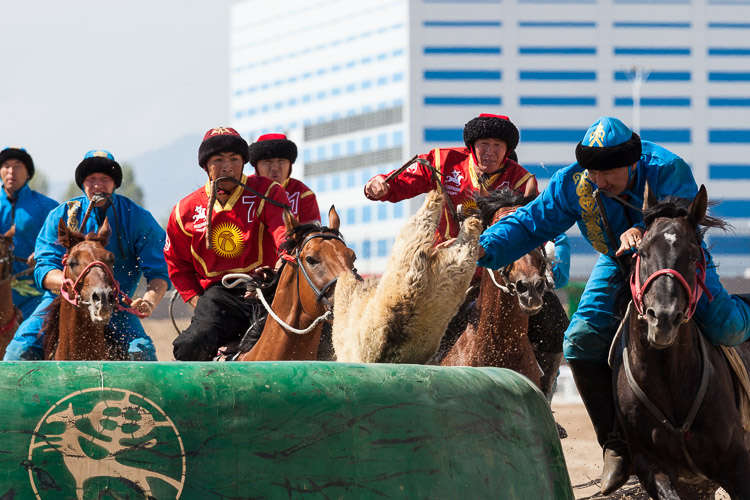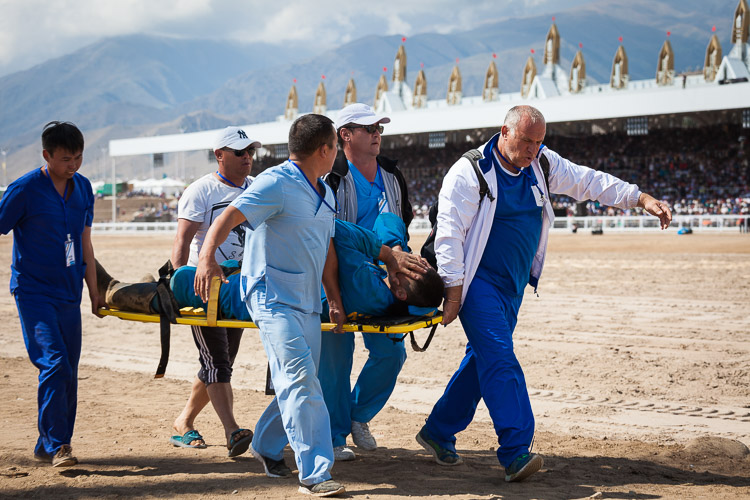 The World Nomad Games
The 2016 World Nomad Games (WNG) took place in Cholpon-Ata on the north shore of Issyk-Kul lake in Kyrgyzstan. Between 3-8 September it brought together 1200 athletes and trainers from 62 countries. Located over three locations 16 different sport games took place such as Gyulesh, Alysh and Er Enish, indicating that there is much more to it than just Kok-Boru. With so many exotic sports the event is often called the Nomad Olympics.
But even that name doesn't do justice to the World Nomad Games. Besides sports there is also a strong element of culture, art and music to the WNG. The best way I can describe it, is that it resembles a remarkable mix of the Olympic Games, Eurovision Song Festival and Burning Man. Up next more about that!
SIGN UP: Receive an email notification with every new post
Exclusive
: Since my return I worked together with Vice Sports NL, who published another of my articles about the World Nomad Games
here
.