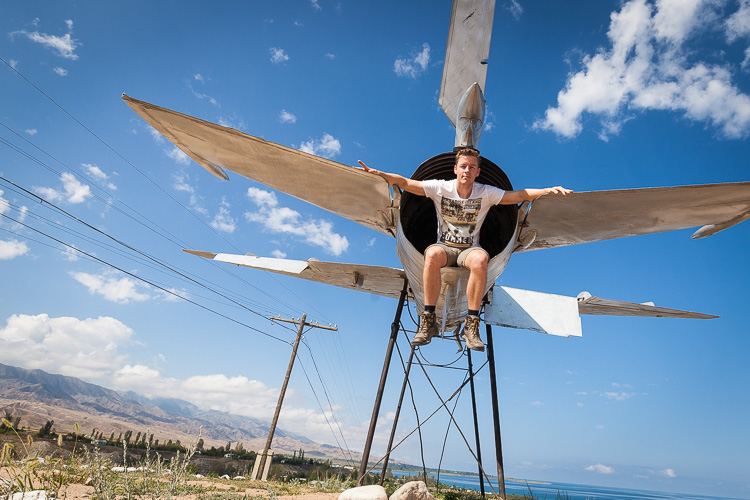 My first ever visit to Central Asia, an almost forgotten region in the world. It's where you can find the world's largest double-landlocked country, abandoned nuclear waste dumps and the second largest alpine lake.
Some of the most common questions I get when talking about Central Asia are about my route, the accommodation options and costs of it all. I spent three weeks there last September so let me attempt to give you a quick look behind the scenes of this amazing backpacking experience.
My route
For my trip I flew in to Bishkek, where I both started and ended my trip. The final route covered an estimated 3,800 kilometers. I travelled 57% by road (bus, mini bus, hitchhiking) and the rest by train. I visited three countries and returned home with 10 extra passport stamps.
Kyrgyzstan
After spending one night in Bishkek I travelled by road to Cholpon-Ata to cover the World Nomad Games. After that I found some rest in Tamga by looping around the Issyk-Kul lake counterclockwise. I then continued the loop around the lake to Karakol and days later back to Bishkek.
Kazakhstan
Only a quick visit to Kazakhstan by travelling from Bishkek to Almaty by marshrutka. After two nights I took a night train to Shymkent. On the morning of arrival I immediately continued by road to cross the Kazakhstan-Uzbekistan border and stay the night in Samarkand. The whole journey (Almaty to Samarkand) took me 24 hours and 11 modes of transport. It was one hell of a journey (but also a cheap one!).
Uzbekistan
From Samarkand I travelled comfortably to Bukhara by the high-speed Afrosiyob train (economy class). The train has been running between Tashkent and Bukhara for some time already, but the connection with Bukhara was brand spanking new. I took the train just a day after the connection was introduced.
From Bukhara I finally went back to Tashkent by night train. After two nights in the capital I travelled back to Bishkek overland.
As you can see I avoided the south region of Kyrgyzstan, Osh, when going to Uzbekistan. That's because I wanted to experience a night train in Kazakhstan and bypass the mountains. It's an unusual option not many travellers choose, but I can highly recommend it if you don't need a Kazakh visa. The route I think is more comfortable (both by road and rail) and is perhaps even a few hours quicker! On top: travelling by Soviet train is always a highlight of any trip.
Accommodation
An average night in a hostel dorm costed me about 10 dollars (breakfast usually included), with the exception of Tamga village (16 dollars, incl. diner and breakfast). In the end I slept in ten different hostels (13 nights), at a friend (one night, free), in a resort (four nights, for free) and twice in a night train (Kazakhstan and Uzbekistan).
Looking back I found that every city and most villages on the backpacker trail offer plenty of low-budget accommodation. I never booked in advance (mid September) and never had any issues. Usually I searched for the hostel options on hostelworld.com and pinned down some of my favourites on my offline map. Once at the destination I then decided which one was best.
Overall value for money is okay, especially when breakfast is included. Don't expect too much from toilets and bathrooms though. Staff pretty much always speak English and there are plenty of other travellers hanging around for socialising.
Expenses
The whole trip costed me just under a thousand euros. To be exact I reckon I spent €981.38. That makes the trip €47 a day, or just €22 for daily expenses excl. flights and visa.
The visa situation for Uzbekistan was as follows: €81.01 for the letter of invitation (LOI) via Caravanistan, which took 10 working days. The 15-day visa at the consulate in Bishkek costed $65 and was provided same-day.
My flight was by Turkish Airlines and costed €366.23 for Amsterdam to Bishkek, via Istanbul. Pretty much all flights leave and arrive very late/early in Bishkek. Luckily there is a morning marshrutka nr. 380 to take you downtown for 30 SOM (€0.40) Going back to the airport after 22pm will require you to take a taxi (500 SOM, half hour).
Things to know before you go
Uzbek visa – My advice is to get the LOI by contacting Topchan hostel in Tashkent. It's not only a great hostel, but they provide the LOI for just $40. Collecting your visa at the consulate in Bishkek (location on Google Maps) is easy and quick, I can recommend it. Only on Tuesday, Wednesday and Friday, 10-13h)
Tours and guides – If you are short on time and want to make most of your trip, then I can advise to book a tour. One of the leading authorities in Central Asia is Indy Guide, which hosts a market place for local guides, drivers and tours. Listed is a large range of packages, so check out for example what's on offer in Kyrgyzstan and Uzbekistan
Uzbek money – Bring US dollars in cash! There is a thriving black market in Uzbekistan so you can get double value by exchanging foreign currency! Do not forget to declare you currencies when entering and exiting the country, very important. [edit 2020: black market no longer exists due to government reforms]
Language – Knowing about 40 basic words in Russian and reading Cyrillic will definitely contribute to your overall experience. It's not that difficult so give it a try.
Packing – I intentionally stayed away from mountains and camping. If you do plan to spend a few nights high up, make sure to bring very warm clothes and a proper sleeping bag. At the end of summer, temperatures at night can still drop to freezing point. I met several travellers who underestimated the cold and basically cancelled plans of any further camping.
Planning – The best time to visit Central Asia is just before and after summer. Summers are too hot in the cities (30+ degrees Celsius) and winters simply too cold, especially in the mountains. I went in September and it was perfect, though still hot enough in Uzbekistan to take rest during the afternoons.