You may call it disaster tourism. Weeks after it happened I went to see what it was like at the site of the 2015 Beirut bombings. It took me deep into the heart of the predominantly Shia neighbourhood of Burj Al-Barajneh, a Hezbollah stronghold.
After spontaneously deciding to visit Lebanon I contacted a conflict journalist to inform myself on the safety situation in the country. His response was quite clear: "Stay away from Arsal and the southern Beirut suburbs."
To keep a long story short, that only worked for the first week. With plenty of other things to discover I hung out mostly in Western-oriented neighbourhoods. After some time though I realised it had given me a rather limited view on the city and country in general.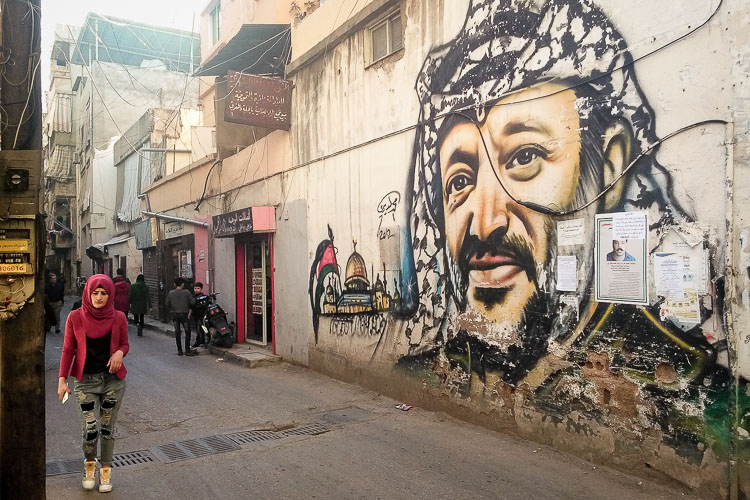 And so I jumped into a public minivan to head to the south Beirut neighbourhood Burj al-Barajneh. Checkpoints were set up by the Lebanese army to inspect cars entering the area. Not sure if they would allow me in, I got out the car a few hundred meters before to be able to walk around the security checks. I brought nothing else but a phone, some money and my passport.
READ MORE: Travelling to a Potential Conflict Zone: Safety Assessment Tips
As I moved two blocks up the road an ad-hoc infrastructure of electricity lines and water pipes emerged hanging overhead. When I noticed large murals of Arafat, martyr posters and pictures of Syrian president Assad I knew I had reached my destination. Still hesitant about my safety I first decided to get a cup of tea at the first street stall. Anywhere around the world this is always my ultimate strategy for slowly assessing the situation.
Despite keeping a low profile I still attracted some attention. People approached me asking me what I came to do. I explained my interest in Middle Eastern culture and to my surprise they were very happy to see me. No red flags as of yet, so minutes later I moved further.
Burj Al-Barajneh Refugee Camp
It turned out I had just entered the Palestinian refugee camp situated on the northern edge of Burj al-Barajneh. Being one of 12 UN-registered camps in Lebanon it was established in 1948 following the founding of the state of Israel. Over the decades tents have become brick buildings, often stacked more than 5 levels up in a highly improvised and unregulated manner. Hygiene standards are poor and electricity cuts common. In some areas streets are so narrow and buildings so high that day light is obscured making it feel like night time.
Tens of thousands of people live here on a very small plot of land, originally planned to house just a fraction of it. Recently also many Syrian refugees moved to the camp, adding to the overpopulation issue.
As I walked the dark streets of the camp I quickly got in contact with a friendly young local shop owner. He offered to show me around and acted as a translator while meeting some of his friends. He told me the stories behind some of the martyr pictures, which was quite a shock to me. It wasn't just fighting in wars, but people actually regularly die in the camps from electrocution or collapsing buildings.
Add to all the misery the fact that Palestinians are also restricted by Lebanese law to find jobs despite having the right diplomas. Many have therefore set up local shops only to survive on minimal income.
Beirut bombings
On 12 November 2015 the south Beirut neighbourhood of Burj Al-Barajneh was hit by a twin-suicide bombing. Killing 41 people and injuring more than 100 others, the attacks were later claimed by a group affiliated with ISIS.
Fact is that this attack was largely underreported by Western media. In an ill-fated series of events just one day later, Paris became the scene of the deadliest attacks since World War II. These ISIS-coordinated terrorist acts claimed the lives of another 130 people and dominated the news in Europe for days to follow.
Blast site
After building some trust I finally asked the shop owner about the recent suicide attacks. He told me we were just a few hundred meters away from that area. I told him I wanted to see the place.
As we exited the refugee camp I noticed him getting more nervous. "Keep your phone out of sight, take no pictures here", he whispered. The shop owner told me there were undercover Hezbollah militias patrolling the streets. Despite not being able to spot those, what I did see was Iranian and Hezbollah flags everywhere. We passed a small roundabout full of symbolic attributes. It was clear we were now outside the refugee camp, in the heart of Burj Al-Barajneh. It was the one place I should have been avoiding according to the experts, yet I was with a local who seemed to know what he was doing. And so far people had been really friendly.
He looked back at me, confirming what I was thinking. I was standing on top of the blast site.
At some point my guide told me to stop. "This is it", he whispered. I looked around, hard to see any kind of destruction from the recent blast. Then I looked to the ground and spotted a hole about 10 centimeters deep. I looked at my guide again and he looked back at me, confirming what I was thinking. I was standing on top of the blast site.
Immediately I got this eerie feeling even though people around me were shopping in the streets as if nothing had happened. Reconstruction had been really quick, people wanted to move on with their lives.
Contrasts
He signalled we should be moving back to refugee camp again. And to be honest, there was no reason to stay there anyway. I just felt really sorry for all the victims, my guide even knew some of them. The last thing I wanted to do was create a scene.
Minutes later we sat down for another cup of tea and talked a bit more about the history of the refugee camp. It had been laid siege several times, explaining why almost all buildings showed significant scars by war. People are not sure what the future will bring for them.
Still struck with awe I started reflecting. My first thought is obvious: terrorism sucks.  Second is about how this whole experience shed such a different light on my time in Beirut. I cannot think of any city I visited with more contrasts than I witnessed that day. Back in central Beirut, back at the flashy shopping malls and hipster bar where I was playing drums the night before I felt happy about my decision to visit Burj Al-Barajneh. It had made the picture of my visit to Lebanon more complete and proved that it is one of the most interesting places to visit.
Talking about another surreal contrast, have a look at my story about visiting the Baalbek ruins. Inside the troubled Bekaa region near Arsal the trip was yet another day full of conflicting experiences. Can you guess what it was like?
READ MORE: Is It Safe to Visit the Baalbek Ruins in Lebanon?