On a remote beach in Liberia lays an abandoned ghost ship and no one really knows how it ended up there. After I received a tip about its exact location I got excited and managed to find it and have a closer look.
It's a remarkable and fascinating story. A 63-meter long oil tanker called 'Tamaya 1' was sailing under the Panamanian flag when in 2016 it mysteriously washed up on a Liberian beach. Without a crew and without explanation, it left the local villagers scratching their heads when they discovered the bright orange hull stuck deep in the sand.
Liberian jungle
The vessel lays surrounded by pristine sand and tropical woods on a remote and hidden beach near the fishing village of Robertsport. To reach the place a local offered to be an unofficial guide. Together we decided to set off on an early morning so that we would arrive before the hottest point of the day.
Armed with a machete and only a vague sense of direction the idea is to take a short cut through the Liberian jungle. That sounds like a solid plan, but we end up spending more than an hour hacking our way through dense vegetation without any promise of a beach popping up at the end.
With the help of my GPS however we finally manage to reach the shore. The first thing I do is look to my right to find the ship at about a kilometer from our location.
Between us and the ship is a long and difficult path of slippery boulders, but we are both clearly happy to be out of the jungle. We take a short break and still covered with sweat continue our way minutes later. Each careful foot step is now bringing us closer to our final goal. I breath a sigh of relief the moment my feet touch the sand.
The perfect shot
After the slow start of the day, on the sand we are now making serious progress. Before we know it there are only 100 meters left to go. I start taking my first pictures of the ship up close. My guide doesn't notice and casually continues walking with his machete in his right hand, ultimately acting as a model for the perfect shot.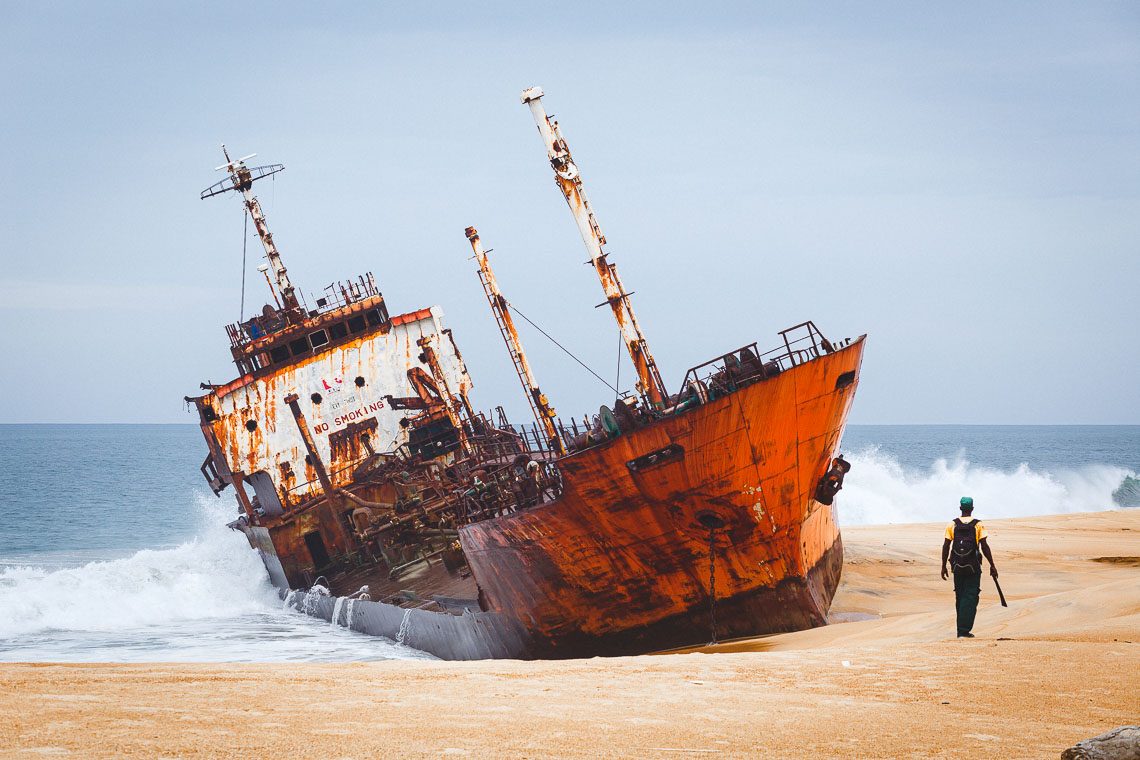 We then climb on board and start exploring all that's left of the decaying ship. Three years of constant pounding of the waves have clearly left its mark. Lots of parts are already so rotten that we have to be careful not to fall through the top deck.
Not all areas are accessible anymore but I do manage to reach the bridge, offering truly epic views. I let the pictures speak for themselves.
Abandoned
All the time we spend exploring the ship there isn't a single sign of people around. We are in a forgotten corner of Liberia, pretty much in a forgotten corner of the world. This is exactly what makes it even more spectacular finding this abandoned ship right here.
Before heading back to the fishing village I look up at the gigantic hull one more time. The last time I did something like this was in Bangladesh, where I photographed the secret and deadly ship-breaking industry. It makes me wonder if the Tamaya 1 will ever be broken down and sold for scrap too.
In the meantime finding this mysterious ship can easily be a highlight of any trip through West Africa. If you happen to be in the area, try to go look for it yourself. There isn't much known about it, but all I do know is that this ship is not going anywhere anytime soon.
If you like to see other stories of me finding remarkable abandoned places across the world, then quickly head down to my
abandoned
section!
Do you know of any similar shipwrecks somewhere else in this world? Leave a comment below or contact me through social media!