Going to Iraq, not as a terrorist but as a tourist. Yes that's right. I went to one of the most unlikely places on Earth to spend a holiday and it couldn't have been a better choice. Learn more about my experiences and find my 11-day travel itinerary.
To be precise I went to the northern part of Iraq, known as Iraqi Kurdistan. The unique feature here is that it is an autonomous region within the country. There are direct flights from Europe and visa-free entry is offered to many nationalities.
Now Iraq has seen a lot of conflict in recent years, which we of course all know about. Between 2014-2019 there was the insurgency of ISIS, causing havoc across the Levant. Some of its most horrific acts took place in Mosul and Sindjar, both a stone's throw away from Iraqi Kurdistan. Then there was also the war that Saddam Hussein raged against the Kurds in the late 1980s, involving chemical attacks and large-scale torturing.
The unfortunate and tragic history of the Kurds is one of military and political struggle, marked by several genocides and an ongoing strive for independence. They are considered one of the largest populations without an official state.
Iraqi Kurdistan
Unfortunately the most common misconception is that Iraq is completely bombed out, destroyed and full of terrorists. None of that is entirely accurate. In fact, Iraqi Kurdistan has been spared most of the violence seen elsewhere in the country.
It is important to understand that Iraq can be split up in an Arab part (Mosul, Baghdad, Anbar, Basrah, etc.) and a Kurdish part (Erbil, Sulaymaniyah, Duhok, etc.). In the picture above the non-disputed Kurdish parts are marked in dark blue.
Throughout the ISIS insurgency the Kurds have kept an impressive level of security within their region. The so-called Peshmergas, a Kurdish military force, played a key role to keep all the action far away from the main cities. They did suffer a lot of fatalities though and most western parts of Kurdistan are now disputed with the central Iraqi government. Kirkuk and Sindjar are prime examples and off-limits without an Iraqi visa.
11 days on the road
Now I can go on for hours about the captivating history and context of the region, but in this blog article I will want to focus on my travel experiences. Let me therefore take you on a 11-day photo journey through the region. A long cherished dream, dating back all the way to my visit to neighbouring Iran in 2013. Back then I met a hitchhiker who just crossed from Kurdistan, the first time I actually heard about the place.
This year it was finally my time to go and visit. I flew to Erbil and then travelled completely independently in an improvised and low-budget way, meeting up with locals as I went. I'll show you some of the best places I visited and share some stories of exceptional hospitality.
Here are some quick links for my itinerary:
PS. If you are interested in travel tips for Iraqi Kurdistan, then please hold on as I'm currently drafting a separate article about that. Sign up here to receive email notifications for new posts.
Sulaymaniyah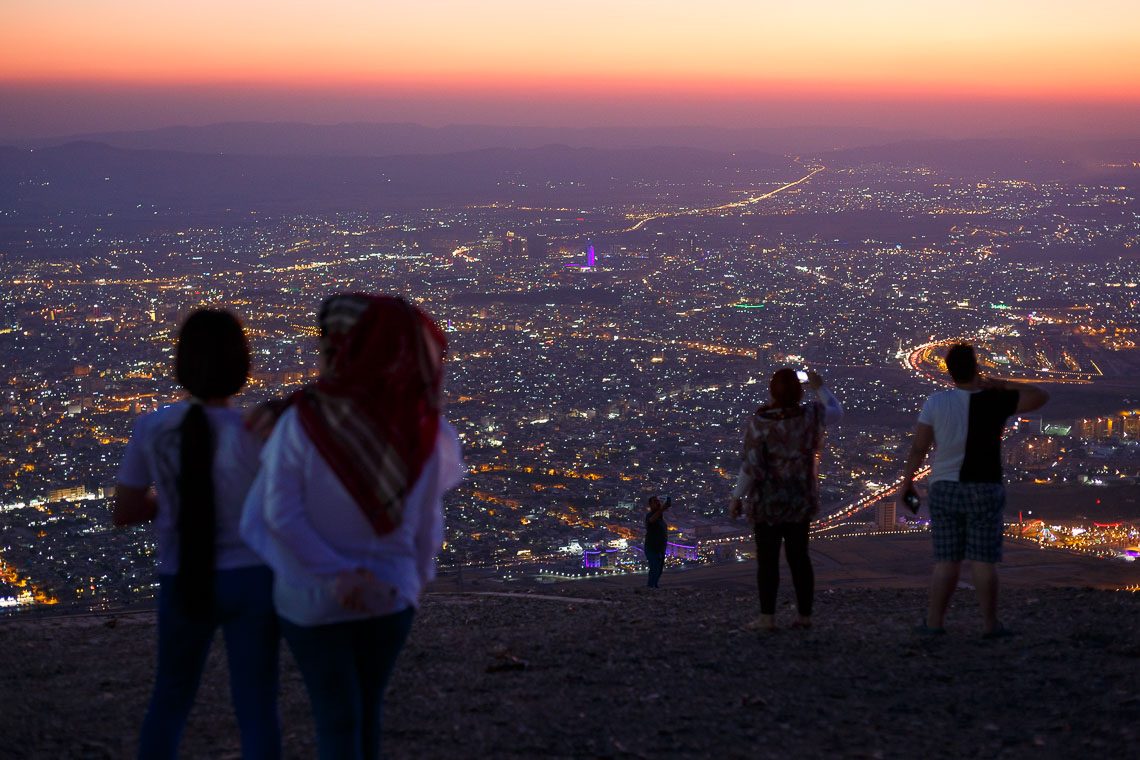 My itinerary started in Sulaymaniyah, close to the Iranian border. This city is one of the largest in the region and also known as Slemani, Suli or Sulaimani. Funny enough this name ambiguity is quite common in Kurdistan. Many cities have different names all relating to the same place, as you will see later on.
I ended up spending 4 nights in the family house of a local adventure traveller whom I met via Instagram. We shared amazing home-cooked food and among others made an extensive visit to the Amna Suraka museum. This dark place brings you back to the period when Saddam Hussein raged war against the Kurds. Recently an impressive exhibition opened about the fight against ISIS. Through endless pictures and re-enactments they honour the thousands of Kurds who lost their lives on the battle front.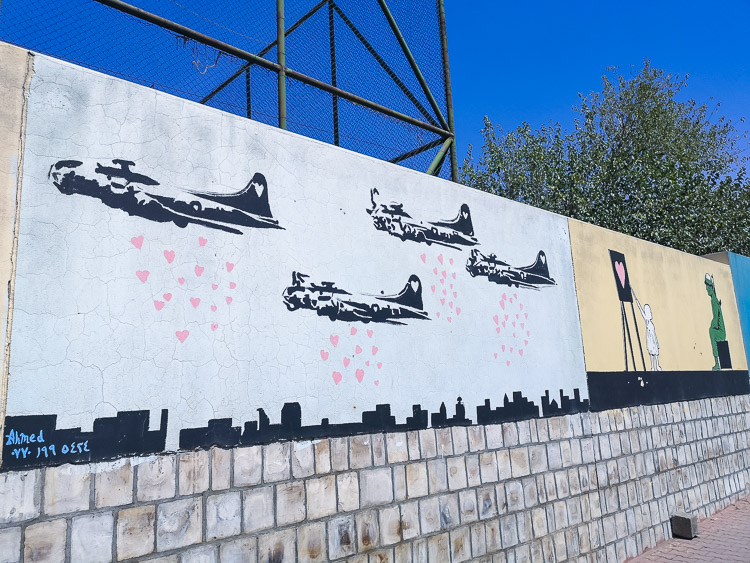 But there are also more fun things to do in and around Sulaymaniyah, which some call the Paris of Iraq. Spread across the city are several cool graffitis and there is an impressive view over the city from a nearby mountain (which is particularly good around sunset). The bustling old town offers a perfect chance for people watching, eating street food and exploring the gigantic bazaar. Furthermore there are too many places to go for a drink and smoke water pipe during the evenings.
Rawanduz / Soran
Rawanduz (or Rawandiz, Rwandz) is the place to be if you are into nature, waterfalls and hiking. It is the most beautiful place I have visited in Iraqi Kurdistan.
Surrounded by the deepest gorge in the Middle East, Rawanduz is a small village located 10 minutes away from the city of Soran on top of an epic plateau. Rawanduz itself is nothing special, but it's the views when you reach the cliffs around the edge of the village that are truly spectacular.
There are a couple of viewpoints to consider, which I think are best visited around sunset time when the colours really come alive. One of the best locations you can find directly on any map under coordinates (36.617725, 44.528008).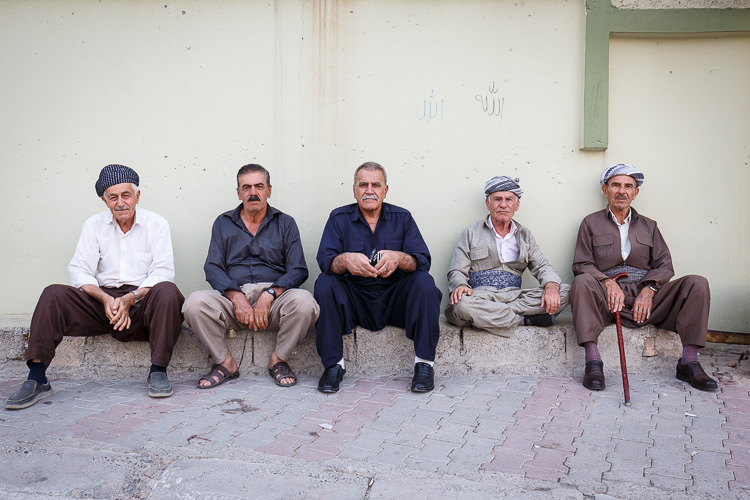 Other than exploring the view points in Rawanduz, there are also plenty of other places of interest around. A local offered to show me around and together we visited several waterfalls, went swimming and enjoyed drinking tea in and around the town of Soran. In the end I stayed two nights in a basic hotel in the city centre.
Akre
Akre (or Aqrah) is a place not to be missed. The old town comes alive during the evenings, when people come out to drink tea. The atmosphere is very welcoming and in their interactions the people provide a true glimpse of family life in Kurdistan.
It can be tough finding accommodation, but I was lucky to meet a family who offered me to stay for two nights in their house. This way I was able to explore and experience the village more in-depth than just passing by for the day. I ate fantastic food, joined one of the sons to a local bodybuilding gym and played around with their baby cats.
In the old town of Akre itself there is a fun lookout point where you can pose with a larger-than-life city sign. Also you can climb 15 minutes up to Kale mountain to find old city remnants and great views. On the edge of town, hidden in the mountains, there is a waterfall that many Iraqi tourists come to visit on a hot summer afternoon. Last but not least there is an epic but freezing swimming pool that locals say is at least one hundred years old.
Lalish
Lalish is the holiest place in the Yazidi religion and home to their most important temples characterised by conical, sharp-edged domes. The religion itself is barely known around the world as there are only few worshippers, many of whom live in the direct vicinity. The details of the Yazidi religion are really hard to understand, but let me just say that it is so old that it even predates Christianity and Islam.
I visited on a day trip from Akre, resorting to hitchhiking as there wasn't any direct transport available. Going into the small town of Lalish, where only two families live, you will need to leave your shoes at the security check point. As an outsider, the Yazidi religion has many mysterious aspects, and walking around bare foot is one of them.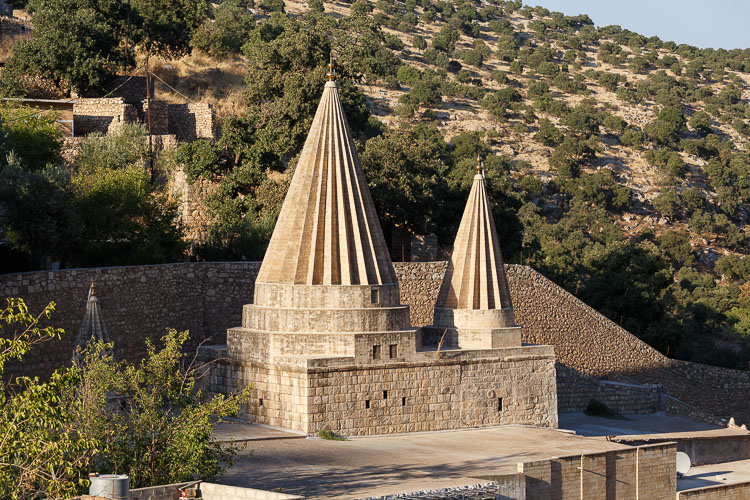 While walking around by myself I was asked to pose several times with visiting groups of Yazidi families and friend groups. Most likely that is because seeing any foreign tourists in Lalish remains a rare sight. Many of these visitors are refugees living in nearby camps, as they fled from Sindjar to escape the atrocities committed by ISIS. One group shared with me some heart-breaking stories but also their hope for a better future.
Halabja
The city of Halabja is tragically known for a large chemical attack carried out by Saddam Hussein's forces back in 1988. Thousands of Kurds died from a mix of mustard gas, cyanide and other chemicals in what is today widely considered an act of genocide.
The main spot to visit is the museum just outside Halabja. Here you can find yourself creeped out by life-sized dolls, providing an in your-face-experience of the direct aftermath of the Halabja attack. Not for the faint-hearted but definitely worth a visit as it is not too far from Sulaymaniyah.
In the surroundings of Halabja you can also discover a couple of waterfalls, some left-for-scrap Iraqi tanks and fighter jets and a memorial site to honour the victims. Halabja itself is now once again a 'normal' Kurdish city, where you can enjoy eating some street-style shawarma and going for a cheap hair cut. I met several people in town that spoke good English as they had lived in Europe for a while and came back for the more social life style.
Erbil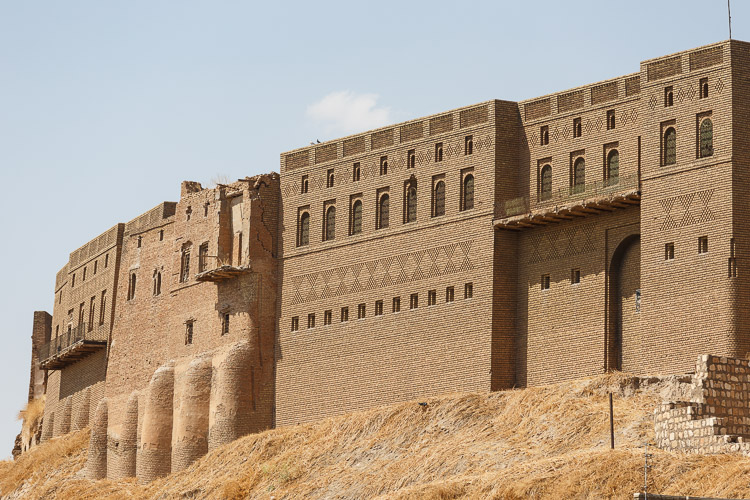 Erbil (or Irbil, Arbil, even Hawler) is the grand capital of Iraqi Kurdistan and home to the mighty citadel, a UNESCO protected site. Most travellers flying in start their journey here, I myself made it my final stop.
After having visited many places in Kurdistan already, the main locations to focus on in Erbil are really around the old citadel. There is a massive bazaar for shopping, numerous of place to sit down and watch people while sipping tea, and you can visit some parts inside the citadel itself.
Erbil was the only place where I didn't have a local connection. I did get to meet a Christian family, who happened to be refugees from nearby Mosul. Through pictures they showed me how ISIS took over their entire village and burned down their house. Now they are living inside a small room in a shopping mall right at the main square.
The view from the window was amazing, but mostly we sat down together discussing many things in life. They offered me to have diner with them and we even had a small Skype chat with some family members who are living abroad.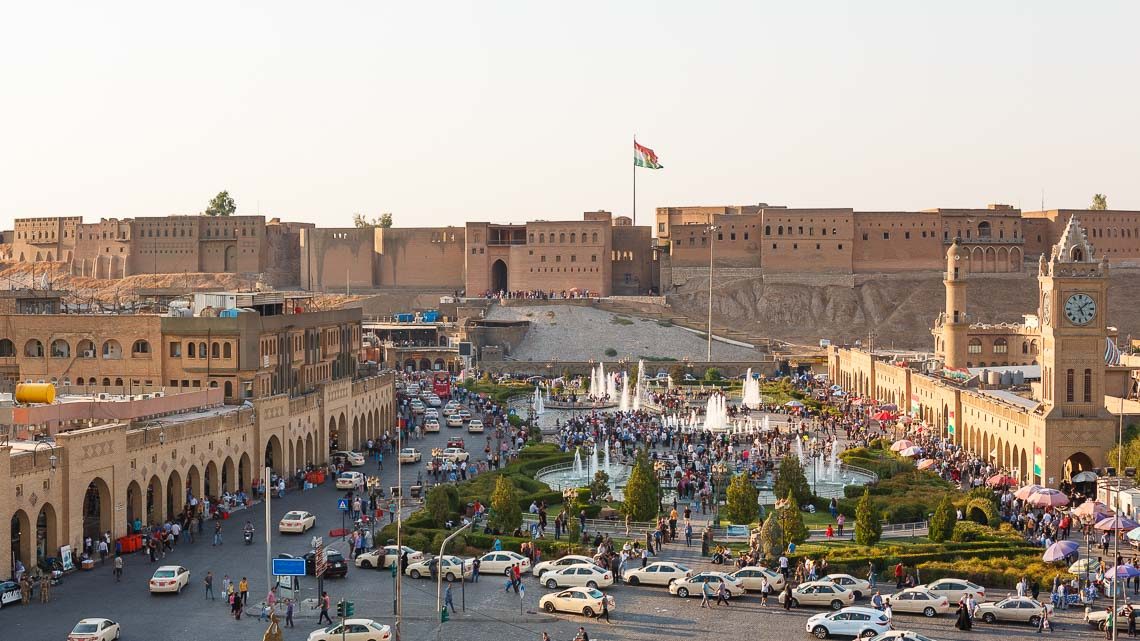 The perfect holiday
Travelling through Iraq turned out to be super easy, safe and relatively cheap. There are amazing things to see and do, making it perfect for a holiday. It's however the hospitality of the people, who despite all their struggles make the trip unforgettable. The Kurds really are the stars of the show, and in fact they are broadly considered one of the most hospitable people in the world. I challenge you to come experience that for yourself!
If this article inspired you to travel to Iraq yourself, then most likely you'll be interested in a full hands-on travel guide. Of course I could write one for you, but luckily Joan from 'Against the Compass' already did exactly that. That's why I recommend checking out his articles here, as I have used much of his info as well. If you are looking for a solo female travel perspective, check out this informative blog article by Diana from The Globetrotting Detective.
If you want to contact me about travelling in Iraqi Kurdistan, feel free to send me a message through this link, or simply start following me on Instagram!