Last year was my most unusual travel year. Covid continued to pose challenges and ruined all of my original plans. In fact, I did not reach any of the countries I hoped to be visiting. But there is a brighter side. I revisited Iraq and Georgia and made my first visit to Armenia.
Writing these 'year in review' articles has become a good tradition for me, though I realise this one comes rather late. On this summary page you can find similar articles for 2020, 2019 and even older. There is really some good stuff in there!
Anyway, zooming in on 2021 let's first start with the statistics!
Quickly jump to: Georgia | Armenia | Iraq | Bosnia | Travel plans 2022
Travel statistics
In 2021 I visited a total of just 5 countries, most of them being repeat visits. This is by far the lowest performance in the last 13 years. The obvious reason is that Covid continued to pose challenges – but also my busy corporate job played some role here.
There is however a brighter side too. In the second half year I caught up and spent in total 35 days abroad. In July / August I went back to Georgia and added Armenia as a new country on my list. Later in November I revisited Iraq, this time flying into Bagdad to travel independently from north to south. Other trips include a 2-night (work-related) visit to Austria and celebrating New Year's Eve without Covid restrictions in Srpska, Bosnia.
Looking at my travel lists, I have now visited 96 out of 193 UN countries. That's only one more than the previous year. However, according to the British Common Wealth – they see 226 countries and territories – I am now at exactly 100. Also if you consider the ISO code standard (249 'countries' in total) I have reached the 100 milestone.
I'm not looking to celebrate any statistical achievements though. What is more important is that I had an amazing time exploring new places within the countries I visited and revisited. It's not about the numbers but about the experiences and adventure.
1. Georgia
A key ambition for 2021 was to have a 3-week trip in a region where the Covid restrictions would be relatively relaxed. My eyes fell on Georgia, a country I had briefly visited before in 2014 during winter. This time I would go in full summer – July/August – to see the country from a different perspective.
I had two friends joining and together we travelled through a large part of the country. We visited among others Gori, Zugdidi, the Svaneti area (4 towns), Batumi, Kutaisi, Tskaltubo and Tbilisi. All by using public transport and on an 'adventurous budget'.
One highlight was a big hike away from modern civilisation for 4 days. Going independently, simply using our GPS maps, we hiked with all our gear through the remote Svaneti region in northwest Georgia. This is one of the most beautiful nature regions in the country and home to hundreds of family-owned medieval watchtowers. On the way we would sleep at local guesthouses, splurging every night on amazing Georgian / Svaneti cuisine.
There is much more fun stuff to tell about our trip in Georgia. Like going back to Soviet times with a surreal 'health' treatment in Stalin's favourite spa town Tskaltubo. Or learning about the 2008 South Ossetia war in Gori, which also happens to be the birth place of Joseph Stalin. Then there is our mini-holiday on the Black Sea in Batumi and sunbathing all day at the Tbilisi reservoir. Or what about the long and extensive diners in excellent restaurants in Zugdidi and Kutaisi.
Turns out Georgia is a great country to visit during summer. There is something of interest for everyone: history, cuisine, mountains, sea, nature, party, adventure – and all at affordable rates.
I can totally recommend to visit Georgia, make sure to allow time to explore different parts of the country. In the two weeks I spent there, unfortunately I did not see it all. But more adventure was waiting for me. Next up was taking an overnight sleeper train (I love this) to a new country on my list…
2. Armenia
First some context: Armenia is a relative small but interesting country bordering Georgia, Iran, Turkey and Azerbaijan. It is among the earliest Christian civilisations in the world and was once part of the Soviet Union. There is a huge diaspora of Armenians around the world, estimated at 5 million souls. Much more than the 3 million people living in Armenia today. Some famous names of people of Armenian descent are the Kardashians, Cher and the metal band System of a Down.
With little more knowledge than that, I arrived early morning at the main train station in the capital Yerevan. No plans, no hostel reservation, just some highlighted spots on the GPS map. Tourism was low (like in Georgia) so we adopted a flexible style not planning anything. The first two days were spent in the capital and some nearby villages using public transport and hitchhiking. We realised the inefficiency though, so we decided to rent a car the next day.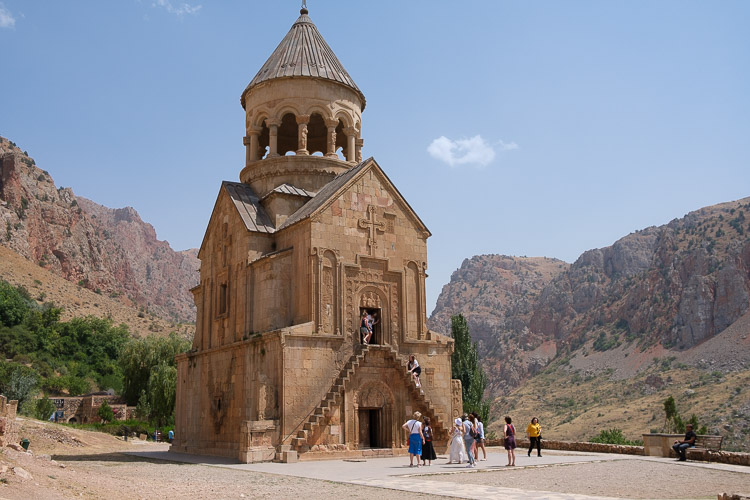 In the end me and my friend drove down all the way to Tatev, 250km south of the capital. On the way we visited some waterfalls, other sights and the incredible Noravank monastery. Another highlight was when we stayed with a local family in a small village. We had fun conversations, there was home made food and lots of wodka from the old man himself.
Other places we visited were Sevan and Gyumuri, which means we covered a lot of ground north to south. But like Georgia, we did unfortunately not see it all. I would be happy to go back to Armenia one day to explore the country and landscapes even further.
3. Iraq
Travelling to Iraq is really great. Two years ago I already spent 11 great days in Iraqi Kurdistan, a semi-autonomous region in the north. The region stole my heart, and I knew I would be coming back very soon.
So last November I flew to Baghdad, reaping the benefits of the new 77 USD visa on arrival scheme at the airport. It was my chance to explore Iraq properly with mild weather and relative political stability.
One of the first things I did was exploring the old town of Baghdad, ultimately ending up in a traditional tea house called Shabandar. It is famous among the intellectuals / poets / artists, who like to gather here and read, smoke, chat and drink tea. After that, another top thing to do was to visit the most beautiful monument in the world, the Al Shaheed Martyr Monument sanctioned by Saddam Hussein.
After two nights in Baghdad me and my friend started to travel across the country. We first went up north, completely independently just with our backpacks and GPS. We travelled to Samarra, Tikrit, Mosul and Al Qosh in the Kurdish controlled areas. Getting around was not always easy given the many checkpoints, but mainly with the help of locals we managed. In fact, we met up with several Iraqi youth through a social network on Facebook. Really great stuff.
After the north we travelled all the way back to Baghdad and continued to Karbala – a very holy pilgrimage place for Shia muslim – and further on to Hilah (home of Babylon) and Ziggurat of Ur in Nasiriyah. We also spent an afternoon in the Iraqi Marshes. Again, we met up with many locals and had a great time.
The overall feeling of travelling through Iraq was that it is safe as a foreign traveller but not always as easy going independently. First of all you need to be comfortable with dealing with soldiers and police all the time. In many cases there will be a huge language barrier. Also it helps if Iraq is not the first Arab and/or Muslim country you have been to. Last, there is no international tourist infrastructure and so you have to rely on connecting with locals and other travellers using Facebook, Couchsurfing and Instagram. Contacting a professional guide would solve everything of course, but that's never been my style.
So there are two ways to summarise my visit to Iraq. On one hand it was a difficult trip and at times complicated and frustrating to get around. Also there are just so many heartbreaking stories of people who suffered from endless war and terror. The destruction I have seen in Mosul was unreal.
But it was also a trip of a lifetime that had been waiting to happen for many years. The country is now more stable than ever (not perfect, but much better than before). Renovation is all around and the resilience of the people is impressive. Then there are the historic sites, some dating back thousands of years to the times of Mesopotamia. I have been to half of the world's countries, and there are few places so underrated as Iraq.
In the upcoming months I will be further working on writing about my experiences in Iraq. The11-day trip was packed with experiences, and a quick summary like this only covers about 10%. Stay tuned and subscribe to my blog if you want to be the first to know.
4. Srpska, Bosnia
This was my third visit to Bosnia. In 2011 I visited Mostar coming overland from Montenegro. Years later I went back to discover Sarajevo and Tuzla. This time I stayed for 3 nights in Banja Luka to celebrate New Year's Eve.
Bosnia is politically and ethnically a complicated country to understand at first glance. Technically the country is called 'Bosnia and Herzegovina' according to the United Nations. It consists of two entities: the 'Federation of Bosnia and Herzegovina (FBiH)' and 'Republika Srpska'. To make it more complicated, there is also the self-governing Brcko District belonging to both entities. Hover and click this interactive map I created just for you:

Bosnia and entities
Banja Luka is the largest city of Republika Srpska, located in the north close to the border with Croatia. Personally I never heard of this place before, but recently it has been on the news a lot as calls for Srpska independence are intensifying. The majority of Srpska residents are ethnically Serb and lean more towards Belgrade than Sarajevo. Since the fall of Yugoslavia in 1992 they also adopted their own flag, which is basically the Serbian flag without an emblem. Technically it is also the upside down version of the Russian flag.
With all that hot context you might think twice before going to Banja Luka. The experience is quite different though. I found the people very friendly, down to earth and respectable. Life is very laidback and there are a small number of things to see.
A big benefit for me was that Covid is largely ignored, making it the perfect place to escape the lockdown back home. New Year's Eve was celebrated without restrictions. There was a huge outdoor concert on 31st December, the largest of its kind in the whole Balkans with thousands of people attending. During my days in Banja Luka I visited many bars and restaurants.
It was a good trip to finalise a special year of travel and to start off with renewed energy for more exciting trips to come in 2022.
Plans for the upcoming year
Covid will surely continue to pose challenges, but this time I will not let it affect my plans too much. In fact, I already have an exciting secret trip waiting for me in February. It will be one-of-a-kind where I will be joining some of the greatest travellers on the planet (not joking). Follow me on Instagram to not miss a thing. On IG I usually post live stories when I'm on the road so you can virtually travel along!
Furthermore I am aiming for 3 or 4 short trips to new countries, perhaps Tunesia and San Marino. Also my plan is to spend another 3-month sabbatical at the end of this year in West Africa. I am thinking of flying to Ghana and continue overland where I ended in 2019. This way I might reach another 7 or 8 countries there, slowly moving my way to Cameroon. Now that will be some adventure!
How was travelling for you in 2021? Are you planning something big for 2022 too? Leave a comment down below or let's chat via Instagram!