Ocean vessels come bigger than ever before. Built to endure the wildest storms and the tallest waves, they were never designed to be taken apart. Yet there is a lucrative industry behind the demolition of these ships, called ship-breaking. I gained access to two of the most secretive ship-breaking yards in the world. 
What is ship-breaking?
Ship-breaking is the dismantling of end-of-life ships with the aim of recycling its materials. In South-Asia these ships are beached at high tide on the shores of the so-called ship-breaking yards. Unskilled workers then cut the structures from top to bottom. Piece by piece they reduce the world's largest ships to individual sheets of steel in a matter of months.
In most yards, ship-breaking involves nothing more than a few diesel-powered winches, gravity and some blow torches; the rest is just brute human force.
Facing death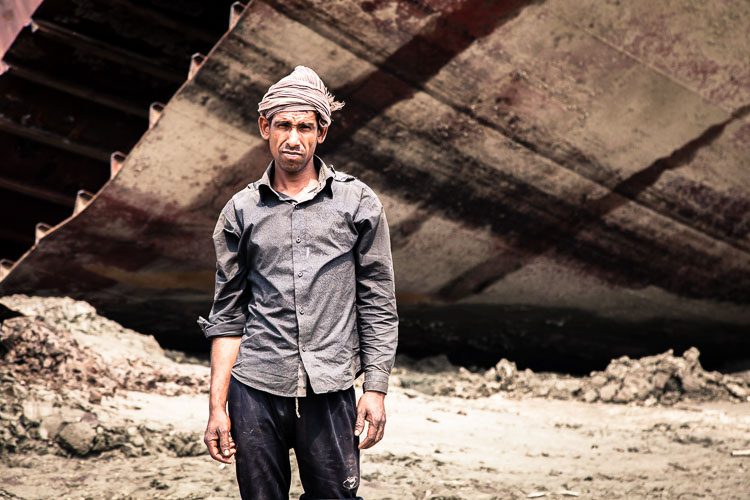 Generally speaking, ship-breaking can only be found in a handful of developing countries: India, Pakistan, China, Turkey and Bangladesh. It is here where safety and health standards are minimal and people desperate for work.
Estimations are that the death toll in the ship-breaking yards of South Asia in the past 30 years runs into the thousands. Most accidents are related to falling from heights, getting crushed by falling steel or by exploding tanks. It makes the job one of the most dangerous in the world.
Sitakund, Bangladesh
Ship-breaking in Bangladesh is centred around Chittagong, the country's second-largest city. On the nearby Sitakund beach about 80 commercial enterprises operate ship-breaking yards. Lined up side by side they can even be seen from space.
Through a fierce global competition, yards bid for the highest price they want to give for the scrap value of obsolete ships. The cheaper your own labour costs, the more money you can bid. This way, already in Bangladesh there can be a couple of hundred ships laying on the beach at any given point. They range from passenger cruisers, to container- and bulk carriers to (oil)tankers.
For Bangladesh ship-breaking is a very important industry. It is reported that the industry accounts for about half of all metal consumed in Bangladesh. On top, Bangladeshi yards recycle on average the world's largest ships and handle more deadweight tonnage than any other country.
Getting in – attempt no. 1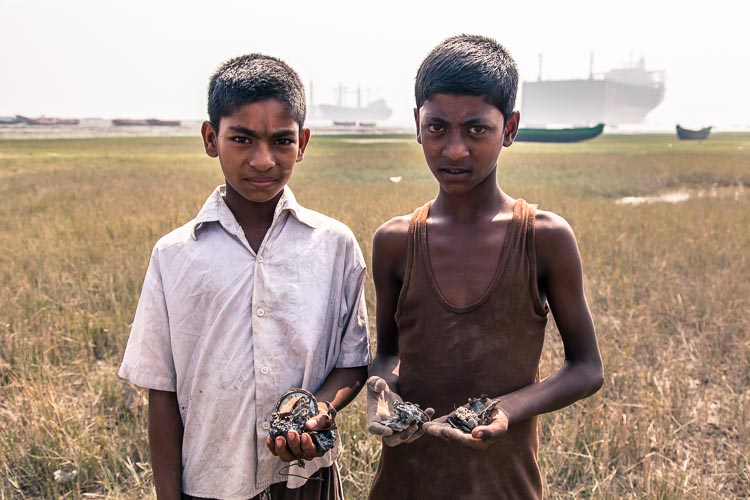 Due to all the bad publicity around ship-breaking I knew that getting a view inside one of the yards would not be easy. It used to be a rather unofficial tourist attraction (for as far as there are even tourists in Bangladesh), but outsiders are not welcome anymore. Nevertheless I went there on my own just to see what the situation was like.
Every yard hard anxiously fenced off their entire operation and so from the outside there was absolutely nothing to see. I only spotted some signs stating there is no child labour and that safety comes first. I had come a long way and really wanted to get a view on the inside. With little options I walked around the neighbourhood when I found some young boys gathering scrap metal. It was hard to communicate with them and so I couldn't really ask them how I could ever get into one of the yards. They pointed at hiring a boat but I wanted to get my feet on the beach itself. After I walked around a bit more all I could do was photograph some of the ships from a distance.
It took me several more days to get a better understanding of the possibilities to sneak inside. I met up with locals, former ship-breakers and started reading about how other travellers used to get in during better times. Sadly I learned that the only way these people had been successful was to pay huge bribes. I don't want to support corruption so that wasn't an option for me. Secondly, I was told that also bribes these days are no more guarantee for a quick entrance.
Attempt no. 2
I decided to return to Sitakund with a local who could act as my translator. I hoped that once there we could just improvise and find our way in, one way or the other.
At the front gates my guide fanatically tried to talk his way into some of the yards, but the doors were kept firmly closed. But then we found a small alley between two yards, miraculously leading straight towards the beach. As crazy as it seems, and despite the strong security measures, we could just walk directly into one of the yards. Bingo.
At that exact moment a column of workers was dragging a heavy steel winch cable through the thick mud towards a tanker. Others were preparing a pulley, carrying it barefoot over the beach littered with empty gas canisters and sharp scrap metal pieces.
What I noticed immediately was the bizarre backdrop of a semi-decomposed ship. The size of the tanker on the dry was so incredible that any person in front of it looked like the size of an ant. Only after a few minutes I then realised how most of the workers had stopped working and started staring at me.
At some point I was attracting so much attention that a guard came up to us, not sure about what to do. My guide thought it was better to move on. I had seen more than most others ever will, so we went.
Aliağa, Turkey
To learn more about ship-breaking I travelled to Aliağa, in the Izmir province of Turkey. Here you can find Europe's only ship-breaking yards, where standards are better defined and regulations more strict.
The ship-breaking takes place behind a huge oil terminal at the tip of a peninsula. Away from civilisation, the yards are located along a street about meters long. Like in Bangladesh, you can find several ramshackle shops trading in all sorts of (old) second hand ship parts. They include big orange lifeboats, furniture and huge engines the size of a small student dorm in London. In that perspective it looks as if the industry in Turkey works the same as in Asia.
I found the yards much less epic though. Even from a distance I could tell the huge difference with Bangladesh. The beached ships were smaller, there were much less workers walking around and a lot of the heavy lifting was done with machines. Operations also seemed to be a lot more structured and less dangerous.
Getting in
Despite the apparent better conditions, getting inside the yards themselves was a hard one. Like in Bangladesh the yard owners are just as suspicious of outsiders coming to have a look. The yards are fenced off and represented by a ship-breaking association using fancy folders to claim that all safety measures are met.
After some negotiation with the help of a local I finally obtained access to one yard. Under the conditions of not taking photos a manager silently showed me around, reluctant to talk to me as if I was a journalist.
To my bad luck the yard was the least busy of all and I only saw one half-recycled ship of limited size. There was space for many more so I asked him about it. He answered: "Most of the ships are going to India, we can simply not afford to overbid them". He told me business was not going well.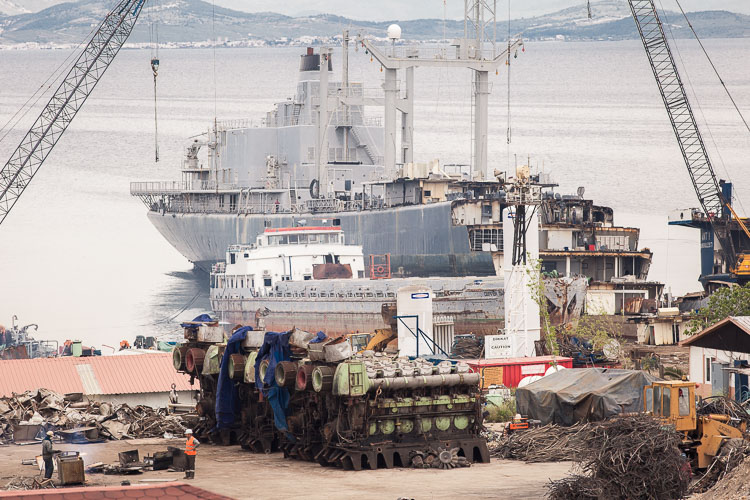 It was a valuable comment giving me more insight into the business side of things. Until then I had only been focused on the visuals: the enormous ships, piles of scrap and rusty parts. I realised there is fierce global competition, and the workers are the ones paying the price for it.
Bucket list
And so did I manage to get a glimpse of the obscure world of ship-breaking. It took me around the world, on low budgets far away from home to see how the biggest ships come to die.
It's a fascinating and bizarre industry that keeps amazing me. High on my bucket list therefore is to one day also visit the ship-breaking yards of India and/or Pakistan. For this time I plan to get more personal with the workers themselves, and also I am planning to take more time for it. The way it looks now is that it won't be before 2019 that I can find the time for such a trip.
Meanwhile, stay tuned for more interesting articles. Subscribe for automatic email notifications of new posts and start following me on social media!