Located at the edge of Lebanon's most troubled region, the city of Baalbek hosts the largest Roman ruins in the world. With the ongoing war in Syria just miles away, a common question is whether it is safe to visit them.
Update Nov. 2017:
All should be fine now. Check real-time status
here
(zoom in on Arsal region)
Update December 2016: Since my publication several readers visited the ruins and told me it was all safe. Read the comments at the bottom of this article to learn more.
First let's get a proper understanding of the situation around the ruins. I will go over a few recent developments.
Beqaa and the Syrian war
The Roman Ruins, sometimes referred to as Heliopolis, are located 85 kilometres northeast from Beirut in the Beqaa Valley. In the media this region has often been associated with tribal drug lords and the rule of tribal law. Though that could be true, for a traveller this will practically be of no relevance.
What is more important though, is that the city Baalbek lays north in the valley and is an important stronghold of Hezbollah. This political group is also a Shi'a Islamist militant group who are actively taking part fighting alongside the Assad regime in Syria. The main opponents they are facing in the Syrian conflict are militant groups from the Sunni denomination of Islam.
At a distance of approximately 35 kilometres lays Arsal city, which hosts a predominantly Sunni community. The mountainous Arsal region is notorious for its porous border with Syria, allowing jihadists of all sorts to get in and out of Syria in relative freedom. In 2013, rockets launched from Syria landed in the city centre of Baalbek, injuring several.
In 2014 things escalated. Sunni militant groups Al Nusra (Al-Qaeda's Syria branch) and ISIS invaded the Arsal region, capturing dozens of Lebanese police officers and later also soldiers. After days of fighting, the Lebanese army ultimately took back control in what is now called the battle of Arsal. Prisoners of war taken on both sides of the conflict were only recently exchanged in a long-awaited swap deal that took place in Arsal on 1 December 2015. The event triggered another series of shelling and so fighting around the area continues.
READ MORE: Visiting Burj Al-Barajneh, the Site of the 2015 Beirut Bombings
There have also been threats of Sunni muslim extremists trying to enter other regions of Lebanon. On 12 November 2015, a twin suicide bombing killed dozens in the Shi'a Burj al-Barajneh neighbourhood of Beirut (which I visited just weeks after). The attack was later claimed by ISIS. In the context of all these threats there are many checkpoints by the Lebanese army in the Beqaa valley.
Baalbek ruins
I visited the ruins 4 days after the prisoner swap, on December 5th 2015. I was together with an English friend and unfortunately we arrived quite late. As we were taking pictures of the sunset, all of the sudden we could hear the sounds of distant gunfire and shelling coming from different directions. At the exact same moment the call for prayer was broadcasted from nearby loudspeakers, making a surreal blend of sounds in the background as daylight was gradually fading away. We were not sure what was going on, but I started to record some video to keep the memory.
Note that the deep thundering sounds are clearly not from heavy gunfire (as I claim in the video), but from shelling. Later we found out that what we had been hearing was most probably the Lebanese army firing artillery at nearby Al Nusra positions. This newspaper provides proof to that theory.
So there was outgoing shelling nearby, probably at least 10km away. That would mean no direct threat for anyone visiting the Baalbek ruins.
However, there is another element of danger in the valley. One traveller who had been to the same ruins a few days later experienced a small incident involving what she called 'celebratory gunfire'. She explained me how several men in a pickup truck were shooting assault riffles up in the air when she passed with a public minivan. The weird thing is she also explained how some other men were shooting towards the street. Now this I think is not only weird, but also very dangerous. Bullets can change direction when hitting the tarmac and it wouldn't be the first time someone gets injured from that.
So is it safe?
Due to the experience I and the other traveller had, I would almost discourage people from still going there. Keeping up to date with developments is not easy, especially if you are not into following international news at all.
On the other hand, I have several reports of people going there without any issues. Concerning the Syrian conflict and spillovers in the Arsal region, it seems the situation is pretty much under control. There is tension, but I don't think it should stop you from visiting the ruins. Under normal circumstances the only thing you will experience is some checkpoints on the way, which to be honest is a normal thing in many countries.
My advice
To see if the situation around Arsal is changing at all, it is best to check Liveuamap. It offers real-time information about the Middle East conflict. Zoom in on the Lebanon-Syria border near Arsal and check (1) if the black area is still there, and (2) if there are any notifications about recent events. 
Do not rely too much on your accommodation for info. I found that in Hostel Beirut the staff could not inform me about any developments, let alone safety updates. Things were better in the cheaper Talal Hotel, but facilities are more basic and the hotel has much less atmosphere. When staying in a more expensive hotel I can only imagine how they will advise hiring a private driver. I don't believe it will increase safety but you would be able to see more things in just one day.
Do you want to learn more about travel safety in Lebanon in general? Check out this amazing post (I could not have written it better, honestly) by Joan from Against the Compass: Is it Safe to Travel to Lebanon?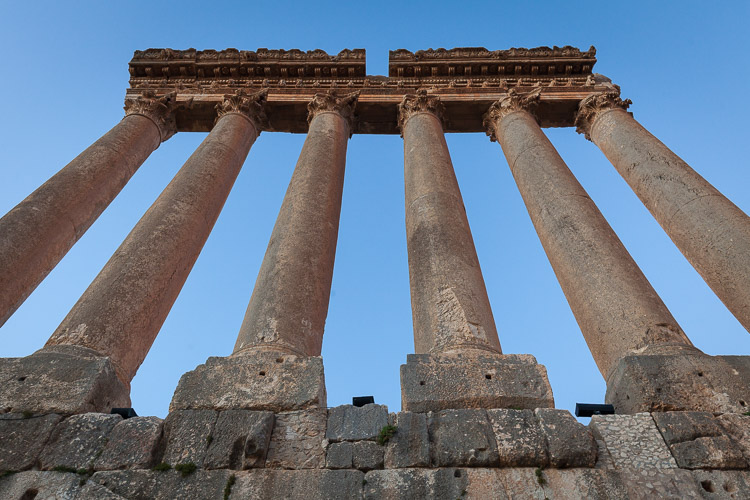 If you decide to give it a go, have a look at my directions:
How to get there
The drive from downtown Beirut to the archeological site can be done by public minivan (5000-7000 Lebanese Pounds, one-way). You can find these buses departing from 'Cola', which is like a big important junction in the centre of Beirut known for the Cola factory that was once there. Walking passed the big line of minivans, just ask around for the one to 'Baalbek'.
Read more: Safety Tips for Travelling to a Potential Conflict Zone
When the driver knows that you are going to the ruins, he will drop you around a place called Douris at the outskirts of Baalbek. It takes about 3 hours to reach this place, mainly because of the military checkpoints and traffic jams while getting out of Beirut. From Douris you can then jump into a sedan-like servees towards Baalbek. It will drop you almost in front of the gate for 1000 Lebanese Pound. Be aware that some drivers will try to charge double rate to foreigners.
Another important note: try to go back to Beirut around 6-7pm latest. There are minivans driving back directly from Baalbek, but they stop operating quite early. Make sure you find the right waiting spot by asking the locals.
Have you been to the ruins yourself? Or are you planning to? Let me know about your experiences and advice in the comments below !