The Pyramid
The Pyramid is one of Tirana's main attractions. Used as a NATO base during the Kosovo war, it now sits as a reminder of communism in the centre of the city. Youth often climb it for the views and hang out on top as a perfect place to smoke marihuana while staying our of reach for police.
With the right shoes climbing this former museum to dictator Enver Hoxha is not difficult at all. While some say that going down is much more difficult, I never found that. Just make sure you take the slopes on the sides, as they are least steep.
The Pyramid in #Tirana– well we love this place, despite it's dark symbolic significance #Albania pic.twitter.com/ggjiZ6QzRj

— Visit Tirana (@VisitTirana) October 1, 2015
Sleepless Nights
Weekend or not, there is always a party somewhere in Tirana. Also, if you go to Block/Blloku (read an excellent article about it here), you can drink so much great coffee for cheap (<€0.50) that you will never be able sleep.
Make sure to visit some of my most favourite places:
Excellent Italian Food
Most Albanians love Italy and know how to cook a proper Italian meal. Some of the best and incredibly cheap pasta meals I have eaten were in Tirana and other Albanian cities. It's something you have to try.
Getting Famous
Albanians love foreigners and are very concerned with what you think about them and their country. So if you write something nice, be prepared to become famous.
After publishing an article about how I embedded with the Ultras Guerrils of KF Partizani, the story got picked up by several Albanian media based in Tirana. My story was duplicated on websites, and I appeared in a national newspaper. I got recognised on the streets in several cities directly after publication.
Communist Bunkers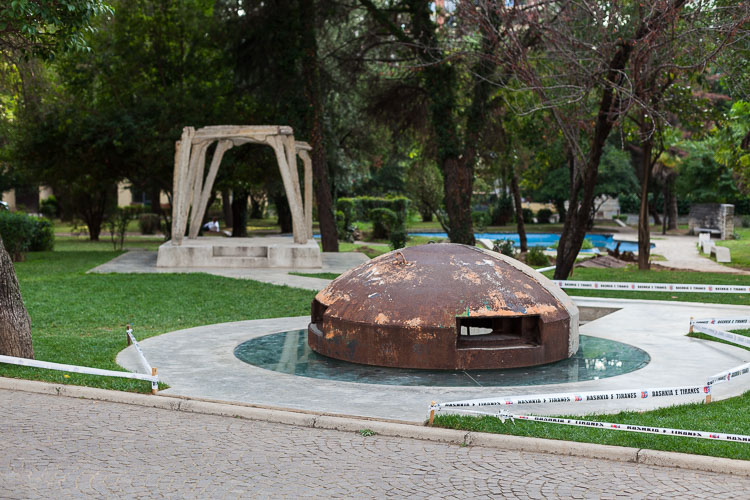 During the terror regime of dictator Enver a lot of money was wasted on building communist bunkers all over the country. At the highest period there were about 700,000 communist bunkers or one for every four persons. After the fall, these concrete structures became redundant and some find different use these days. Where until recently there was short supply of cars, people for example lost virginity in these things.
If you don't want to be bothered by searching for them, just go and visit the bunker at the east entrance of Block (located right here). It sits there as a checkpoint monument to the former secluded Blloku neighbourhood where dictator Enver Hoxha once lived. You can also find a piece of the Berlin wall there.
Long-Forgotten Park Benches
Even though at some moments it feels as if Tirana is the showpiece capital of Albania, there are still plenty of corners where you can see that it is one of the poorest and most corrupt countries in Europe. An example I found in a park without a name, located downtown 'behind the Opera'.
With more than 100 benches, there were maybe a handful in a good state. All other were in an absolute neglected state. Locals didn't seem to mind too much though; they sat where ever is possible.
Traffic Police Making Things Worse
I don't know what the idea is behind traffic police mimicking (functioning) traffic lights in Tirana, but all I know is that it makes things worse. On top, these cops seems to be at great risk getting hit and reportedly they sometimes also get threatened by drivers who do not want to listen to anyone. Perhaps it's about creating extra jobs in the country, but to me it remains a mystery why these cops are here.
Simple WiFi Passwords
Never did I came across a country with such straightforward WiFi passwords. If it isn't the name of the WiFi network itself, try it with 2015 at the end (or 2014). And if that does not work, the mother of all passwords: 123456789.
Old Men Playing Dominos
Perhaps not so typical only for Tirana itself, a stroll around one of its many parks and you will definitely bump into a group of old men gathering for a dominos game. Not the most difficult game to play, it seems to be serious business though looking at the concentrated faces.
The Worst Zoo on Earth
Despite several protests and help from foreign organisations, the Tirana Zoo remains open and somewhat popular by locals. It's one of the saddest places on Earth I have ever been too and I only visited it because someone told me that it's a really bad place.
At my time of visit the lions had recently died. What once hosted more than 60 different species, now features only three bears (probably after being used for entertainment on the streets), three wolves, some ducks and birds, a dozen rabbits, one buffalo, and a bunch of lamas and ostriches. Entrance costs 100 Lek (i.e. €0.72).
Coloured Buildings
Happy coloured building emerged all over Tirana after reportedly the mayor told residents to give their homes a fresher non-communist look. Locals claim there was a fair share of corruption involved in this move, but all I know is that some of the use of colours is pretty hilarious.
Love and Hate
Tirana is a city that never sleeps, a city where most youngsters hook up and where they can earn more than in any other Albanian city. On the other hand, it is also incredibly crowded, loud, congested and as a pedestrian you don't have much to say in traffic.
Asking around a bit, some seem to love Tirana while others don't. One thing is for sure: it's a city of contrasts. After having been there two weeks myself I can say it's therefore a great travel destination. A must-visit while you are out in the Balkans!