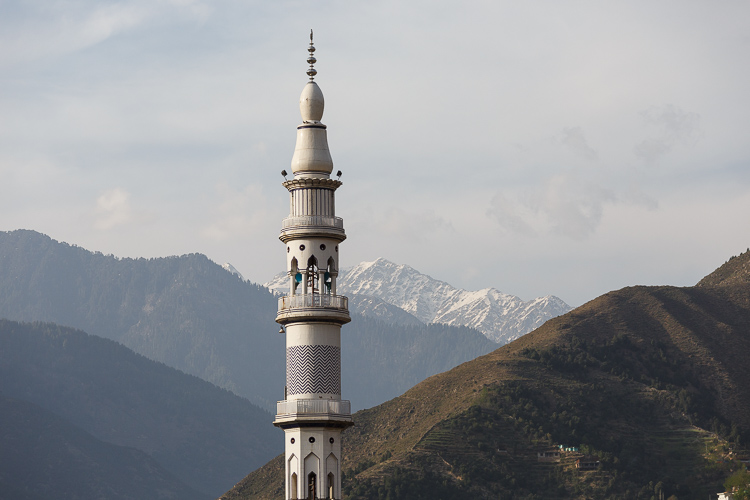 Visiting Pakistan was one of my main travel highlights of last year. A country not often seen in the top charts, it is packed with tourism potential. A special place that may attract a crowd in the foreseen future is the Swat Valley in northwest Pakistan. A volatile security situation so far has kept most visitors away, but 2019 might mark the start of a brighter future.
My idea to visit the Swat Valley was originally inspired by blogger Joan Torres from Against The Compass. He has been writing a lot about visiting Pakistan and spent over a week in several villages in the northwest. Knowing his way around the country he argues that the people in Swat are "the most hospitable". So when I happened to be nearby last year, I decided to follow in his footsteps and see for myself.
First a short introduction: the Swat valley is situated in the Khyber Pakhtunkhwa province, close to the Afghanistan border, and home to over 2 million people. It stretches out roughly 150 km on both sides of the Swat river, from its main town Mingora all the way up to a (now) hard-to-reach village called Kalam.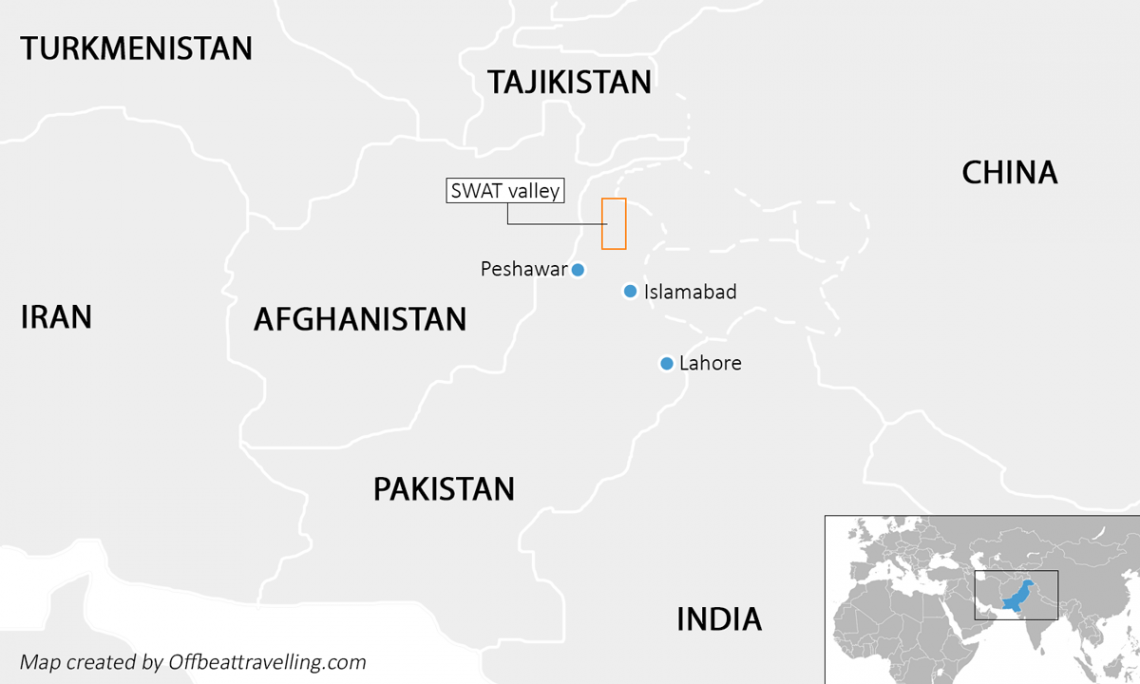 The majority of Swat's inhabitants are so-called Pashtuns, historically known as "ethnic Afghans". They speak Pashto, which is a different language than for example what people speak in Lahore or Islamabad. Pashtuns are conservative followers of Islam and dress traditionally. Their lifestyle can best be observed in the small villages, like Bahrain and Madyan. In contrary, Mingora has a more diverse ethnic community, resulting in a relatively liberal approach to life and religion.
The journey into Swat
While in Lahore I was told the best way to get to the valley is to travel to Peshawar, and from there take a bus to Mingora. For reasons that I will explain later in this article, there would be several army checkpoints on the way. I knew I might needed to carry a special permit to get through, but info on how to get such a permit was vague. I took the 'risk' of going without one and just talk my way through. Here is how it went:
About two hours into the journey from Peshawar the bus hit the first checkpoint, a large one. As the only foreigner on board I had to get out and hand over my passport to an officer at a desk. The driver of the bus followed me to assist, keen to proceed quickly because I was holding up all the other passengers. The two exchanged some words and after 5 minutes or so we were told to continue our journey.
The second checkpoint came about an hour later. An armed commando got on the bus, checked everyone and halted when he saw me. Again I was told to leave the bus, directed to sit down at a table in a small office and have my details written down in a large book. This time I could see I was the only registered foreigner in the last 1 or 2 weeks.
The officials on the other side were relaxed and attempted to engage me in a broken-words conversation. Not sure if I should be concerned for what would lay ahead (and for not having a permit), I explained them I am just a tourist heading to Swat. To my surprise the officers smiled and proposed to take a picture together. After an initial moment of hesitation, I took this opportunity and posed with the security forces. I thanked them for their kind welcoming service and minutes later we were back on our way.
Taliban
There is a good reason for all these checkpoints, and that has everything to do with the Taliban.
Historically the Swat valley had always been a conservative region with a relative low presence of the central Pakistani government. People used to live more in a tribal and self-governing way, which never was much of an issue. That all changed when the Taliban, spearheaded by a local cleric and lift operator, slowly gained popularity and in 2007 managed to seize full control over the valley.
For those interested, you can read here what that period must have been like for the residents. In short it has been associated with kidnappings, beheadings of opponents and the destruction of the (girls) education system. The Pakistani army launched a military offensive in 2009 to take back control, but it displaced almost a million people and leaving much of its infrastructure in ruins.
Mingora
Things today are much better. The bus from Peshawar brings me to the edge of Mingora, a city bustling as before with heavy traffic causing traffic jams around the clock. On the way I passed a lot of road works, offering local jobs and significantly improving the region's accessibility.
One of my first things to do upon arrival was getting to a hotel. Joan from Against The Compass advised me one on the other side of town, so after a quick meal I search for a taxi driver to take me there.
Funny enough there is an old man who had followed me since the beginning, and he seems very keen to help me out. Not sure if he is actually a taxi driver I decide to go for it. I figured there is no such thing as the professional scamming you see in India, so we decide on a price and off we go.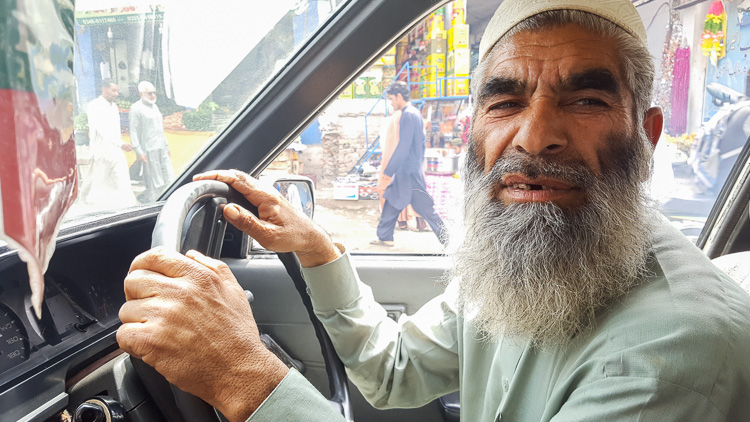 The ride brings me further into the heart of Mingora, confirming that the city is alive again. Shops are open, people are spending money and carrying all sort of items from place to place. Meanwhile my taxi driver is trying to get through traffic. I notice he is not a good driver at all, at some point I even suspect him of being nearly blind. We are unable to understand each other so we just laugh a bit while I'm hoping to arrive safely.
Luckily the story ends well and I set up base in the Rose Palace Hotel for the next 2 days. With not much planned ahead, and my stomach still shaky from my time in India, I take it easy on my first day. I'm only able to explore a nearby park together with the hotel manager and think of what to do the next day.
Secret police
After the slow start the day before, I know that if I want to get anything out of my trip to Swat I need to go somewhere. I decide to jump in a minibus in the morning and head up the valley by myself. Given the limited time I opt for simply exploring the villages of Bahrain and Madyan.
During the bus ride I start chatting with a man sitting next to me. His English is remarkably good, and it turns out he is a local property developer. When we arrive in Bahrain he offers to show me around.
The moment we step out of the car I take two pictures with my camera (see above), when I am immediately approached by two men. They first want to see my passport and then show me their police ID. I wonder if I made a mistake to photograph the woman, or whether they want to see some sort of permit. My adopted guide intervenes and explains I'm with him. He convinces the men to first let me walk around a bit and then say 'hi' at the police station later on.
To my surprise the whole situation does not disturb him at all. As if nothing happened we then spend half an hour casually going around the village, which is nothing more than a few streets and several bridges. The overall atmosphere is good, but I do realise that I am attracting a lot of attention. I interact with the locals for as much is possible though no one hardly speaks any English, understandably. I spend some time photographing people who beg me to take a picture, which is fun. Ultimately, the property developer tells me it is time to go see the local police station.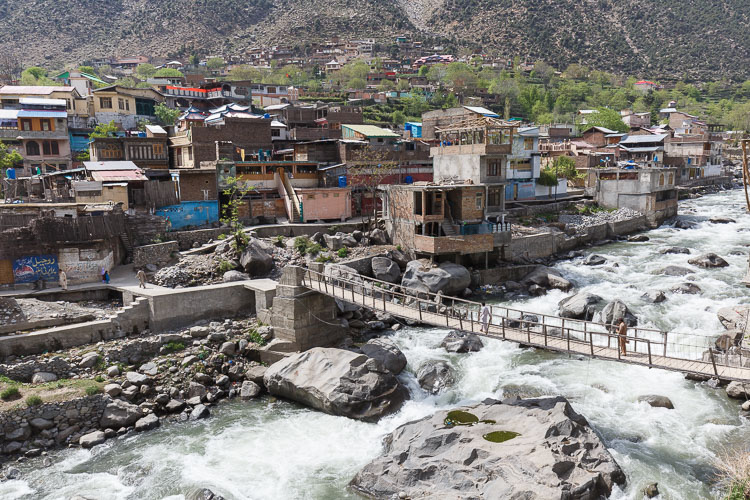 Inside the court yard of the police station someone offers me tea, but I refuse the offer. My mood tells me I am not planning to stay there for long. Actually I am quite irritated that the police has taken me separate. Once inside a barrack – for some reason it is pitch black and I cannot see a thing – I have to join several men at a table. They take notes from my passport, talk to my guide, and sip their tea. When after 5 minutes I enquire on the situation they explain me they just want to ensure my safety. After some more time I realise they have been discussing whether to offer me an armed escort for the remainder of the day.
It's a situation I have read about before on the Internet. Many travellers in the remote areas of Pakistan are offered an armed escort, for the simple reason that the government's worst nightmare is anything happening to foreign tourists.
Despite the offer I share my preference not to have an escort. I don't explain them in detail, but I think it attracts unwanted attention and makes you a target rather than just 'blending in' with the locals. On top, I did not sense any kind of threat in the valley at all, just encountering smiling faces. My adopted guide promises the police to watch over me and to take me to the next village Madyan. We all agree, shake hands and off we go again.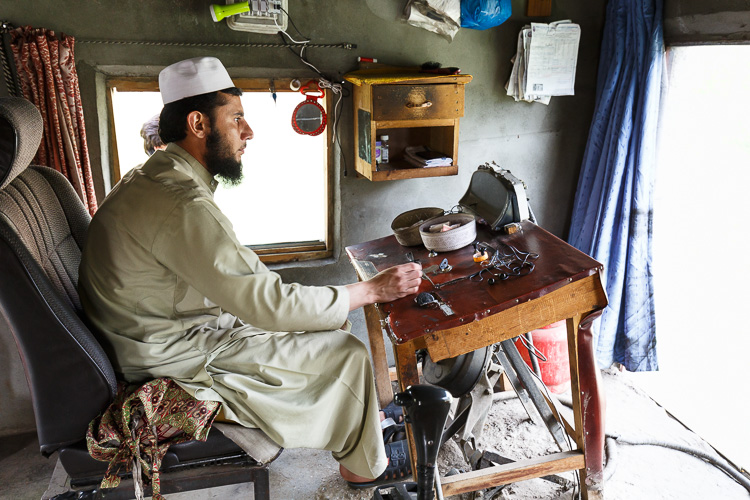 The remainder of that afternoon we have an amazing lunch together of local trout, subsequently visit a trout farm and ride a cable lift. All pretty much really normal things, but it's a good way to get an understanding of local life.
There is however one more final interesting encounter that day. Once at the local trout farm, a 10-minute walk outside Madyan, I am again approached by secret police. My guide explains him how we have already been to the police station an hour ago, and that he should not worry as I won't be staying long. Yet it becomes pretty clear that we are being watched.
Ultimately, after having spent several hours together, the man needs to go back to his family. It's almost getting dark and so he helps me to arrange a shared taxi back to my hotel in Mingora. During the long drive back I reflect on the day (it was a good day foremost) and think about how different things would have turned out if I had been alone.
Swat Valley Backpackers
It indicates how off the beaten track the Swat Valley remains before any tourism boom can be expected. So far in recent months / years it turns out most travellers that visited the valley were there on an organised tour, or they were independent backpackers who simply established local contacts before coming.
Having a local contact indeed really helps to avoid any bad or frustrating experiences. On my last night I therefore met up in Mingora with the awesome guys from The Swat Valley Backpackers. They grew up in the area and have welcomed various legendary full-time travellers like Joan (Against the Compass), Will Hatton (The Broke Backpacker) and Alex from Lost With Purpose. They can arrange trekking, hosting and provide tips and tricks about the area. I shared a dinner with them near the famous White Palace of Marghazar, listening to some of their amazing stories about life in Swat.
Meanwhile there are also several accounts to follow on Instagram. They highlight some of the wonders of the Swat Valley and work on changing misconceptions about Pakistan. Good examples are the accounts of Travel Beautiful Pakistan and Dawn Dot Com.
Last, there is also a very resourceful website specifically promoting tourism in the Swat valley. It is run by locals, which is clearly reflected in the incredible richness of information provided.
A brighter future
It is obvious that the volatile security situation in the Swat valley during the last decade kept away most of the tourists. On the other hand, my recent visit also indicates its potential for adventure-seeking travellers that wish to experience something different.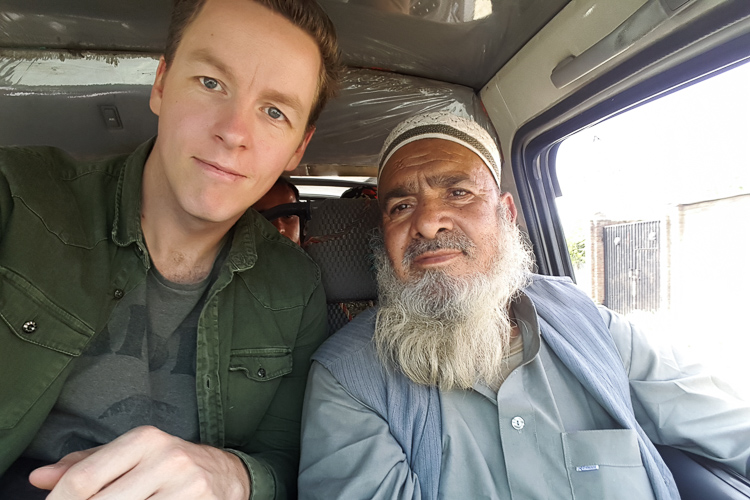 There are two good reasons to believe that 2019 will mark the beginning of a brighter future for the region. The first is that peace has (officially) been restored in the valley. Three major events in 2018 in this context:
The cleric who spearheaded the Taliban insurgence in Swat (he was a local) was recently killed in Afghanistan. In fact, ever since 2009 the Taliban leadership has been forced out of the region, and it does not look like they will return and take over once again anytime soon. As I have experienced myself, the valley is swamped with undercover secret intelligence agents hunting for any last remaining threats.
About ten years after starting the offensive to remove the Taliban, the Pakistani army has now finally handed over control back to civil administration. That means less army presence, making things a lot easier for both locals and tourists. A permit is no longer required for foreigners to enter the region and potentially it also means the end of armed escorts.
Last but not least there is the return of Malala to Swat. This former school girl from Swat became world news after she was hunted and shot in the face by the Taliban in 2012. She survived, found refuge in the UK and became a world-leading advocate of female education rights and Nobel peace price winner. On the exact same day as when I was in Swat (!), she briefly visited her home town nearby. Things were kept secret until she had left by helicopter again. A major event, since it was her first time coming back since leaving the country more than five years ago. For me that's an indicating that the situation is now much more under control than it used to be.
A second reason to believe why things should be getting better is the new prime minister Imran Khan. Once a cricketing super star, he is an educated reformer who sees broad support from across the country. He has vowed to improve the country's security situation and boost tourism.
My advice
Once in the Swat valley there isn't any clearly laid down path to travel. In my opinion there are no obvious must-see attractions other than perhaps the Malam Jabba ski resort (if you happen to visit during the snowy season). That means that the best thing to do in Swat is to go on a multi-day hike in the mountains and explore some of its villages the way I did.
I have only spent seven days in Pakistan, which seems like a mad choice of rushing it. Indeed I must agree you need more time to really appreciate what the country has to offer. I would suggest to spend at least 3 weeks in Pakistan, preferably even a full month if your agenda allows.
Lahore and Peshawar are two incredible cities not to be missed, the latter being the gateway to the Swat Valley. Having some time on your side, Chitral and Gilgit further up north can also be visited while travelling overland from Swat. Once in Gilgit you can take a flight back to Lahore.
Do not underestimate this trip though. The nature and road conditions can be challenging and require you to be flexible. You will also be approached by secret police, and you might still even be assigned an armed escort.
It's all part of the adventure though. And in a world where most travel destinations are overrun by tourists, Pakistan – and especially the northwest – still offers a unique chance to experience unrivalled hospitality and relive how travel in the good old days used to be. The improved security situation certainly helps in that sense, so I am expecting visitor numbers to increase significantly in 2019.
It will mean a new chapter for Swat, and I am curious to see what this renewed flow of tourism will bring in the next years ahead. At least I am certain that in any scenario I was able to beat the crowds…