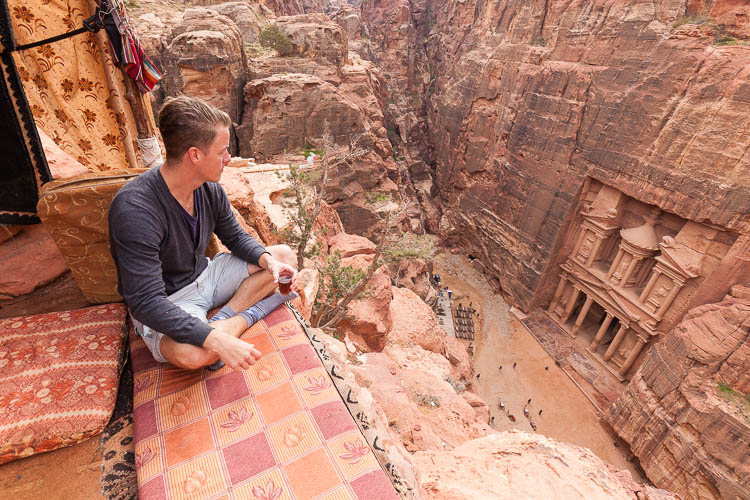 Back in September I left my country not knowing where I would go and when I would return back home. Yesterday though, after having spent exactly 100 days on the road, I arrived back in The Netherlands all safe and sound. Here is my small wrap up:
Where did I go?
In the first 54 days of my trip (read more about it here) I travelled the Balkans, where for the first time in my life I visited Albania:
In the second phase of my trip I travelled to countries I had never been before: Egypt and a small part of the Middle-East (Jordan and Lebanon):
Why did I decide to come home?
I realised on this specific trip first of all that slow travel is not for me. I more like the adventure of being on the road and going to new places, which gives me the feeling of being alive.
Moreover, I realised that travelling without a goal is a challenge. The only actual goal in my life at the moment is to start my professional career. For that reason I felt that coming home for Christmas seemed right as it is time for this new phase in life.
How much did I spend?
The exact figure is hard to tell, but all-in-all I can say I spent €2,798.89 (±€10), of which 26% was spent on flight tickets and a ferry:
Eindhoven to Skopje – €44.99
Athens to Cairo – €164.58
Nuweiba (Egypt) to Aqaba (Jordan) by ferry – €99.00
Amman to Beirut – €163.65
Beirut to Brussels – €171.27
Tel Aviv to Amsterdam – €81.00
The flight from Tel Aviv unfortunately I never used because I went to Lebanon instead.
This makes it that I spent about €27.99 euro per day on average. Without the above listed flights and ferry though, this will be €20.74 average on daily expenses.
The most expensive stay for me was in Lebanon (>€35 per day), mostly because I stayed only in hostels and drank alcohol. A minimum price for a hostel in Beirut is either €13 or €18 per night and a small beer costs at least €3.65 in a bar. Also, to get into a night club expect to pay at least $30.
Jordan costed me much less, mainly because I only Couchsurfed, hitchhiked and did not drink any alcohol. I reckon that there I spent on average (much) less than €10 a day.
Did anything bad happen to me?
I never lost anything, never got anything stolen, was never robbed and did not get scammed by anyone apart from a hostel in Cairo who sold me a train ticket for too much money.
READ MORE: How to Avoid Getting Scammed at Egypt's Great Pyramids
Some intimidation happened in Serbia outside a refugee camp and at the Giza pyramids, but they never stood a chance. Also, in Jordan an Arabic man gave me some problems when I was hitchhiking but also that situation I safely managed to get out of. It was a scary moment though.
What items did I pack?
When I came home, my 50-litre backpack weighted in at 11 kg. In terms of clothes I never brought much: one pair of trousers, one shorts, one swim shorts, a pair of walking boots, six shirts, a rain jacket, shawl and hat, ten boxer shorts and five pairs of socks. For the rest, I only carried a toiletry bag, a small sleeping bag, flip-flops, a lot of (backup) tools, a backup 1TB hard disk, various chargers and two travel towels.
My hand luggage was my camera backpack, the Vanguard Up-Rise 46. In this one I carried my camera equipment (Canon 5dmii, 16-35 f4, 50 f1.4, 85 f1.8, 430EXII flash, two radio triggers), a 13-inch macbook retina, a 500GB hard disk, my wallet and some small accessories. Total weight: 10kg.
What were my weirdest moments?
There were a lot of weird moments. A small selection:
What was my favourite place?
I have always liked the Middle-East and Balkans for the great hospitality and good food so it's a tough one to answer. Let me give you some comments per country:
Macedonia – Been there before already, but it's a nice little country with good hostels and an affordable lifestyle.
Serbia – Only been there on this trip because of the refugee crisis, but on my previous 4 visits I always highly enjoyed everything. Great food, drinks and people.
Albania – Unbeaten coffee culture, affordable and awesome people. A must-visit to anyone.
Greece – A tough one for me to appreciate since it was hard to connect with the locals. The Meteora monasteries near Trikala were absolutely stunning though.
Egypt – Egypt is good for adventure, especially when it comes to eating street food, but you must be a bit immune to the touts in the touristy areas.
Jordan – Cool country with super easy hitchhiking and Couchsurfing, though I never enjoyed the capital too much.
Lebanon – Beirut is an awesome city known for its diversity, vibrance and nightlife. The rest of the country offers cool historic places, but for a general tourist it's difficult to know where not to go due to safety issues.
Some special moments?
There are so many that I will need to find the time to share them all. But being able to talk my way into an historic football game between Albania and Serbia as a photographer was definitely unique.
READ MORE: Photographing Albania's Most Anticipated Football Game Ever
What will I not miss?
Special treatment – Being treated differently just because I am a foreigner, e.g. having to haggle over every price just to be able to pay the same as the locals. This happened mostly in Egypt.
Guns, armoured vehicles, military checkpoints and the sounds of shooting and shelling – Countries near to Syria are suffering a lot from the nearby war and tensions there remain very high. I came close to Syria a couple of times and heard the sound of war at a distance. Also in Egypt the threat of terrorism had a considerable impact on public life.
What is your next destination?
For the first time in years I do not have any next trip confirmed. Does this mean I will quit travelling? Of course not. But for now it's time to first find the right job and a place to live.
My next trip will most likely be a short one. On my list is definitely Central Asia but also Ethiopia, Lithuania and Belarus.
Some final words?
I would like to thank all of you who made my trip special. The tons of people I met along the way, the ones that hosted me, the ones that travelled along, the ones offering food, the ones offering me a ride, and simply those who read my stories from a distance and gave me (safety) tips.
In the upcoming month you can expect a backlog of stories, so please stay tuned and follow me on my Facebook page as well.