When I was asked to drive a sponsored car from Brussels to the Western Sahara I didn't have to think twice. A group of Citroën 2CV enthusiasts were on their way to west Africa and I decided to join them for the first 5,000kms. It turned out to be the road trip of a life time.
Driving a car to Africa is fair enough. But why would someone do that in a 2CV, often nicknamed the ugly duck, goat or tin snail? Just like you, I asked myself the exact same question.
To make things worse this front-wheel drive with only 28-horsepower can barely even make it uphill. Why would you then take it off-road, on official Dakar rally tracks through the most remote parts of the Morocco desert?
Fact is that the 2CV is a remarkable car with a revolutionary yet practical design. Introduced back in the mid-1930's the 2CV ("deux-chevaux") had to be cheap, simple to produce and able to carry a basket of eggs without breaking them. The French country roads were not nearly as rough as in Africa, however the engineers at the time came up with a solution unimaginable for that time: independent suspension all round.
Add to that many other extraordinary characteristics and you can see why the 2CV isn't that bad of choice after all. Most repairs only need a bit of duct tape and tie wraps, you can fix punctured tires just like you would on a bicycle, and replacing the engine can be done in a matter of hours in the middle of the bush.
Our car was converted for rally racing and was beautifully decorated. Among the many modifications it had a custom-made roll cage, extra-heavy suspension, special tires, glass fibre bodywork and full protection underneath. Many of the other cars in the group were much closer to the original though.
The Adventure
The adventure took me and my colleague Bram in 11 days from Brussels to Dakhla in the Western Sahara. My sponsor would meet us there and take over the wheel for the next 5,000kms to Benin. A total of 15 Belgian/Dutch teams, each with their own 2CV, took part in the race. We were the only team to split up the adventure in two, mainly because we could not get the 5 weeks off from work.
There was a support crew of two mechanic teams, a big Dakar truck with mobile kitchen (and chilled, Belgian beers!), and a few other 4-wheel drives. There were also 3 massive ex-German army trucks who joined just for fun. Painted bright yellow these beasts consumed 1L of diesel with each kilometre!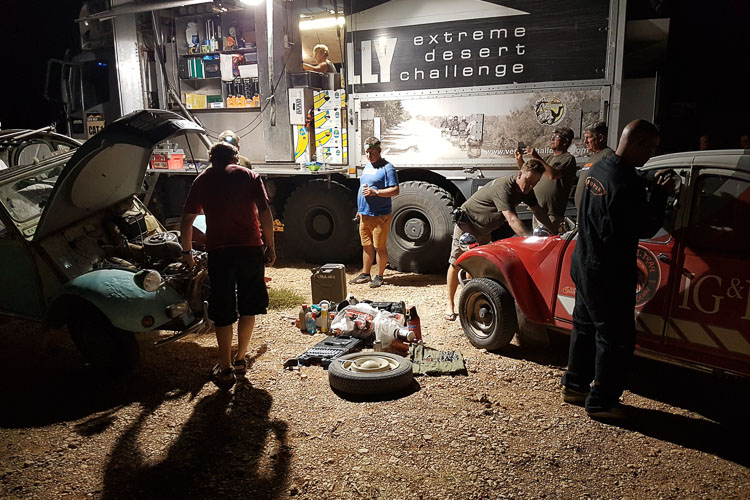 Hardcore
There was actually no official race, the only goal was to get the car to the next camping spot in one piece. That itself was already difficult enough. We broke down a couple of times and so did all the others. Blown up engines, broken tires, broken clutch, doors falling off, broken suspension: you name it and probably it happened to someone in the group.
It made us to really live day by day, not thinking about anything else but completing the track. In our special GPS device the organisers had programmed coordinates that we strictly had to follow. Sometimes we would need 10 hours just to finish 160 kms. Each morning there was a briefing telling us where to fill up our jerry cans and how to deal with police check points.
We were driving the so-called hardcore edition of the Touareg Trail. It took us though rivers, over rocky mountains and through the dreaded sand. Getting stuck was part of daily routine, and so was the soaring heat. The organiser made it very clear: "we will only help when you are in really serious problems. Always carry enough water with you and drive in small groups."
Western Sahara
One of the many highlights of the trip included entering the Western Sahara, a disputed territory claimed by both Morocco and its indigenous Saharawi people. The actual border (see picture below) is nothing more than just two monument blocks, no checkpoints or what so ever.
The reason is that Morocco claims that the Western Sahara is just as much part of the country as are all its other regions. They are basically in full control over the whole region. While driving through, there were political maps and pictures of the Moroccan king everywhere. Surprisingly the only thing that was missing, were actual people.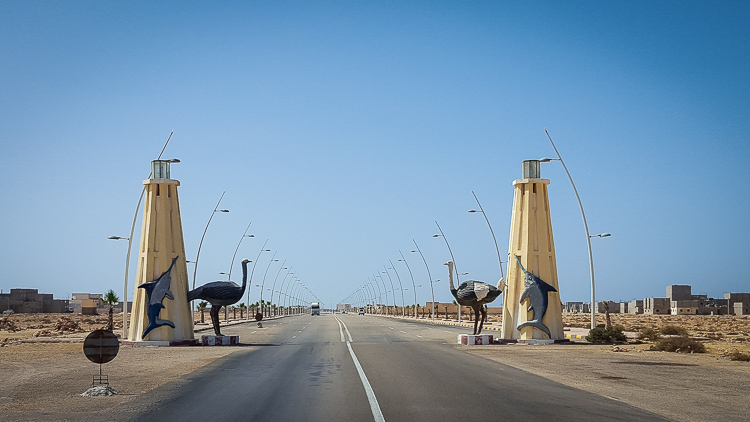 Morocco is actively trying to make it more attractive for Moroccans to move to the Western Sahara. They built brand new cities from scratch, offering low rent and cheap fuel prices. Despite those efforts I found the cities to be nothing more than ghost towns. They are spread more than 100 kms apart in the middle of nowhere, each with police checkpoints at both ends. With Mauritania bordering at one end, and more populated parts of Morocco very far away, there isn't much to do there.
Youtube
During the trip we shot some incredible video footage, which were later edited in a small vlogging series. Find a short episode below.
If that isn't enough, I also added these pictures to show you some more of the overall atmosphere:
Did you like this article? Pin it to your Pinterest board!