Belarus is unfortunately one of the least visited countries in Europe. It is probably because of the pain to get the visa, but luckily that all changed with the new 5-day visa free program put in place. I spent four days in the capital and loved every minute of it. Based on my own experiences, here is my ultimate bucket list for things to do in Minsk.
1. Meet Lenin on Independence Square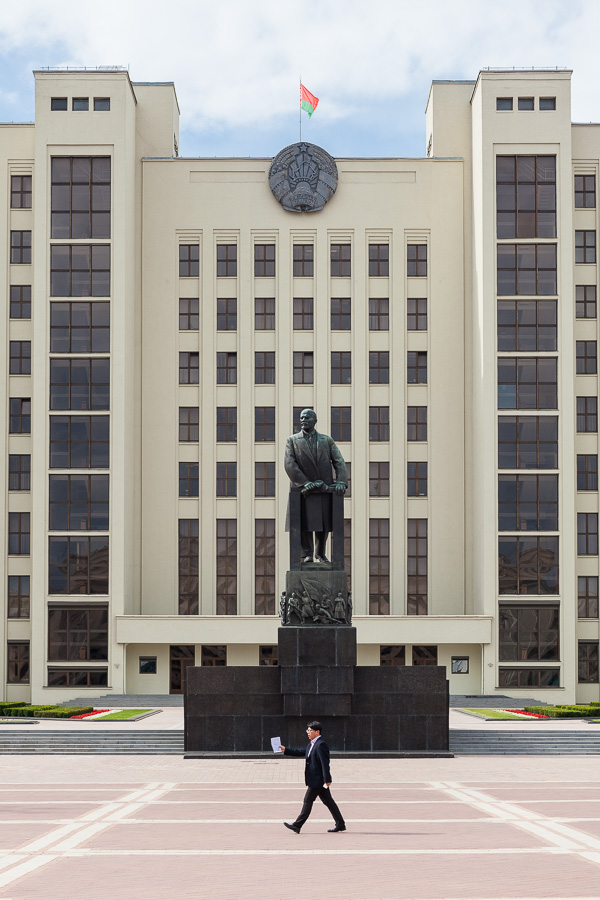 Confirming the reputation of Minsk as a prime example of a city built on Stalinist principles, I found the statue of Lenin on Independence Square (previously called 'Lenin Square') one of the most impressive ones I have ever seen. The huge backdrop of the House of Government completes the picture.
Fact: did you know that in Ukraine all statues of Lenin have been removed? It makes for a good reason to visit Belarus instead.
2. Secretly photograph the KGB building
There are a couple of things you really shouldn't do in Belarus, and photographing anything related to KGB is one of those. But after getting detained by the KGB already before in Transnistria back in 2014 I couldn't help but give myself a special souvenir. I secretly took the photo above of the main KGB building (left) without getting caught.
Fact: Other travellers tried to photograph the building too, but were stopped while doing so.
3. Check out the metro stations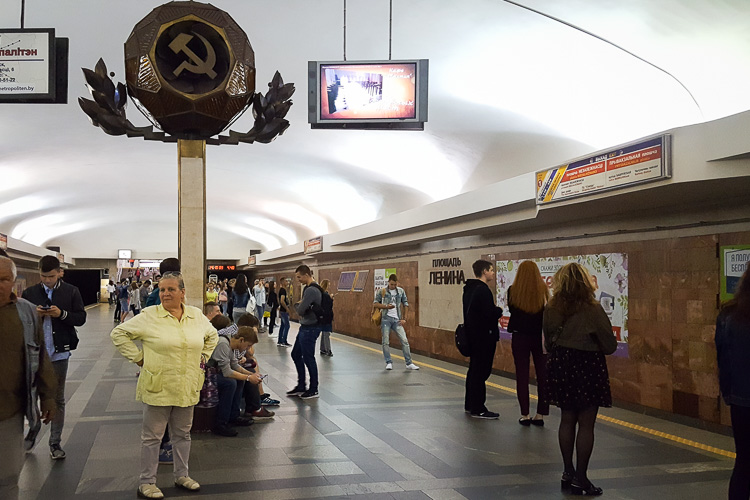 Minsk offers quite a few cool-looking metro stations, particularly on the red line. I guess the most interesting one would be Lenin Station (Plošča Lienina), where you can still see the hammer and sickle Communist symbols and a large head sculpture of Lenin.
Fact: Like the KGB building, photographing metro stations is officially not allowed so pay attention.
4. Find out what a 72-m high Rhombicuboctahedron looks like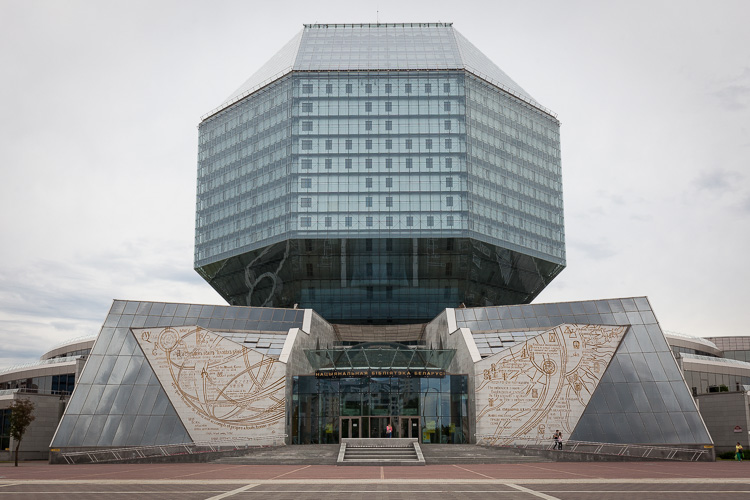 One of the newest public buildings in the country, the National Library is 72-meter high building opened to the public in 2006. Its main architectural feature has the shape of a Rhombicuboctahedron (say what???), which is basically a solid shape with 18 square and 8 triangular faces.
Fact: at the top of the building there is an observation platform, the only such thing in Minsk open to the public.
5. Admire the graffiti art at 'Brazilian Street'
Perhaps THE coolest place in Minsk is the so-called Brazilian street (Vulica Brasil) and it should not be missed. As part of a Belarusian-Brazilian collaboration project back in 2016, some incredible murals were created by various artists in and around Kastrychnitskaya street.
If you're keen to learn more about the project, go check out the official Facebook page (and check for upcoming events!).
Fact: Did you know Brazilians can stay in Belarus visa free for up to 90 days?
6. Fill your stomach with a burger from Enzo
After exploring the murals around Kastrychnitskaya street, why not check out bar Enzo in the middle of it all? Being one of the more trendy hipster places in Minsk, it makes incredible burgers that are definitely worth a try. A great place to fill your stomach before starting a pub crawl!
Fact: Hipsters are not just in Denmark, you can find them in Minsk too!
7. Go on a pub crawl using Uber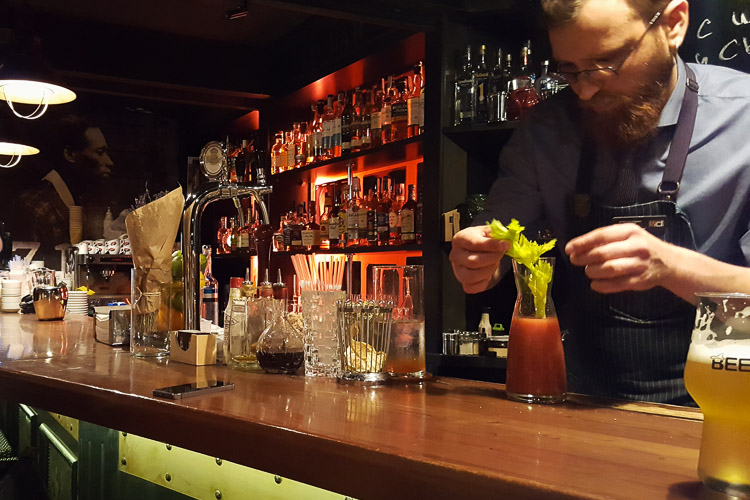 There are so many cool little bars in Minsk, 4 nights is hardly enough to visit all of them. If you do want to make a serious effort go on an Uber pub crawl. Since most places are not really close to each other this is the smartest way to see the best of Minsk in the short (5-day visa free) period of time.
Looking for the best places? Forget about Lonely Planet. By far the most incredible and useful guide to nightlife in Belarus was written by the locals from 34travel.me. Go check it out!
Fact: Ubers in Minsk are plenty and cost peanuts.
8. Drink a cocktail from a bathtub
Cocktails in Belarus are affordable and surprisingly good, much better even than in most Western places. If you like a bit of specialties, you can go to Bar Duck and gaze at the duck that comes with the drink.
Fact: Belarusian bar tenders take their job very seriously and can spend up to 5-10 minutes creating the perfect cocktail for you.
9. See the National Library by night
After all that drinking, you should take yet another Uber and check out the National Library at night. You'll be surprised to see what it will look like.
Fact: The rhombicuboctahedron is packed with 4,646 LED lights. It makes for the world's largest disco ball.
10. Climb Kurgan Slavy
About half an hour's drive outside of Minsk you can find the world's most impressive Soviet monument. It was built to commemorate the greatest battle in the Great Patriotic War, a war in which 40% (!) of the Belarusian population did not survive.
READ MORE: Kurgan Slavy: a Must-See Soviet WWII Memorial in Belarus
Unfortunately getting there is a pain as it is not connected to any public transportation. I took an Uber, which to be honest is your best bet.
Fact: the hill or mound (Belarusian: Kurgan) was erected in the late 1960s by people from all over Belarus bringing a handful of soil from their village, uniting the war-torn country as a whole
11. Visit Minsk Hero City Stella
Though not nearly as impressive as Kurgan Slavy, Minsk Hero City Stella makes up for a good alternative in the city center. Minsk was awarded the title Hero City in 1974 for outstanding heroism during WWII, hence the memorial.
Fact: Minsk is one of 12 former USSR Hero Cities. Others are for example Odessa, Kyiv, Moscow and Murmansk.
12. Watch a full scale Soviet-style military parade
Find yourself back in the Cold War while watching dozens of tanks and missile systems parading down the street. If you plan your visit either on 9 May (Victory Day) or 3 July (Independence Day) , you can see how Belarus hosts a full-scale military parade.
READ MORE: A Massive Soviet-Style Military Parade in Minsk
Fact: if all army vehicles would drive behind each other at about 20 km/h, the total parade would take more than half an hour. Luckily they form groups of three.
13. Join one of the national celebrations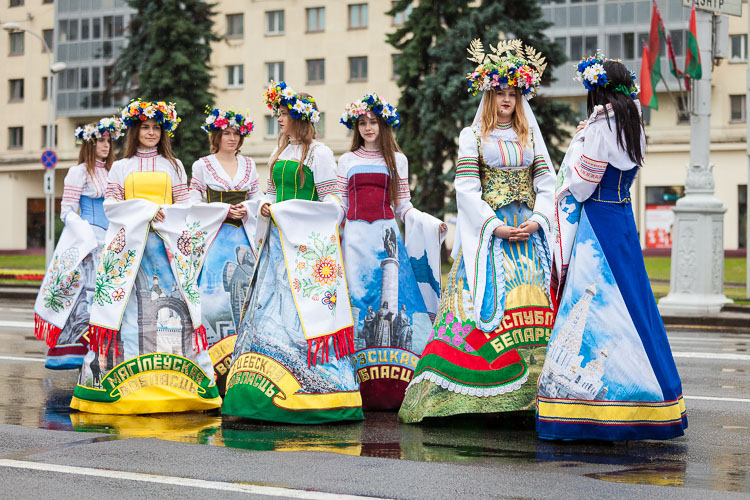 If you plan your arrival accordingly, there are plenty of interesting events taking place in Belarus. On the same day as when for example the tanks roll through the streets of Minsk there are plenty of other music and cultural events taking place across the country. I suggest to plan your visit to Minsk when there is something interesting taking place (or you might risk calling the city boring, like some travellers do).
Fact: Belarusians are proud to show and promote their culture. They are not the same as Russians.
14. Eat all you can at a local bistro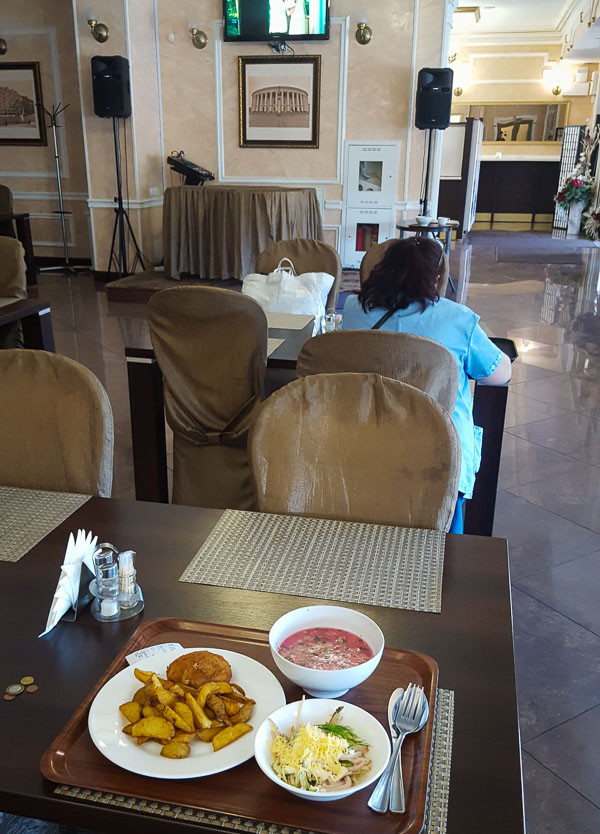 After checking of all the items on the list, there is just one thing left to get the full Minsk experience: eating at a local bistro. Here you can find (for sure) the cheapest food in the whole city. For this reason these canteen-style establishments are frequented by all walks of life.
Mind that the concept is self-service and do not expect anything cozy or high standard. Choice is limited (potato-based meals, soup, simple salads) and sometimes the food tastes like it has been laying around for a while. On the other hand, it gets the job done as you will surely leave with a full stomach!
Tip: find the above bistro right here (link opens in Google Maps on a new tab)
So there you go, the ultimate bucket list for Minsk! Let me know if you did any of these things, and if you want to suggest other cool tips. Leave a comment down below!