Getting arrested abroad is something you should always avoid. But getting arrested in a country that doesn't even officially exist, is definitely next-level. It happened to me in Transnistria, a post-Soviet state in Eastern Europe that for the past decades has been a frozen-conflict zone.
It all took place last summer, while staying in Tiraspol for a couple of days. While some foreigners only come in on day trips from the nearby Moldovan capital Chisinau, I decided with a friend to stay at a local whom I found through Couchsurfing. This way, we thought we would be able to gather more background stories and experience the local way of living.
So in order to get into Transnistria, we passed a checkpoint just outside of the city Bender while coming from Chisinau. Reports about having to bribe border officers or paying for hidden taxes turned out not to be true in our case. Perhaps it is because we were hitchhiking because our driver helped us to get through with minimal effort. We had our passport checked even though we never received a stamp, neither did we ever get an exit stamp for Moldova. But with a piece of registration paper that we had to bring to the police office the day after, we were sent off again as if everything was cool. My friend was quick to find out however that not all is what it seems. Like a true tourist he took a picture of the coat of arms positioned on top of the entrance gate into Transnistria. A border officer, wearing a distinctive Soviet hat, then raced to catch my friend as he got back into the car. "Delete, no photos", he explained in broken English. For this time we got away…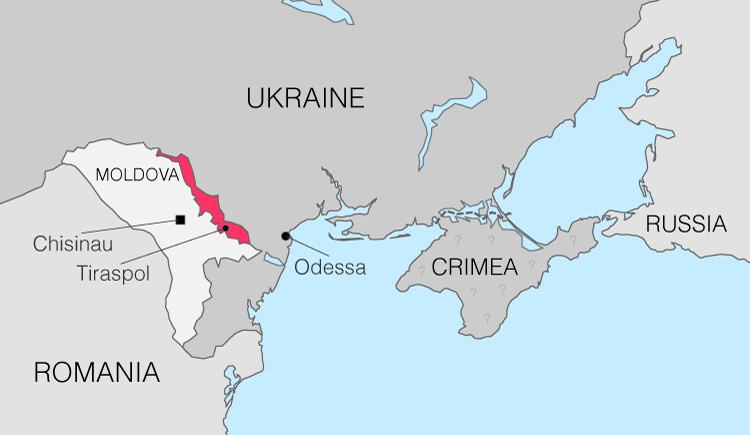 So, continuing our journey, passing through the city Bender we then crossed a bridge. Here we could see about six Russian soldiers keeping an eye on the traffic. I spotted several defensive trenches and one armoured vehicle pointing its mounted gun towards the direction of Bender. After crossing the bridge, we continued our journey with our driver into the city of Tiraspol. Not knowing it yet, we were passing a large Russian military base. I would find out days later…
Not knowing it yet, we were passing a large Russian military base. I would find out days later…
Transnistria accommodates a large 'peace-keeping' force of Russian soldiers, who together with some other national armies rotate to keep things stable in the unrecognised state. To most foreigners however, this goes completely unnoticed. Most day-visitors come to photograph Tiraspol's old but indestructible Soviet-era public buses. They sometimes visit the Kvint distillery, where one of the finest cognacs in the world is produced, and pose in front of tanks, jet fighters and statues that can be found throughout the city.
Transnistria indeed is quite a fascinating place, even if you're not into geo-politics. One fascinating example is the monopoly of Sheriff, a privately owned company run by a former KGB agent that holds pretty much all profitable business activities in Transnistria. It is an impressive list: a chain of petrol stations, supermarkets, a football club, two football stadiums, a telecommunications business, media publisher, a Mercedes dealer and a yet to be completed five-star hotel. The total size of the company remains unclear but foreign journalists have tried to uncover its shadowy business, accusing Sheriff for money laundering.
Assumedly, 1.500 Russian soldiers are permanently positioned in Transnistria. To put this into perspective, that's even more than there were in Crimea before it got annexed by Russia
KGB
Anyway, one day me and my friend decided to head back to the bridge at Bender to have a better look at the Russian soldiers. They were friendly, asking for souvenirs from The Netherlands but due to the language barrier I figured there was no point of standing there for too long. After a quick swim in the river underneath, me and my friend headed back towards Tiraspol. On our way, we took the usual touristy snapshots, had a stare at the Sheriff stadium from the outside, and continued our way walking back to Tiraspol. The day was getting to an end so we were on our way back to our host.
Then, on the left I spotted a wall painting of what appears to be a soldier. It perfectly contrasted with the yellow wall, and as a bonus there was even a Russian flagging flying above it! I realised I had seen that picture before in a newspaper, so I did not hesitate to pull out my camera.
Without realising though, I managed to take a photo of what turned out to be a major Russian military base in the centre of Tiraspol. Right after I took the photo, my friend noticed something was wrong. He could see how a Russian soldier rushed towards me, grabbed me right by the arm and dragged me straight across the road into the base. My friend followed me inside, and as the door closed we found ourselves surrounded by nine angry soldiers.
As the door closed we found ourselves surrounded by nine angry soldiers
With no help from a Dutch embassy to be expected, I realised the situation could become serious. I asked for permission to call for our host to come and translate for us, and to hopefully talk our way out. Within 10 minutes he arrived, but the atmosphere remained tense. One of the higher-ranked soldiers was highly suspicious. Especially in a time when neighbouring country Ukraine is at war with separatists fighting for a similar goal as the Transnistrians once were doing, spies are not welcome. They hastily copied every single page of my passport and conducted several nervous phone calls. Finally, my host explained what had happened: "You are being taken to the KGB office."
About half an hour later, what seemed to be taking forever, we were picked up by two guys with weird little suitcases. In their car they took us to a different location in town. What followed was a thorough interrogation by a KGB officer. Sitting in a simple room, together with my friend and my host who was translating everything, he asked: "Why did you come to Transnistria? What did you know about Transnistria before you came here?". My bag was searched, other officers scanned my pictures and took a complete copy of my memory card. The officer continued: "What does the Dutch media say about our country? How do you know your host? What are you doing in Tiraspol? What is your job?".
My host seemed very calm, as he tried to reassure that "this is normal". Until today I am not completely sure what he meant with this, if this happened quite regularly in his life, but a few hours later we found ourselves free again on a street in the middle of a residential neighbourhood. It had already become dark so we returned home to enjoy a home-made diner in Transnistria. We were relieved to be free again and while enjoying some beers, we started going through the questions we were asked. We learned about the things my host did not translate for us on the spot. For example the KGB officer checked with our host whether or not we were sex tourists, or even a gay couple. As we sat at his home we laughed about it, reflected on how crazy it was to be interrogated by the KGB, and fell asleep not much later.
The next day we hitchhiked to Odessa in Ukraine. We took with us a load of stories to tell, but for that we needed to leave a few pictures behind…
Read my tips for visiting Transnistria here: Transnistria – Trans…what???