I often travel to places that others would call 'dangerous', though I never really ran into problems. But I know of many travellers who did, even while visiting somewhat common countries and places. Getting scammed, intimidated, robbed, pick pocketed, drugged, arrested, or losing important stuff are some of the most common problems that foreigners face when they're abroad. Based on my own experiences so far, I therefore summarised my 11 tips that are essential for safe travel.
1. KEEP AN EYE OUT
Rule number one is to always keep an eye out on your hand luggage at ALL TIMES. Don't just leave you stuff hanging all over the place and be irresponsible when it comes to your valuable belongings. As a foreigner you will always stand out in a crowd, so paying some extra attention on the road is not misplaced.
My own hand luggage is sometimes worth more than €3000 due to my camera equipment, so in a bus I always keep it on my lap like the locals do, no matter what. When I leave the bus when it stops for a break, I bring the bag with me and I also never put it on the bus floor while I fall asleep. I have read about children crawling underneath seats from behind, to snatch the contents of bags because their parents told them to. On a sleeping train I always sleep with the hand bag between me and the wall, no matter how small the bed. In India I always travelled sleeper class like this and never had any issues. Comfort is a different story though… Also pay attention when taking a shower in a hostel, do not leave your smart phone in sight in your dormitory. You are not the first to loose things like this.
2. AVOID TAXIS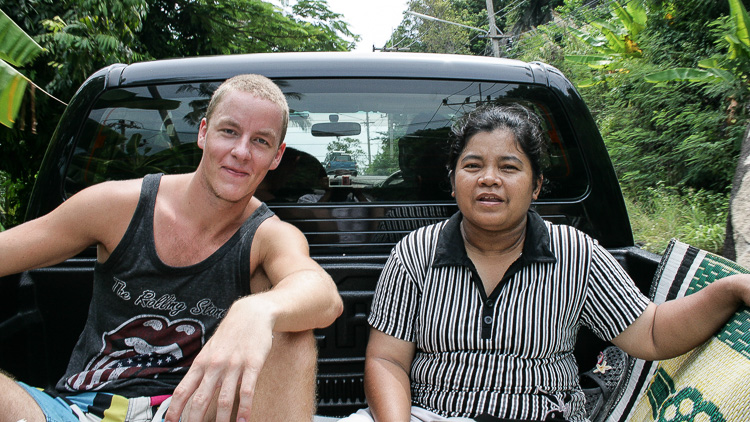 I very rarely take taxis. People who have travelled with me know it, much more often I take public transport or end up hitchhiking in the back of a pickup truck.
While most taxi drivers are respectful and hard-working people, problems abroad do usually start in taxis. If you find the wrong driver, he will either scam or intimidate you, drive you to the wrong place or simply rob you. The risk of running into problems by taking a taxi compared to taking public transport is extremely high. There are lots of horror stories from travellers that ended up in scary situations while taking taxis. Among them are also some of my friends. One good friend even lost all his belongings when the driver raced off in Santa Cruz, Bolivia.
If you want to learn how this could have been prevented, then you should definitely read my 6 taxi safety tips. And because taking taxis is really not my style, I also wrote a separate article with 5 easy steps to stop taking expensive taxis.
3. KEEP YOUR BAG PACKED
Probably everyone has been in a hostel dorm where it looked as if a bomb exploded. Stuff all over the place, no idea what belongs to who. Not only will you definitely loose items like this, there is also a great risk someone accidentally will take yours. What happens often namely, is that travellers need to catch an early bus and only start packing their bags in the pitch black dorm at 4am. It's one of the main reasons I always stay packed, and keep the rest right on my mattress.
But there is perhaps a more important reason: You should keep your bag packed as much as possible because sometimes you need to get the hell out. I once stayed for example at an Indian guy in Jaipur through Couchsurfing when he got drunk. I decided to hit the streets in the middle of the night and look for another place together with two other travellers. As I had not touched my backpack yet, I was out within a minute. Another example: one of my Dutch friends was travelling in Kazakhstan, when he found out one of the dorms in his hostel was on fire. He grabbed his stuff and raced out with the other people.
A last (less) important tip: when you leave a place, do the bathroom check. How many times did you forget your shampoo?
4. ACT AS A TEAM
If you're travelling together, act as a team instead of relying on someone else for your safety. Also don't do any stupid stuff that will also bring other people into trouble. If your travelling in a taxi with others and have all your bags in the trunk, make sure one person stays in until either the driver or all the bags are unloaded at the destination.
When you are a boy and a girl hitchhiking, for the safety of the girl let her enter the car as last and let her be the first to get out. Also, don't start flashing with expensive tablets or cameras when you step in the car of a stranger, make sure your partner won't either.
READ MORE: Why I Love to Travel with Others
In Ukraine, I was hitchhiking with a friend when we caught a ride with two guys that later on tried to scam and threaten us. As soon as the car stood still, me and my friend jumped out. We got away with our bags safely because we had kept them on our laps. So in fact we were combining all 4 previous tips so far. You see how it works?
5. KEEP YOUR CASH SAFE
I believe that many travellers carry too much cash and don't have any backup plan for when it all goes missing.
Organising your cash in fact is such an important safety aspect of travelling, that I wrote a complete article about it. There are many things you can do wrong, but also many ways how to come prepared. Click the following link (incl. 10 tips) about how I keep my travel cash safe.
6. READ LOCAL NEWS
Many countries have ongoing conflicts that do not even reach the news back home. And if they do, then the news is either so distorted or incomplete that the best thing is to just check yourself with locals or travellers who have just been there. I can also recommend following journalists and local media on Twitter for crucial up-to-date information. As long as you are aware where not to go, and at what times, you are already doing a lot better than most people.
For example I was in Bangladesh during a period of riots and protests in the capital and escaped by half an hour that my bus was put on fire. Also I travelled Mozambique's deadliest road under military escort and made it out alive. In Ukraine I travelled to Sloviansk, a city in the east that came under siege by the Ukrainian army in the summer of 2014 after it had been claimed by pro-Russian separatists. The city is located relatively near to the front lines of the ongoing war in Ukraine, and to get there I had to avoid checkpoints on the highway so I took the train. The whole story can be found here, it was quite an impressive experience I must say.
Most places where conflicts have occurred in the past, like Kosovo or Abkhazia, are perfectly fine to visit now. Not only do they provide an interesting and educational experience, these places are often also relatively cheap! One friend of mine even travelled 15 kilometres away from Mosul, an ISIS controlled city in North Iraq (read my interview with him here). There are also war journalists that have covered every single war in the past 30 years, they are also still alive.
Try to see things in perspective, but don't be stupid. Get informed before you go!
7. WATCH OUT WITH ALCOHOL
I have been in Thailand for six weeks, during which I also worked at a bar on Ko Phi Phi island. The things I have seen there are unbelievable. One night I saw how an intoxicated English guy was having an argument with a local, when other Brits started getting involved as well. I stepped in too, getting ready to release the Brit from the man who was harassing him. Then the local suddenly pulled out a gun and put it against the head of one of the girls in the group. This local man turned out to be a drunk police officer. The English guy managed to escape amidst all the chaos, but he left behind the girl in shock. To make things worse, she had no idea how to get home since it was her first night on the island, so I offered to show her the way. We would later find back the guy, completely freaked out because he was already hand-cuffed and didn't have a key.
The local suddenly pulled out a gun and put it against the head of one of the girls in the group. This local man turned out to be a drunk police officer
Thailand, and Southeast Asia in general, is notorious for intoxicated foreigners running into problems. But not always do they get drugged up themselves. I visited the full moon party on the island Ko Pha Ngan back in 2009.  One morning on the beach, it was already light, I ran into a girl in panic from Denmark because she had lost her sister. I offered to search for her on my motorbike, when an hour later or so she showed up at the apartment not remembering a thing. It turned out she got drugged and raped by a local.
I also have a friend who got drugged in Southeast Asia and lost his phone, €500 and his memory. Make sure to read his story, so you will be warned!
8. BACKUP
Keep digital copies of your passport, passport photos, boarding passes, travel insurance policies and a scan of your health insurance card on a cloud that you sync with a tablet or smartphone for offline access.
Also make sure that in case one of your backpacks gets stolen, there is always about 50 dollars or euros in the other one, with an extra bank card and card reader. This backup money will make you survive for some days until you find a solution.
In 2009 I got involved myself in a theft of my (almost empty) wallet on an island in Malaysia where there was no ATM. I had a credit card in my big backpack though, and 50 euros backup, so I could still enjoy my time on the island for a couple of days until I would reach the mainland again. From there I could wire some money from Western Union. From the 7 months that I was on the road, I only had 1 week of travelling left anyway.
READ MORE: 7 Embarrassing Travel Mistakes I Hope You Will Never Make
When it comes to photos, I have met travellers that lost almost all their photos when they had their camera stolen. For this reason I carry one or two usb sticks in my big backpack (in addition to my standard CF/SD cards) where I keep my most precious photos, until I find the time to safely put them on a cloud. Make backups whenever you get the opportunity, it is worth investing some time in!
9. RECOGNISE SCAMS
A lot of popular backpacking destinations are also countries with high unemployment rates and abject poverty. This has forced some locals to see tourists as a main source of income, but not in an honest way. It has paved the way for a wide variety of scams that you can find all over the world. There is a striking similarity between many of them, so reading up on common scams is a must for any traveller. An excellent overview is found on wikitravel.org, find the page here.
The problem with scams being so wide spread , is that it is hard to know when you can trust someone. If you never do, you will never have that contact with the locals that most often brings some of the best travel memories. On the other hand, blindly trusting anyone (poor Japanese people!) will definitely bring you problems at some point. It is therefore crucial to recognise scams early so you can bail out as soon as things don't feel right. Never worry about the other, if he tries to scam you he will not care about you anyway. Moreover, he will find a new victim soon enough.
10. THE POLICE ARE NOT YOUR FRIENDS
The police are not your friends, especially not in Africa. I almost got shot by a police man in Mozambique, and my friend got arrested there for not wanting to bribe his way out. Especially in countries scoring high on corruption, keeping away from police no matter what is the best strategy. Do not approach them to ask the way to your hostel, be careful with pictures and don't blindly trust what they're saying. Rather ask questions to people with a clear job other than being a police man (if you ask someone without an obvious job, he will be begging you for money once he showed you the way).
While crossing by foot the Aguas Verde border crossing between Peru and Ecuador, I was told by a police man that there were no busses passing by. He told us to take an expensive taxi instead, which I refused. After getting my stamp I walked away from the building and waited on the side of the road for one hour until I could jump in the next bus to take me to the next city. Later that day me and my friends heard about a couple who got robbed by one of those taxi drivers that same day.
By the way, riot police are different from normal police. In general riot police men are okay because they have a different kind of job and are not there to take bribes from you. I just happened to have no other picture of police.
11. USE YOUR BRAINS
As a final tip I would like to share the following. Keep in mind that also 'safe' countries can be dangerous to travellers. In fact, the most dangerous thing about travelling is the travelling itself because bus drivers are just maniacs. And simply crossing a street when you're not accustomed to local traffic rules is far more risky than visiting all those regions I have visited by now. Actually, some of the greatest threats I have experienced (apart from almost getting shot in Africa) was getting attacked by street dogs.
So no matter what, always use your brains when travelling. Life itself is dangerous and you just have to find ways to make it a bit less! Does that mean that you will stay indoors forever, or will you start booking that ticket to your next dream destination?
Do you have any additional tips and tricks? Feel free to leave your comments below!