Athens in general is a safe city to wander around. Yet there is one neighbourhood where you never know what lays around the next corner. I accidentally ended up in Exarcheia, a stronghold of Greek Antifa anarchists who frequently clash with police.
It all happened deep in the night when I was following my GPS showing me the shortest way back to the hostel. I had been walking through rather empty streets for the last five minutes, on my own, with the faint echoes of what sounded like a big open air concert in the distance.
As I kept progressing the sounds became more distinct yet the streets became ever more abandoned. Not sure if I should go out and discover the source of the noise, I turned a corner and all of the sudden was met by several masked men, some of them carrying improvised weapons.
I froze, not knowing whether I should run or keep cool. Trash containers were blocking the way further, flipped over on the side spreading its contents over the tarmac. Yet there were people walking around as if nothing was happening. After the initial shock I realised the masked men were not blocking the way for ordinary people.
I decided to move forward and explore what was going on. I passed by the men, acting as if I was on my way to the concert. To my (pleasant) surprise the abandoned streets made way for a lively setting of youth drinking beers out in the open. Greek banners hung all over the area and the graffiti, it became clear to me that I had entered an activist-like neighbourhood.
Exarcheia
Little did I know at that time, but my GPS had led me straight into Exarcheia, a stronghold of the notorious anarchist movement that often seeks confrontation with police during the weekends. By the looks of it, tonight seemed no exception.
Still unaware of that fact I bought myself a beer to blend in with the crowd. I noticed the first containers being lid on fire. More masked men showed up, some of them ripping stones from the street preparing for battle. As a foreigner I was not sure how they would react to my presence, so I decided not to talk to anyone. I kept low profile, taking some secret pictures doing the best I can with my cheap phone.
Yet there was one thing missing. I had not seen any police or authority thus far. For this reason I moved past the barricades again, this time away from Exarcheia. About two blocks away I found a small battalion of police in riot gear, hiding just around the corner. It seemed they were protecting fire fighters who were extinguishing a fire inside a building.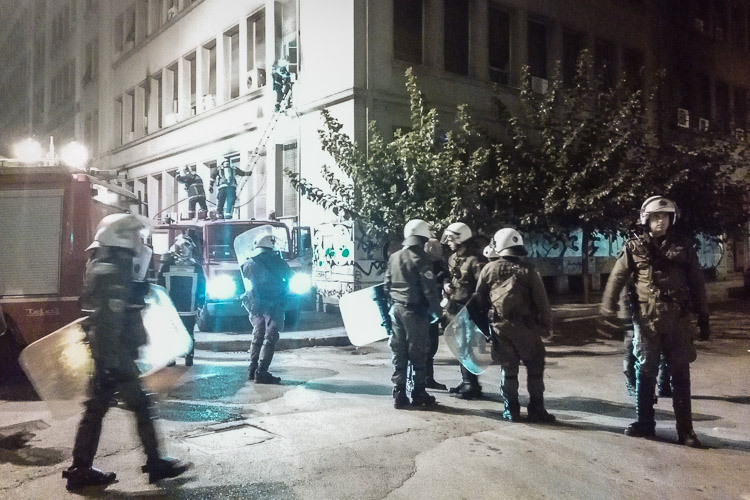 Molotov cocktails
But then, minutes after I had gone out of Exarcheia, a Molotov cocktail flew in. It landed right in front of the group, exploding 10 meters away from me (luckily not hurting anyone). It sparked a counter reaction from the police to drive back some of the masked anarchists who had come out from behind their barricades. They were met by a rain of Molotovs and even stones pouring down on them. The police was clearly not prepared and to my surprise they did not push any further. Instead they withdrew back to their positions after which things quickly went calm again.
I took the opportunity to move back into Exarcheia again, mainly to go to the concert. My freedom of movement between the two front lines surprised me a lot. I guess my effort to look and act as neutral as possible was paying off. No one seemed to be aware that I was also taking pictures.
Antifa
I followed the main crowds, leading me inside a courtyard which I later found out was the Technical University. Against an epic backdrop of the University's main building there were several performances by local rap artists. Hanging right behind them was a sign saying "Antifa Live", indicating a link with the internationally known anti-fascist / anti-establishment rebellion ideology.
The audience seemed to be a diverse mix of young people. People were hanging out drinking and dancing a bit. If it wasn't for the banner, it all felt like a 'normal' concert. I reckon there were about 300 people for sure.
After 15 minutes or so I thought it would be wise to go finally back to the hostel. Inside the atmosphere was good, but it felt like outside things were escalating. Anarchists started moving out of their area even further, destroying more and more public property.  I wasn't sure if I could manage to get out of the area when the violence increases even further. Breaking through the front lines under such circumstances is not something I wanted to risk. The atmosphere at 3AM felt at a tipping point.
So I decided to leave quickly and continue following my GPS back to the hostel. On the way out part of my predictions were confirmed. One hooligan-type man with his entire face covered in tattoos followed me on my way out in a provocative way. Pretty scary, but I realised in time and managed to keep a safe distance. I passed by another tipped-over trash container and in relative safety I took my final picture with the hooligan in the background.
When next day I told the hostel owner about my alternative night in Athens, he wasn't surprised about what happened. The anti-establishment reputation of Exarcheia goes back several decades and with ongoing (political) tensions in the country violent protests in the neighbourhood are still common.
My Advice
So is it safe to go to Exarcheia? Well, I certainly would not recommend going to the area around the Technical University on the Saturday night. Also the U.S. government warns against going there after dark. There is no police presence and if anything bad happens it's unlikely they will come to help. Moreover, the whole cat-and-mouse game between police and anarchists and the related violence is something I highly reject.
It seems though, looking on the Internet, that during the day the neighbourhood is definitely worth a visit. If you stick to those moments I am pretty sure you will have a great time exploring the alternative side of Athens!
Disclaimer: I went to the neighbourhood in October 2015. Though this article comes rather late, looking at recent news reports the situation does not seem to have changed significantly.