Armoured vehicles, ballistic missiles and heavy air-defence systems driving down the central street of Kyiv. I attended a military parade on Ukraine's 23rd anniversary of national independence. With a war still raging on in the eastern regions of the country, the decision to organise such a show of force was rather controversial.
Thousands of spectators gathered for the parade, which was held to boost morale. The scheme had been rehearsed over and over in the days before my arrival and vehicles were all freshly painted. So far it had already costed valuable resources in a country at war and in economic crisis.
For me it would be the first time to ever see a military parade. Not knowing what to expect I woke up early to go for an observational walk and scout for the right location to take photos.
After some difficulties finding an entrance to the main street, once I made it through I noticed that the troops were only standing on one side of the street. I needed to be exactly on the other side to get better photos. Meanwhile the crowd started building up quickly. At least an hour before the parade people even started climbing on top of trucks and in traffic masts.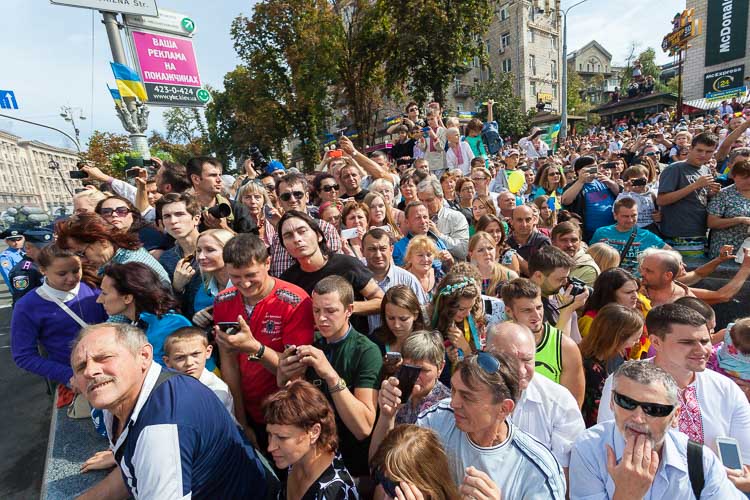 After some walking up and down the street wasting precious time, I finally found an underpass and settled right there in a rather uncomfortable position. After what seemed to be at least one more hour of waiting, finally the loudspeakers started broadcasting something. People were still pouring in behind me but I luckily managed to keep my front row position.
Minutes later I saw two cars approaching from the direction of Maidan. Carrying the Defense Minister and Commander of the Armed Forces, the cars drove slowly passed the perfectly lined up troops on the other side of the street. In front of each unit the cars stopped for a short salute ceremony. The cars were equipped with a wireless microphone so everyone could hear what was being said. After every unit had saluted, one-by-one they started marching down the street towards the president at the Maidan. I guess it took at least 15 minutes before the hundreds of troops had all gone.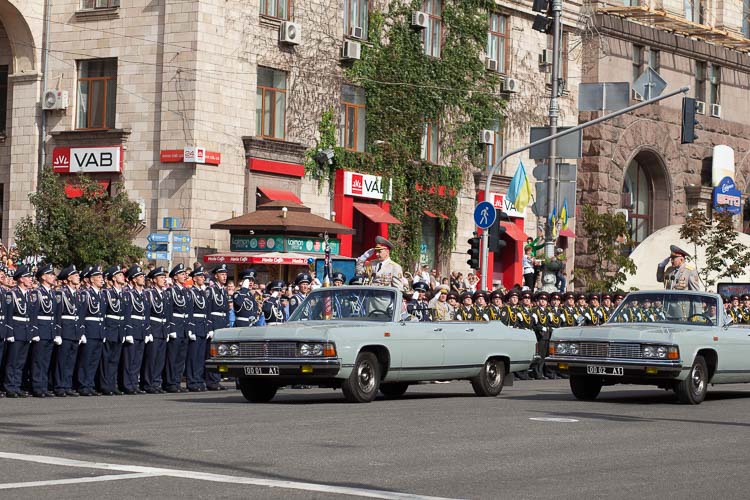 After all troops were out of sight, I remember the loud and impressive noise of roaring diesel engines starting up. Exhaust fumes started filling up the streets as the shiny vehicles started driving by. People on all sides started applauding, especially when the GRAD MRLS (multiple rocket launcher system) came in sight. These things shoot rather inaccurate missiles and account for many civilian casualties in the east of the country.
To me it all seemed a bit bizar as real wars are dirty, terrible and not to be glorified. At the same time though I did wonder how I would have reacted if I had been in their situation. I wouldn't know the answer to be honest.
For the remaining 10 minutes I saw a lot of equipment driving by. At the time I had no idea what most of it was, but I did some research later on and managed to caption all my photos.
After the last machines passed, the president announced that all machines would be sent back to the war in the east.
The rest of the afternoon I hung out around the Maidan square. Volunteering battalions were looking for new recruits while at the same time people were mourning over the deaths from the Maidan revolution. I spoke to some injured and traumatised soldiers, former Maidan activists and people who were about to leave for battle. Back in the hostel I also hung out with students from Donetsk, who were displaced by the war and stuck in Kyiv trying to find a new university.
There was also a lot of propaganda. People were selling toilet paper and door mats with the face of the ousted Ukrainian president Yanukovych and Russian president Putin on it. People were chanting anti-Putin lines and praising the heroes of Ukraine fighting in the war. I found an orthodox priest posing with a whole assortment of protest slogans and a promenade of anti-Russia and anti-Yanukovych cartoons.
This day that I attended was a quick course to learn more about the sentiments in a country that is at war. It was a unique experience that will most likely never take place in this form again. As Ukraine is trying to get rid of its Soviet past, I wonder if they will ever repeat this parade again.