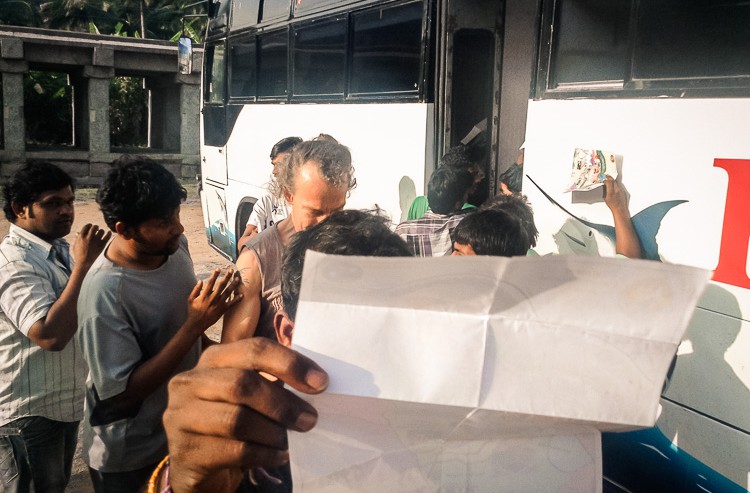 Too many problems abroad start with taxi drivers. I have met numerous of travellers all over the world who got overcharged or scammed, or even worse: intimidated, robbed or taken to the wrong place. This is one of the reasons why I rarely take any taxis and rather use public transport or go hitchhiking (check out: 5 easy steps to avoid expensive taxis). Sometimes however I am left with no option, in which case the following taxi safety tips (based on my own experience) can be very helpful.
1. Let a local friend arrange a taxi
Don't just stop a random taxi on the road if you can let your friend or host call one. Often he or she can tell you exactly why that is: locals are often well informed about local scams or recent accidents. Even when there is a whole line of taxis queued up, be aware that locals often then still call their own trusted taxi company. If there is no time to wait though, and your friends are also not joining you, let them at least do the negotiations beforehand.
You might not always have a friend abroad, so what you could then try is to ask someone around to see if he or she can be helpful. Be aware when requesting a taxi through your hotel manager. I have seen cases where hotels work together with a select group of semi-unemployed 'friends' who will overcharge you big time. They will try to convince you that 'the other taxis' cannot be trusted, even though it might not necessarily be true and they're quite often cheaper as well.
2. No bags in the trunk
I rarely sit next to the driver, and that is only so that I can sit in the back with my bags next to me. Try to avoid putting your bags in the trunk by any means, especially when the taxi driver proposes so. The risk is that they might drive off with all your stuff still in, and you out. It happened to one of my Swedish friends in Bolivia, who saw his driver race away with all his backpacks. He was lucky to still have his passport in his pocket, but at least he should have kept his hand luggage next to him.
If you do end up in a situation where you accidentally put all your stuff in the trunk, then never get out of the car until the driver does so too. You could for example ask him to help you with the bag. Being with multiple people makes it a bit easier to put your stuff in the trunk, simply because one person can stay inside until all stuff is out. Nevertheless, always keep your small backpack on your lap. In some places in Africa they will even steal from the trunk when a car halts, and these thieves could be friends of the driver. You are all WARNED…
3. Tell the driver a friend is waiting for you at the destination
A simple trick is to explain the driver that your friend is waiting for you at the destination. It's crucial you learn the words "my friend" in the local language. This way he cannot just drop you off in the wrong place. Other benefits of referring to a local friends are that the driver might think that (1) you might have already been here before and you know your way around and (2) you probably have an idea of the local prices. If he tries to overcharge you, he could expect a serious discussion with you or your local friend upon arrival. As this trick is obviously a bluff, only tell the driver once. I used the trick a couple of times, especially during dark hours when I did not trust the driver. I cannot guarantee it made any difference, but I like to believe so.
If you do end up in a situation where you accidentally put all your stuff in the trunk, then never get out of the car until the driver does so too.
4. Try to track the route
Before you want to go somewhere, make sure you have a basic idea which direction it should be. The trick is to use the taxi only as a means of getting there, not as a means of paying someone to help you figure out where some place is. Not knowing where you are going is a recipe for disaster. If you feel really uncomfortable, you could try to track the route on your phone or tablet. You could also choose that you make sure the driver knows you are tracking him. As an excuse you can say you are just practicing your orientation skills in the city, incidentally pointing at large buildings or rivers and asking for the name of it.
If you decide not to let him know (by sitting quietly in the back), make sure to interrupt as soon as it becomes obvious the driver is taking you to the wrong place. In the worst case you should force the driver to stop, get out and refuse to pay him. If you do decide to give just a few euros for the short ride, you are actually rewarding him for driving you on purpose to the wrong place. With a few euros in his pocket (probably more than what he could earn from the locals) you are actually encouraging him to continue to scam other foreigners. My philosophy is that scams should never be rewarded.
Not knowing where you are going is a recipe for disaster.
By the way: for me it is common practice to always study my offline map when I'm inside a moving vehicle in an unknown city/country. It does not necessarily have to be a case of mistrusting the driver, I also do it in buses or trams. I just like to be aware of where I am, especially when I am in new places.
5. Don't pay recklessly with large notes
I never take a taxi before having some sufficient small cash in my pocket; my wallet stays in my backpack. It is worth to go out of your way to obtain some small cash. Especially when you're at an airport you should exchange some of your fresh notes from the ATM at a kiosk or whatever before you hit the streets.
READ MORE: 10 Crucial Tips on How to Keep Your Travel Cash Safe
One common scam taxi drivers use is to give the wrong change when foreigners recklessly pay with large notes. When you don't get enough change and explain the driver that you payed with a larger note, the driver has already long swapped that note for a smaller one. He will tell you that you paid with a smaller note, and shows it to you in your face making it very difficult to proof him wrong. You might not master his language, and he might start pretending all of the sudden not to speak any English. You just got scammed. How to avoid such a thing? When paying with large notes, explicitly hand over the note and make sure he accepts the value of it by stating out loud something like: "Here is 50 euros, could you please give me the change?"
6. Don't give in to intimidation
I have been intimidated by taxi drivers in Cuba, Hungary and also by people offering me a ride while hitchhiking in Botswana and Ukraine. Sometimes these cases got quite serious, involving shouting, threats and physical intimidation. But you must learn to recognise that it is all part of their strategy to scare a foreigner, and that it is very unlikely that they will really harm you. The golden rule is, once again, to never reward this kind of behaviour and never give in. If you read the previous tips well enough, you would probably already be sitting in the back with all your stuff within reach, ready to jump out while having a good idea of where you are.
Shouting, threats and physical intimidation. (…) that it is all part of their strategy to scare a foreigner, (…) it is very unlikely that they will really harm you.
I choose deliberately to put this piece of advice as my last one, as it might not always be the most important tip. In all the above cases I was able to leave without paying anything more than the agreed price, but trying to avoid such a situation is always a much better strategy. I once took the Aguas Verde border crossing between Peru and Ecuador, a crossing which for years was to be avoided due to high crime. While at the border security point, the police insisted on me taking a taxi. But I did not trust any of them and had a strong feeling that something was wrong. So I refused, walked away and spent more than an hour waiting for a bus passing by (a bus that according to the police would never come). Later, I heard of an ill-fated couple that day who had taken a taxi into Ecuador and got robbed at gunpoint…
Want to learn more about travel safety? Then read these 11 Tips That Are Essential for Safe Travel.