High up on the hills, nestled in the snowy pines, lays the abandoned bobsleigh track of Sarajevo. A relic of the past, what once attracted tens of thousands of spectators for the 1984 Winter Olympics, in later years became a front line in the Bosnian war. It now rests hidden in the forest of Mount Trebević, scarred by the battle only to attract just a handful of people per day.
Warning: After publishing this post, a friend notified me that he got robbed on Mount Trebević. He and some friends where out there on a regular week day and lost all belongings. Locals had later told him that it happens more often, and that it is wise to only go there during the weekend when the locals go there too.
With its 126-metre vertical drop from top to bottom, the track was considered one of the steepest of its time. Olympic crews had to steer their sleigh through 13 ice-covered curves, 7 left and 6 right, to reach breakneck speeds of up to 97 kilometres an hour. In less than a minute they raced towards the finish line, 1245 meters ahead, where only the fastest could claim victory.
But years later, a whole different battle was fought. Following the breakup of Yugoslavia in 1992, the Chetniks (Serbian nationalist army) installed themselves on Mount Trebević as part of the plan to take over parts of Bosnia and Herzegovina. For years to come, Sarajevo and its large Bosniak muslim community came under heavy artillery fire. It would become the longest siege of a capital city in the history of modern warfare.
During the encirclement of Sarajevo, the Chetniks allegedly used the concrete bobsleigh track for cover. Return artillery fire from the city left the track damaged by shrapnel and dozens of nearby houses and structures destroyed. In 1996, the siege finally came to an end. Mount Trebević became the border between the Federation of Bosnia and Herzegovina, and Republika Srpska.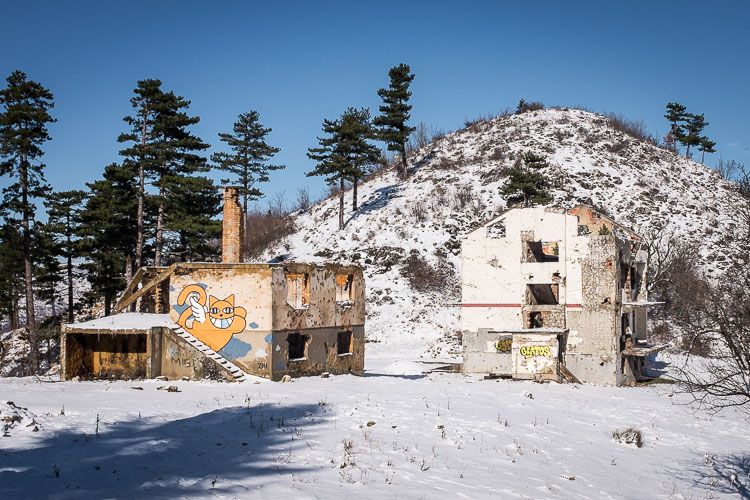 Little is now left of its former glory. Nineteen years later, I am walking up Trebević following my offline map and going by the directions of some locals. "Bob Staza?, I simply asked". Locals laughed at me (probably thinking yet another crazy tourist?) and pointed towards the mountain. The walk from downtown all the way up takes about two hours, a fairly easy climb of about 1000 metres to the summit.
Mines and unexploded mortars are assumedly removed yet I think it is wise to remain cautious by not deviating too much from the common paths. I spent some time up the mountain with some locals and they said it was all fine, but better be safe than sorry.
Getting there
Simply walk up the mountain from Latin bridge in downtown Sarajevo using some kind of map. Before you go, study a bit how to take the shortest path and let yourself be guided by the locals once you get closer to your destination. The exact location of the track you can find on Google maps using the following coordinates: 43.842503, 18.4424723.
Read More: Ukraine's Secret and Abandoned Tank Graveyard
Plan a good amount of hours for the trip since you want to take your time and enjoy the beautiful views over Sarajevo. Pack light, be cautious if you're alone and don't forget to bring water! Also be cautious when talking to some locals about the place, it could still be a sensitive issue.