Looking back at 2020, no one could have guessed the dramatic closure of international borders around the world. It makes for a difficult year of travel (and also health!) for us all. As a good tradition, I am using the remaining days of December to look back on the year and summarise my travel highlights.
Despite Covid-19 I can still be happy about what I have achieved in terms of travelling. There are a lot of nice places to visit closer to home, which is exactly what I did this year. My main regret, however, is to not have posted anything on this website. Luckily you can always find the latest by following me on Instagram.
Quickly jump to: Cabo Verde | Berlin | Switzerland / Liechtenstein | Portugal | Plans for 2021
Travel statistics
In 2020 I visited a total of 8 countries. For obvious reasons this is the lowest I have hit in recent years. In 2016 I visited 10 countries, 2017 saw 14, 2018 added another 11 and 2019 was the mother of all travel years with 19 countries visited.
Despite it all, the year started off with a good pace. Within the first two months I had already visited 3 countries: Cabo Verde (new country), Belgium (day trip, but let's count it) and Serbia (5th visit). Further, I was planning to also visit San Marino during Easter, Switzerland and Liechtenstein in summer, and I even booked a trip to North Korea.
But disaster stuck, it was mid March. Covid-19 had reached Europe, forcing governments to take drastic measures. From one day to another we were in lockdown.
It took me until July to find a decent opportunity to travel again. I chose to drive to Berlin and revisit for the third time. August was epic, sticking to my plan for a 10-day road trip in new countries Switzerland / Liechtenstein and a surprise visit to Stockholm as part of a business-related trip. My last trip of the year, in November, took me to the Algarve in Portugal, my 2nd visit to that specific region.
Looking at my travel lists, I have now visited 95 UN countries, or 107 according to the United Nations Plus definition. If you would ask the British Foreign and Commonwealth Office, I am at 99 countries. FIFA would claim I am at 101 countries. Let's just say I visited around 100 countries, is that fair?
Now let me summarise my highlights:
1. Cabo Verde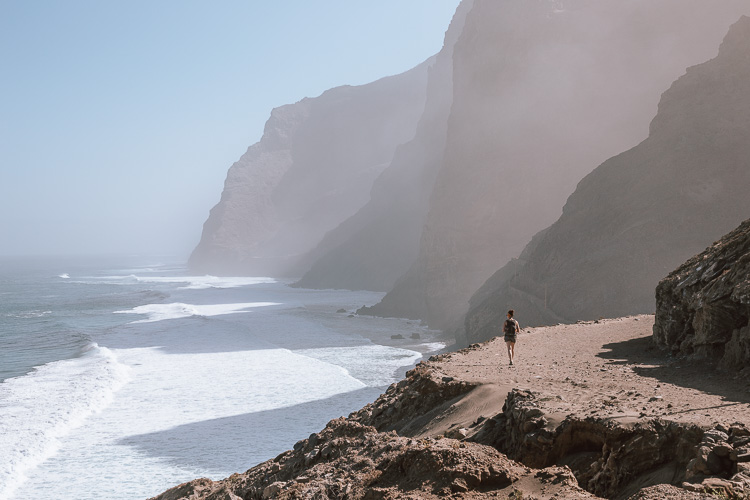 This year I learned that many people have Cabo Verde high on their list. This country consists of 10 volcanic islands (9 inhabited) and 8 islets, located off the coast of Senegal. There's about half a million people living here, many of them claiming that their Carnaval celebrations are second in the world, after Rio.
I visited Cabo Verde for 5 days as my 10th country in West Africa. It was easy to reach with a direct flight from The Netherlands to São Vicente, arguably the culturally most interesting island of all. On my first night there I indulged in the local food and bar scene, then took a ferry to Santo Antão the next day. If you have seen beautiful pictures of Cabo Verde, there is a 90% chance these were taken on Santo Antão. Only sparsely populated, with no working airport, it has the most stunning nature, cliffs and coastal walks.
If you are thinking of travelling to Cabo Verde yourself, I can provide you with many tips. Just choose wisely which experiences (and therefore which islands) you are looking for. I can surely recommend the two I visited because here you will find the best the country has to offer. If you are interested just in beaches and tourist resorts, you can visit Sal.
2. Berlin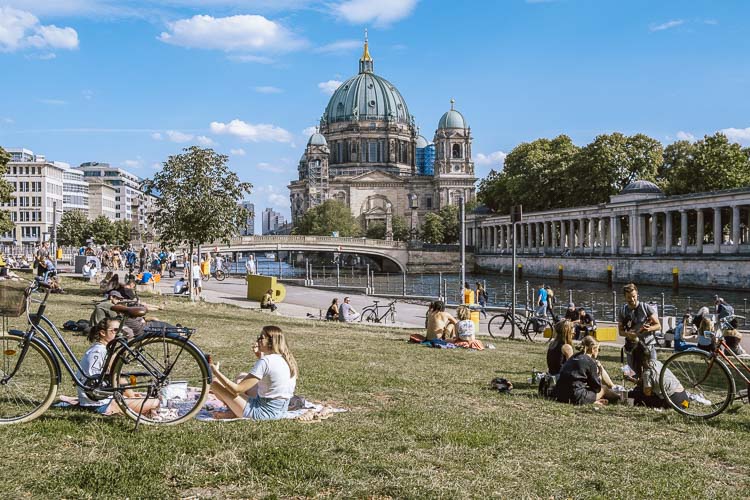 Visiting Berlin is always a good idea, especially during summer. At only 6 hours by car from The Netherlands, I decided to drive there with my younger brother for 4 days in July. This was during a time with only few Covid restrictions, which allowed to experience most of the legendary city vibes.
One minor disadvantage was that clubs were closed and bars were only operating with designated seats. On the other hand, there were plenty of opportunities to eat and drink outdoors. We covered a lot of ground using e-scooters and visited some other places by car, which makes me look back on an enjoyable trip.
3. Switzerland / Liechtenstein
Back in 2019 I already announced my plan to start visiting my last remaining countries in Europe. Among them are Switzerland and Liechtenstein.
Despite Covid I stuck to that plan and drove there with a car (perfect during Covid times), bringing along a good friend. In the boot lots of camping gear, which gave us the flexibility to go where we wanted. We met up in Zurich with a friend, a Swiss local whom I knew from travelling in West Africa.
With the three of us, we swam a lot and hiked in many places across the country. We explored the mountains and lakes around Pizol, Flims, Ticino and Lucerne. We also spent a night wild camping in Liechtenstein, after hiking to the centre of this tiny country.
Though we spent a fair amount of time in only a few regions of Switzerland, it was clearly not enough to see it all. There are so many epic places to visit, I will certainly come back to Switzerland. For example, we did not cover any ground in the French part yet, neither did we visit Zermatt with its stunning peaks. If you are looking for a hiking holiday, Switzerland should definitely be on your list!
4. Algarve, Portugal
Last, maybe not a highlight but worth enough to summarise, was my last trip of 2020 to Portugal. At the time it was one of the few remaining places in Europe where Dutch people were allowed to visit. I went alone, bringing my laptop, and chuck myself away in Lagos on the south coast.
Here I worked to lay the foundations of selecting my top 1.000 photos out of nearly 100.000 photos that I took during 10 years of travelling. In between the work I would walk down the coastal line, and explore a bit around Sagres and Faro. Due to Covid figures on the rise, I was pretty hesitant to do any socialising indoors. Therefore the experience, including staying in hostels, was not as it used to be in the 'good old days'.
As we speak, I am still going through all my content. It's a monumental task that requires a lot of time and reflection in between. I am still contemplating what to do once I finish, but a book would be one of the options.
Appearances
With Covid ruining much of my initial travel plans, it did allow me to find some publicity online. I was interviewed by Zulekh, along with 9 other 'world travellers' to share my thoughts on travelling during the pandemic.
Secondly, I am very proud to have been featured on Nomad Mania this year. It's the world's leading community for extreme travellers and stamp collectors and has 12.000+ members. In the article (find it here) I explain a bit about my youth and my philosophy about travelling to offbeat places. Of course I also express my opinion about travelling in 2020, which I consider a lost year for travel.
Plans for 2021
It would be nearly impossible that 2021 will be worse than 2020. With or without Covid, in 2021 I will definitely visit San Marino and possibly also Monaco to finally finish visiting all countries in Europe. Next to those somewhat 'ordinary' places (for lack of a better term), I want to step up my game and visit some really exciting places too.
It will all depend on when Covid restrictions will ease once again, and in which way, in which countries during which months. Yes, there are lots of unknowns. But I am desperate for raw adventure and desperate to socialise with local people again, without a mask and without feeling awkward.
I am considering travels to either Tunisia, Afghanistan, Sudan, Tajikistan, Syria, and perhaps even visiting some Gulf States along the way. Make sure to tag along through social media and not miss a thing.
Stay healthy!