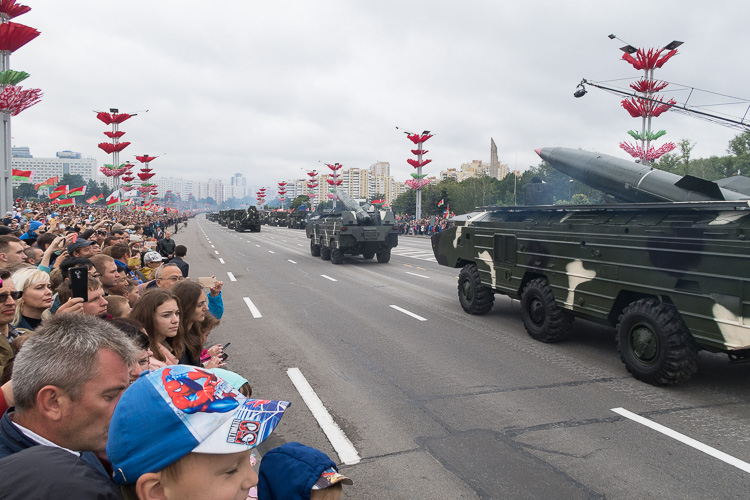 Belarus is my last country to visit in east Europe, so I chose to finish it with a bang. That is, quite literally. I joined 250.000 Belarusians in celebrating the liberation of Minsk from the Nazi's back in 1944. In particular I attended a massive Soviet-style military parade, showcasing a wide range of Soviet but also more modern pieces of war equipment. Here is how I experienced the day. 
"BOOM". Out of nowhere an incredibly loud noise shook my whole body, leaving me stunned. "What just happened?", I asked myself. Did a tank accidentally fire into the crowd or something? "BOOM", again. The loud, deep thunder echoed against a huge backdrop of Soviet blocks far away in the distance. The power of the thunderclaps was so overwhelming, I started shivering as another few rounds were fired.
But it seemed I was the only one affected. People around me were instead getting excited. They knew better: Belarus holds a military parade twice a year (!), and for them these huge explosions marked the beginning of yet another one, on July 3rd 2017.
The morning column
The day of the parade started very early for me. I woke up at 5:30 in the morning to head out to the National Library of Belarus, about 6 kilometers away from the city centre. I had gathered information that the column would pass here at 6AM, making its way towards the city center ahead of normal traffic.
The reason to get out so early was simple. Not knowing if I would be able to bring a large DSLR camera to the parade, I figured at least I should be able to use mine early morning while way out of town. Extra bonus was the magnificent architecture of the library, which would surely make for an iconic picture. I could not leave Belarus without this killer shot.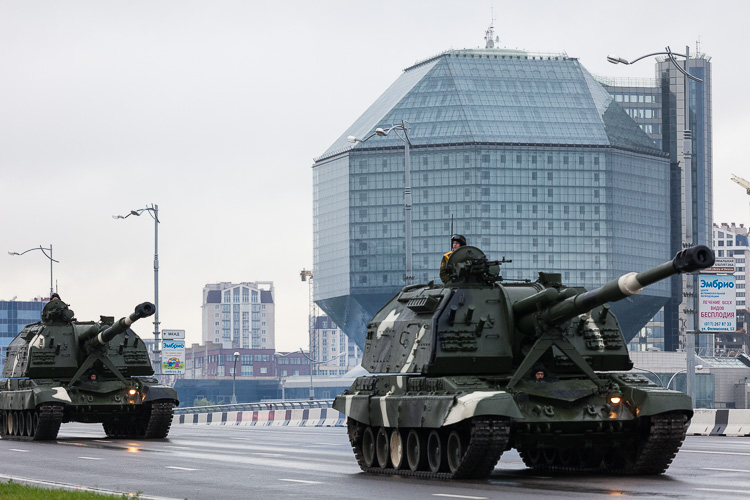 And so did I stand there early morning, virtually all by myself in the cold.  The empty street, already shut down by police, signalled that I had come to the right place. And indeed minutes later the first tanks started rolling in, accompanied by the sound of heavy diesel engines and tracks squeaking over the bitumen. I grabbed my camera, hoping that no KGB would come after me, and zoomed up until the entire building fit the frame. Within 3 attempts I made my killer shot.
BUK
After watching dozens of vehicles pass, which took about 15 minutes, the first heavy missile systems came into sight. Among them the BUK rocket system, which became infamous after a BUK rocket (not from Belarus) shot down Malaysia Airlines MH17 over Ukraine. It was the first time I came face to face with this system, and it made me really uncomfortable and sad thinking of the 298 (!) people that died in the MH17 event.