Following the recent announcement by the USA that it will seek to normalise its relations with Cuba once again, attention for this Caribbean nation as a tourist destination has sky rocketed. After having visited Cuba myself in 2013, I fell in love with this unique country. Until today its remains in my top three of favourite countries visited. With last week's developments, I feel inspired to tell how I believe everyone can experience the real and authentic Cuba, hopefully still for the years to come. 
First of all, if you come to enjoy good food, think again. Due to the embargo there is not a lot of food variety. Cubans eat whatever is in season, meaning you might end up eating mango and the same piece of old bread for breakfast, lunch, and dinner. What tourists are served in resorts is not the real thing. As a socialist country most Cubans, both doctors and cashiers, earn a living that is just enough to get by. They need additional rations provided by the government, for example bread, sugar and rice, to be able to afford a richer diet. On the other hand, things like healthcare and education are free of charge and assumedly among the best in the world. Also, Cuban art and music are of a very high standard.
Lately, capitalism has seen a rise in Cuba. With more and more people finding ways to earn a better living by circumventing the socialist system, many fear the Cuba of today (or perhaps yesterday) is not the one of tomorrow. The recent speculations about possibly 2 million US tourists wanting to visit Cuba each year as soon as it will become possible, do not help either.
If you want to experience the real Cuba, the time to go is now. Here are some of my advises:
1. Learn to Speak Spanish
Despite its excellent educational system do not expect Cubans to be able to speak any English. Therefore, to really be able to learn and interact with the locals, you have to speak their language. Beginners are lucky, Cuba is presumably one of the best places in the world to learn Spanish. First of all the accent I believe is very 'neutral', and secondly Cubans in general speak quite slowly. When Cubans see you are having a hard time understanding, they will repeat without hesitation, slow down even more and they might even make drawings when needed. Cubans must be one of the most welcoming and warm people on this planet.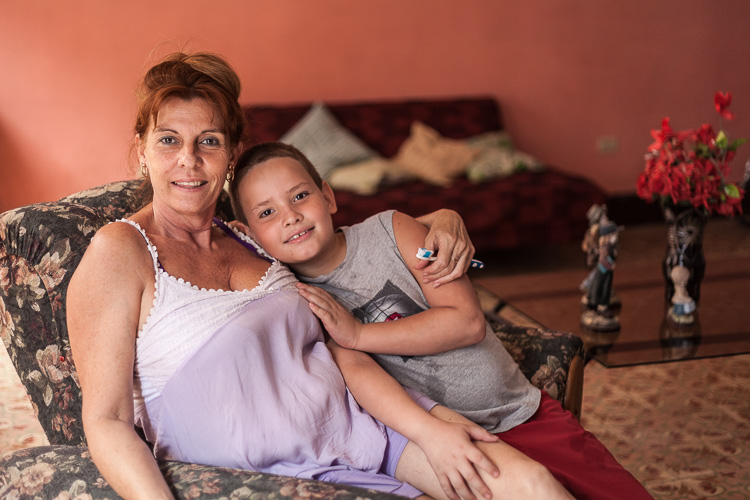 2. Pay with Pesos
Cuba knows a financial system with two currencies: the Cuban Pesos (CUP, or simply peso) and the Cuban Convertible Pesos (CUC, or convertibles). By looking for those places where you can pay with pesos, a whole new world opens up. In certain places for example, you can find families who run small commercial kitchens from their house. Under government license, they are allowed to sell fruit juice, Cuban pizzas or hamburgers (whatever is in stock) to locals who want to eat something else than the bread and rice they get for free. Like this, prices for a small pizza are between €0.25-0.35 and Cuban (read: simple) cheeseburgers can even go as cheap as €0.15! I also took a haircut for about €0.40 and had a couple of locally brewed beers and a cigar with the locals for €0.17+0.03.
Unlike to what most people believe, CUPs are not just for residents and CUCs are not strictly for foreigners. What is true though, is that monthly wages are paid in pesos and so locals rarely can afford to buy goods that are paid with convertibles. Do not get yourself fooled by travel blogs claiming that everything you as a foreigner will buy in Cuba is in CUCs. While indeed there is no choice for accommodation and long distance transport, or luxury related things like restaurants, bars and rum, there is a whole world out there where CUPs are the way to go. It is exactly here, where you can experience the real Cuba. Not because goods will of course be much cheaper, but most of all because this is what the locals consume.
The two most important things to remember are: one CUC is exactly 1 US Dollar, while 1 CUC gets you 24 CUPs. Secondly, Cubans only earn about 20-30 dollars a month, which is probably less than the average income in Bangladesh. If you know these two things, then you cannot understand how the majority of tourists are constantly thinking they need to pay everything in CUCs and not CUPs.
One example is the public transport city buses of Havana. One ride is 'just' 1 CUP (€0.03). The driver however told me that many tourists assume CUC prices, which would mean that a Cuban person needs to spend his entire daily wage for one 10-minute bus ride! You can easily see how some people in Cuba can take advantage of uninformed tourists by not stating which currency is in use. Just use your common sense, and when in doubt: ask.
You can get pesos by visiting a local bank ('Banco'), and exchanging some of your CUCS for CUPs. I suggest to start with exchanging a maximum of 5 CUCs. More information can also be found here. Remember to still keep 25 CUCs in your room as it will be needed for paying your exit tax when leaving Cuba. You can get additional money over the counter of a bank by using your credit card, as long as your bank is not located in the USA (though there are unconfirmed reports that US cards will be accepted very soon too).
3. Stay with the Locals – Casa Particular
Forget about hotels, you have just entered a country that invented Airbnb long before it even existed. As a foreigner you can book a room at locals who have plenty of extra rooms in their house and therefore rent them out. I stayed in Havana with four different families, and all of them were very recommendable as you feel like you become part of the family. You can practice your Spanish with the kids, drink a coffee with the dad and enjoy home cooked meals from the mother or grandmother. With a bit of luck you will meet the whole family as everybody is constantly visiting each other during the day.
An ingenious system, the Casa Particular is an awesome and affordable option to experience the real Cuba. To allow for some extra income, the Cuban government in 1997 decided to sell licenses to residents so that they could rent out rooms inside their own house to foreigners. Owners have to pay about €30 each month per room, and 10% income tax, making it that most of the income is generated from offering to cook dinner for you or to do your laundry.
With internet practically not available (and/or affordable) to most Cubans, do not expect to be able to book every room through the web. Hostels and couchsurfing are practically non existent, mainly due to the lack of internet, even though I managed to find both! How? I spent a few nights at a Cuban film director who could afford a somewhat illegal internet connection at home for €100 per month (!). He knew about a tiny hostel, hostel Hama, with a very cheap dormitory. After checking the availability by a landline phone, I tried out the place a couple of days later.
The way to go is to just be flexible and look for a place when you arrive. You can easily recognise a Casa Particular by a distinctive white/blue sign you find at the front door of the house. Once you take notice of these signs, you realise casas are literally everywhere. When moving to another city, the owner of the casa particular usually tries to suggest you other casas over there, but even when full, there will always be other ones that will suit your taste.
Prices are by the way always paid in CUCs, which also makes it that Cubans themselves have absolutely no way of using a casa themselves since they can simply not afford it. Prices for a casa in the low season can go as low as €7.50 but expect to pay at least €12 if you do not feel like 'shopping around' too much and drive a hard bargain like I usually do. Prices go up even more in the high season but they do include a pretty nice home-made breakfast, prepared especially for you by the family. The owner will usually ask you the day before what you would like to have for breakfast -> a great way to practice your Spanish once again!
4. Relax without Luxury
The real Cuba is not the paradise you think it is with nice restaurants, cocktails and luxury cars. Since the US embargo in 1959 over Cuba, and a period of hardship after the collapse of the Soviet Union, Cuba has been stuck in time. What were once beautiful cars, are now pretty much far-from-original chassis that only look original and nice on the outside. If you feel like taking a ride with a classic car, be prepared to sit on bare metal, hold the door closed yourself, and get wet from the rain since side windows can be missing. Good brakes, working lights and smooth gears, think twice. Also be prepared to spend days if not weeks without internet, without a phone and without a rich diet.
On the other hand, realise this is the time to not worry about your first world anti-social problems. Replying to emails, caring about your online status, WhatsApp, your agenda, there is no such thing in Cuba. Internet is available in upscale hotels and resorts for about 5-10 euro per hour (!), and since May also in the state-owned telecom shops. But I suggest not to use it at all, it will spoil your experience. Going to Cuba should be about going back in time. People are more relaxed, they hang out with each other, they smile and are very friendly. Due to the fact that everybody is as poor as the other, crime rates are also very low.
Cuba is a perfect place to stroll through narrow streets, spend a few pesos on buying local snacks and fruits, practice your photography skills, hang out with the people, get invited into a home and just relax.
5. Travel Local
Having some pesos at hand allows you to take a local taxi, called a collectivo. These are for 99% the typical American classic cars that are passed on within the family from generation to generation. If your dad happened to get a car during the revolution, you would be certain you will be a taxi driver for the rest of your life. Collectivos are shared taxis and drive only on a very limited set of fixed routes, like for example the street Neptuno in Havana (east to west).
A ride costs you 10 pesos (€0.32) and the way to stop one is to just stand on the side of the road and flag one down as they pass by. More information on how to take a collectivo can be found here.
When you decide to travel between cities, you are not allowed to take the very cheap buses that locals use. I met a guy from Colombia, and even he was not allowed as they could recognise his foreign accent. Foreigners can officially only travel between cities with the Viazul bus. But since the prices are quite high, a second less known option is available.
In front of many bus stations you can find guys with cars ('illegal taxis') who will drive you on the same route as the Viazul but for a fraction of the price, and quicker. The only disadvantage is that you will only leave once its full, but it does make for a much more interesting trip.
Myself I travelled from Santa Clara back to Havana, when two young guys joined me. They both had European girl friends at least twice their age. With the money they got from their 'girl friends', they could afford to travel to Havana and try for the third time to get a EU visa (poor guys). They insisted on buying me some rum and beer, given that we would drink it all on the way.
Of course everyone has his own travel style and is open to do whatever he or she wants, but I hope this article makes people realise that there is more than just the tourism industry in Cuba. If you feel like sharing some of your tips as well, then please leave a comment below!