Perhaps it's one of the most obscure micronations in the world. Founded by a group of hippies in the seventies, Christiania is a self-proclaimed state in the heart of Copenhagen. It's famous for its liberal attitude towards the use of soft drugs and attracts creative minds from all over the world. Yet there is also a darker side. 
I first heard of this community when I was in Germany, on my way hitchhiking to Sweden. People told me about a controversial place called Pusher Street, where you can buy drugs at cannabis shops around the clock. Despite being Dutch myself and no drug user at all, the adventurer within in me told me it was still worth checking out. So I decided to spend a few days in Copenhagen.
Freetown Christiania
Once in Denmark's capital I learned that Freetown Christiania, as the area around Pusher street is called, is Copenhagen fourth-largest tourist attraction. Its founding dates back to the 1970s when a group of squatters and artists decided to move into a bunch of abandoned military barracks. They formulated the objective "to build a self-governing society where every individual is free to express themselves and be responsible to the community".
Over the decades Christiania has grown to a commune of around 850 residents. It has its own grocery shops, cafes, art galleries, workshops, music venues, green areas, postal service, kindergarten, national flag and even a local currency called the Løn. A map of the 34-hectare enclave you can find here.
But there is a much darker side as well. Following several incidents involving hard drugs and biker gang related crime, the area was raided by police. In the spring of 2011 it was even temporarily closed for the public. Today, the sales of (soft) drugs is again rampant and I was told by an Danish ex-convict that it is controlled by the Hells Angles Motorcycle Club. Surely Christiania is a remarkable symbol of Danish liberalism.
Pusher Street
Since drug trade is the most notorious facet of the Christiania society, I decided to go straight to Pusher Street. Commonly known as Christiania's Green Light District, it's the central vending area of the enclave's open cannabis trade.
In this tiny street there is one stretch of about 20 meters where you can find around 15 different stalls and booths. Various types of skunk weed and hash are clearly on display and sold by masked men wearing dark sunglasses. Often these men are also hiding behind army camouflage nets hung in front of the counter.
When I walked through the street myself, I saw a couple of transactions taking place. A nervous young customer approached one of the counters with a large bank note in his shaky hand. Without any further comments, the masked man took all the money and weighed a portion of weed in a plastic cup. Within seconds he stuffed it in a plastic seal bag and threw it on the counter. The buyer took it and was out as quickly as he came.
Cannabis trade in Denmark is as illegal as in most other countries. Danish authorities however do seem to tolerate it since they never enter Christiania. While the Freetown is open to the public, the police are not welcome.
Why you should visit
Even if you're not into drugs like me, Christiania is a must-visit. You can endlessly wander around and discover secret little corners full of art and graffiti. There are unique green spaces and it was interesting to see how people live inside this community, often in self-built houses.
I also had a terrific filter coffee around the corner from Pusher Street at Månefiskeren where I met come cool people. Most visitors are just open-minded young Copenhagen residents enjoying their free weekend. Unfortunately there were no musical performances when I was there but they are regularly scheduled.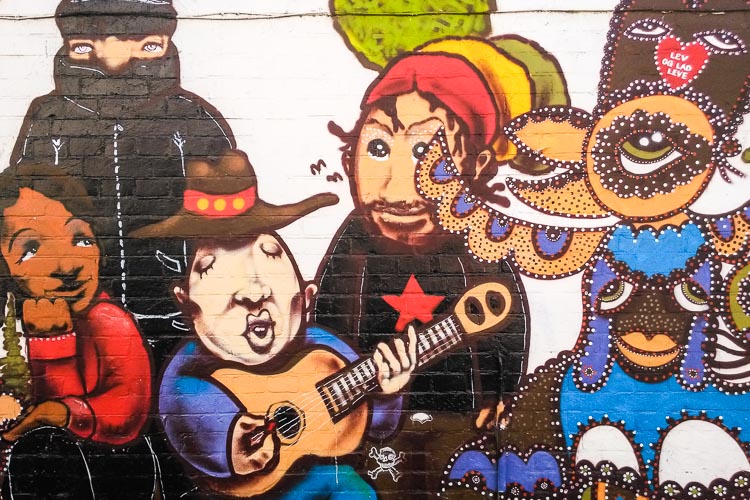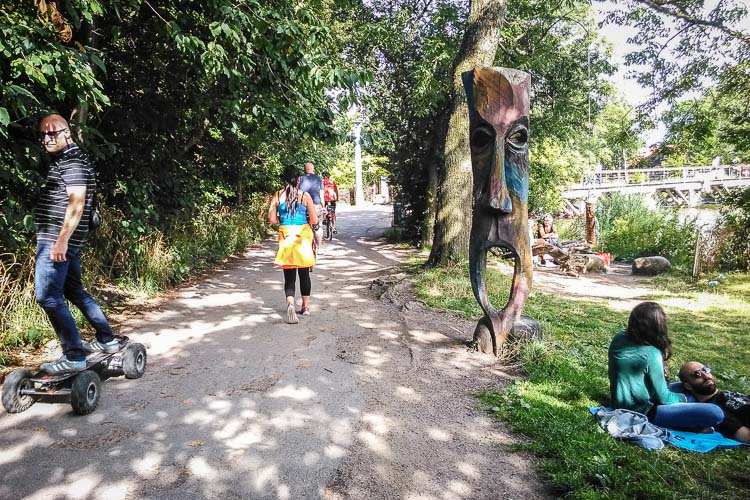 Safety tips
Christiania is more than just a drug-ridden enclave in the heart of Copenhagen. The overall atmosphere is very welcoming, supposing you just come to relax and enjoy it all. Nevertheless, drug trade is a serious issue and illegal in Denmark. A few safety tips that I would like to share with you:
Take no photos – Even though all photos in this article are my own, taking out a camera is completely at your own risk. Especially in and around Pusher Street photography is forbidden due to the illegal drug shops operating there. Even being on the phone is not allowed and you will immediately be approached to put it away.
Respect privacy – Smoking cannabis is illegal in Denmark, so respect the privacy of people coming to Christiania to consume drugs.
Keep low profile – Do not ask (too much) questions to people who are obviously no visitors. I found out myself on numerous occasions that they are highly suspicious.
Follow the rules – Everywhere there are signs telling you what not to do. When you enter Christiania take some time to read them.