Victoria 'troubleshoot' Square, the main refugee hotspot in Athens. Afghan refugees often come here broke and spend days on the phone, pleading to their family and friends to send them the additional cash needed to continue their way on Europe's refugee trail into north Europe. 
Afghans make up the second largest refugee group of those travelling the Balkan Route and are undoubtedly among the most poor. Despite fleeing a country torn apart by decades of war and terror, they face more hardship than the Syrians because they are not recognised as refugees the way Syrians are. Afraid to get caught by authorities they much more often resort to people smugglers, even when they don't need to.
Many Afghan refugees, including entire families, were shot dead.
Bart van Eijden
Afghans also travel a longer and thus more expensive route than Syrians. They need to pay an extra $2,000 to people smugglers to take them for example across the mountainous Iran-Turkey border, who will then try to steer them away from Iranian border guards. There is no guarantee though: it's not uncommon to be discovered and opened fire upon. This way, already many Afghan refugees, including entire families, were shot dead (something that is often underreported by global media).
Those who do make it safely to the European mainland are often forced to head into Athens city to 'troubleshoot' whatever problems they got left. After having spent already up to $4,000 on their escape, they are deep in debt. That's why getting the additional €250 that is needed to fulfil their dream of a new life in north Europe proves to be difficult to many. For some even, Athens is were the journey ends. They are out of money and stranded without any idea what to do next.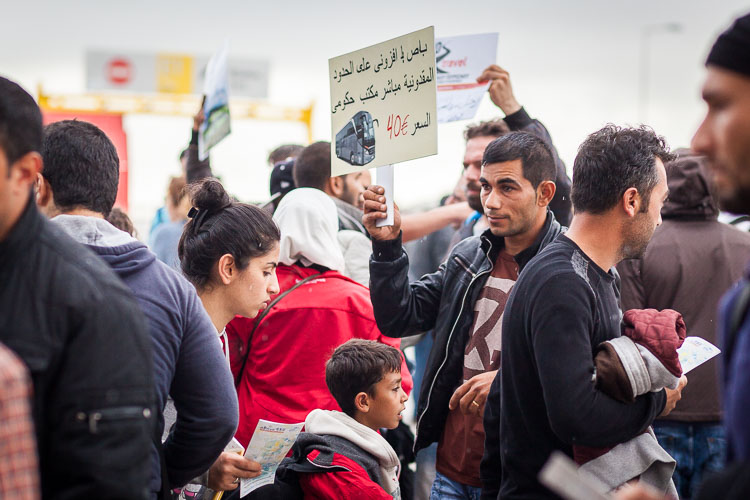 Victoria Square
All Afghans refugees heading into Athens flock to Victoria Square and stay in the city for as long as it takes, sometimes up to three weeks. Around the square there are many shops now selling tents, shoes and backpacks. With many of them also offering Western Union services, it's Athens' undoubted refugee hotspot.
During the day in every corner of the square you can see Afghans on the phone. Locals have largely stopped using the square at daytime and often complained how restaurants around the square are now struggling to get by. Despite that, still Victoria square hosts an extraordinary scene of two completely different worlds existing in parallel: Greek residents sit around the edges sipping expensive coffees of up to €3 each, while families camp out on the park benches and do not even have the money to fulfil the most basic of hygiene needs.
Until they receive the additional money, Afghan refugees spend most of their time on the phone or hanging out, sleeping, napping and socialising with other refugees. In the mean time, normal Greek life passes by around them and at night the police clear the square by sending the refugees towards a government-run abandoned Olympic venue in Galatsi that was converted into a camp that hosts hundreds. 
Ya Allah, Shabab!
Because I knew that the square would be empty at night, on one occasion I decided to stand in the rain on the square waiting for new refugees to arrive. That's because I knew that the 'El Venizelos' ferry had just arrived in Port Piraeus, inevitably bringing Afghans who will then arrive on an empty square without any clue about what to do. With no one else in sight, I waited at the metro.
After half an hour about 40 refugees appeared from the metro station in the pouring rain. I saw mothers carrying babies wrapped in wet blankets, fathers holding their older children by their side and grandmothers trying to catch up with the group. They were staring around, being utterly lost. "Camp?", I asked as I approached them. "Yes", someone said.
I had escorted two young Afghans to cheap accommodation around Athens two days ago, but this group was far too large.
Bart van Eijden
Little did they know that the camp was somewhere else. Most Afghan people get off the ferry only with the aim to get to Victoria Square (because they were told to go there), but they have no clue what to expect from there. That's no problem during the day when there are lots of people around, but during a rainy night that's a different story.
I had escorted two young Afghans to cheap accommodation around Athens two days ago, but this group was far too large. So I looked around to see if I could find anyone who could tell me the name of the camp so I could look up it's exact location. But the scene was deserted. It was just before midnight on a regular Thursday evening and there was no one to look after these people.
But then I remembered how some refugees earlier told me about some local bus. I reckoned that was the best way to send these people to the camp. So I looked on my map and figured that the main road with buses was one block away. I looked at the group and shouted: "Ya Allah, Shabab. Camp!". It was a sentence I had picked up during my volunteering efforts elsewhere on the Balkan route, meaning something like let's go guys!
About 30 people started following me, trusting me as a local guide. The other 10 apparently had local contacts or didn't trust me. Around the next block I started asking Greek locals about my further steps. Within seconds I found someone confirming there was a bus and it was number #608 towards Galatsi. We crossed the road, I escorted them to the exact bus stop and quickly took a few pictures.
After the bus had left and everyone on its way, I walked back. Then I met an Afghan young man from Norway who was visiting his family in Greece. He had seen all the Afghan refugees on the square and could not help himself for being out at night exactly for the same reasons as me: solidarity.
A group of young refugees pitched up a tent on the square in front of my eyes within no time.
Bart van Eijden
As a second metro arrived, a new batch of people found themselves lost on the square. Me and the other guy repeated the same routine, brought them to the bus but then walked quickly back to search for more refugees. Then at some point all the refugees from the bus stop arrived back at the square. Someone at the bus stop had explained them that the buses had stopped operating after midnight.
A group of young refugees pitched up a tent on the square in front of my eyes within no time. It was all broken and not at all suited to protect against the rain. It was horrible to watch, because I had no idea how to improve their situation. It was just my first time being there and I was all alone together with the Norwegian who was also there for the first time.
An Afghan family stood alongside me, also wondering what to do. I had just sent them to a bus stop that wasn't operating anymore so I kind of lost all my credibility. The fathers were desperate, children crying, and mothers trying to protect their babies from the rain. To make it worse, a small child tripled over a hole filled with water, fell and started crying even more. I picked it up and carried it for a while.
In the meantime a local man of Somalian descent was making a phone call in the background. He was calling a friend and I heard him say: 'There are women with babies here in the rain. I will send them to you in a taxi and I will pay for all the cost. Stay there.' By now it was around 1AM.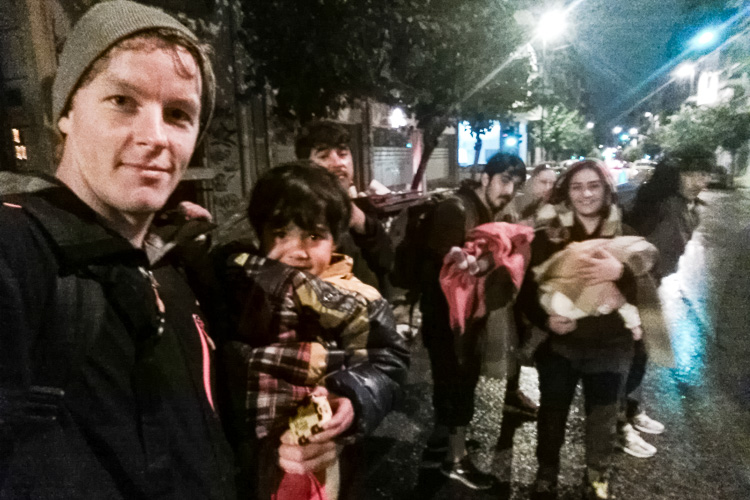 I approached the man and thanked him for the help. We searched for a taxi, and finally sent the people off. I went back to the metro, but it had stopped operating. It made me decide to call the night a quite. Satisfied I returned back to my hostel, just to arrive back to the square the next day.
Small notes:
A few small volunteer initiatives have popped up around Victoria Square. Some come out almost every day, handing out free tea, medicine, clothes, rain coats, food and other things like information leaflets. Among them is a group of Dutch volunteers, who seem to be having the most impact around the square. They also hand out leaflets with information written in Farsi to counter the false information provided by people smugglers. Unfortunately, during the night there are no such initiatives to be found.
This article is based on multiple conversations with different Afghan refugees, held across the Balkan Route, even though this article lacks any explicit references. 
For more information about my travel adventures, please consider following me on Twitter or sign up for my newsletter!
Hung out for few hours on 'troubleshoot' Victoria square #athens. Afghans are such nice people, so welcoming. pic.twitter.com/GJz4HhQ4VW

— Bart van Eijden (@BartvanEijden) October 22, 2015